Not Fearing the Future
Not Fearing the Future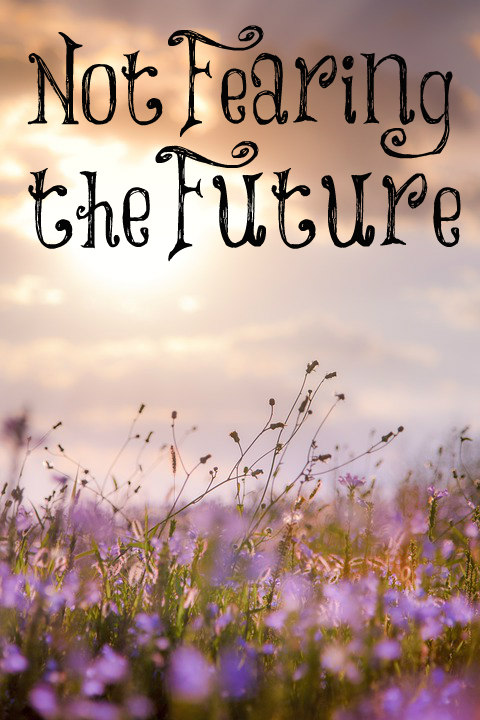 Way too many believers in Jesus Christ are walking in fear these days instead of by faith. Others who look upon them must think that their faith in their God is very small. Christians are fearing a virus that is killing very few. Yes, we're all going to die someday somehow, but we cannot allow fear to control our lives. Many fear being taken over by the Marxists who are running for office and are in office. Yes, this could happen but it doesn't mean that God has left His throne on high or departed from His children. Remember, our hope isn't in this world. This isn't our home. We're strangers and pilgrims just passing through. Our home is on the new earth where Jesus Christ will reign forever.
I have listed some verses and a quote from a commentary of old. Whenever you become fearful, renew your minds with God's truth. I am going through a hard time now with my brain tumor and the fear of the future, but I continually remind myself that we are all promised tribulation in this world but Christ has overcome the world. He will never leave me nor forsake me. He is good and His plan for you and me is good. We can rest in this and cast all of our cares upon Him; for He cares for us.
"He shall not be afraid of evil tidings: his heart is fixed, trusting in the LORD. His heart is established, he shall not be afraid" (Psalm 112:7,8). "Strength and honor are her clothing; and she shall rejoice in time to come" (Proverbs 31:25).
"The church of Christ fears no want at any time, nor need any of her members; they have a clothing that never waxes old, a righteousness that will answer for them in a time to come; their bread is given, and their waters are sure; they shall want no good thing; all their need is supplied from Christ; they have hope in their death, and rejoice then and sing, "O death, where is thy sting?" 1 Corinthians 15:55; they will have confidence in the day of judgment, and not be ashamed; shall come to Zion with everlasting joy; and shall rejoice with Christ, angels and saints, to all eternity." (Gills Exposition)
"Therefore I say unto you, Take no thought for your life, what ye shall eat, or what ye shall drink; nor yet for your body, what ye shall put on. Is not the life more than meat, and the body than raiment? Behold the fowls of the air: for they sow not, neither do they reap, nor gather into barns; yet your heavenly Father feedeth them. Are ye not much better than they? Which of you by taking thought can add one cubit unto his stature? And why take ye thought for raiment? Consider the lilies of the field, how they grow; they toil not, neither do they spin: And yet I say unto you, That even Solomon in all his glory was not arrayed like one of these. Wherefore, if God so clothe the grass of the field, which to day is, and to morrow is cast into the oven, shall he not much more clothe you, O ye of little faith? Therefore take no thought, saying, What shall we eat? or, What shall we drink? or, Wherewithal shall we be clothed? (For after all these things do the Gentiles seek:) for your heavenly Father knoweth that ye have need of all these things. But seek ye first the kingdom of God, and his righteousness; and all these things shall be added unto you" (Matthew 6:25-33).
"I have been young, and now am old; yet have I not seen the righteous forsaken, nor his seed begging bread" (Psalm 37:25).
Be careful for nothing; but in every thing by prayer and supplication with thanksgiving let your requests be made known unto God.
Philippians 4:6