Why Were Women in the 50s So Bored?
Why Were Women in the 50s So Bored?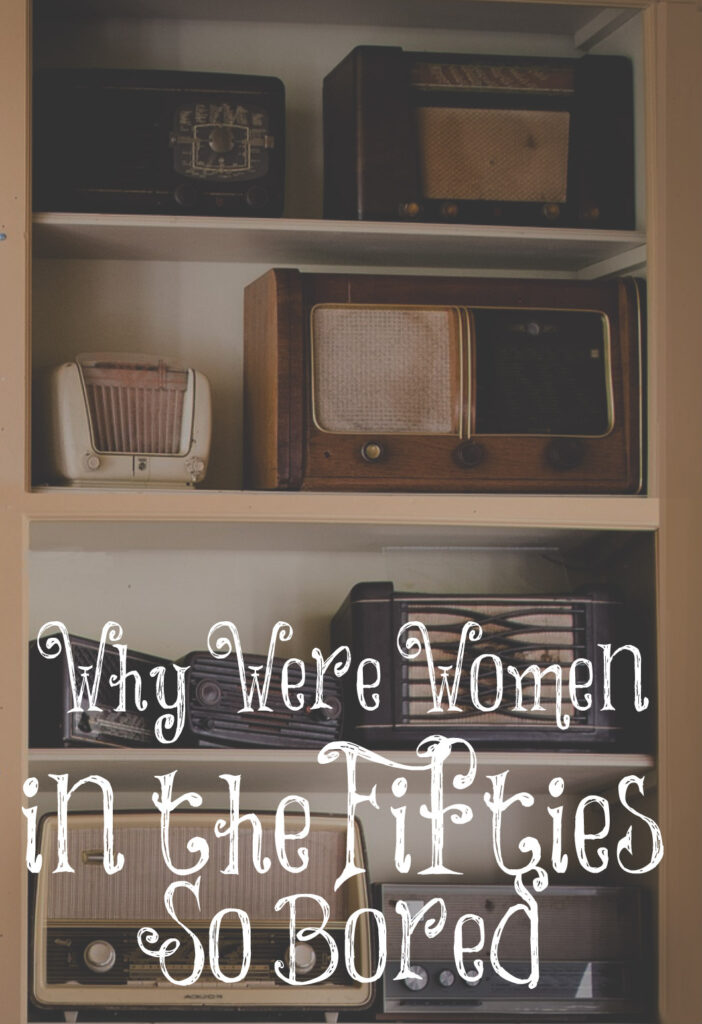 Betty Friedan is the feminist who convinced women in the 1950s that being married, raising children, and being homemakers was boring and depressing. The problem is that the homemakers of the 50s grabbed ahold of her teaching hook, line, and sinker. They agreed with her! Homemaking was too easy for them. They didn't feel productive. Dusting, vacuuming, loading the dishwasher, sending their children to public schools, and popping frozen dinners in the oven weren't fulfilling them in any way. So along comes Betty with her cry of discontentment, and the women bought it and left their homes for greener pastures.
I am in the process of reading Rebekah Markle's book "Eve in Exile." It is excellent so far. I am hoping to make a few posts from it. This being the first one.
Here is a quote from her book:
"The women in the '50s were not being actively oppressed like, for instance, women in Muslim cultures often are. They were, however, suffering under the soft oppression of not being thought capable of anything very impressive, challenging, or important. Housewives of the '50s were expected to keep the house tidy, keep the children tidy, keep themselves tidy—and that pretty well covered it…The 1950s picture of an ideal housewife was one in which a woman's intellect played no significant role. That truly is a suffocating position to be in, but if the women had wanted to change that, they could have done it by actually deciding to accomplish impressive, challenging, and important things…The women of the 50s genuinely needed to be liberated, that much is indisputable."
Before the 50s, women's work in the home was very time-consuming as she wrote. In order for their families to survive, they needed to work hard. They had no time for pity parties like the women in the 50s had. Now, that the women had all of the modern conveniences that made homemaking far easier, they became dissatisfied. Was it because their intellect played no significant role, as Rebekah wrote. Did they need to accomplish impressive, challenging, and important things? Did they really need to be liberated? (Now, to be fair to Rebekah, I haven't read past this chapter, so I am just giving my opinion on these points.)
What did the women in the 1950s need? They had this radical feminist brainwashing them to believe that their lives were boring and oppressive. They needed more! What they needed were the older women teaching them the great value they had in their homes as help meets to their husbands, raising the next generation of godly offspring, and making their homes a haven for their families. They needed to be taught that these were God's perfect will for them! They could still study their Bibles, read any books they wanted, and develop their minds rather than watching dead end soap operas and listening to lies from Betty.
Older women have failed the young women in many ways. The problem is that the older women of the 50s had no older women teaching them that godliness with contentment is great gain, to be thankful for the Lord's many blessings poured upon them, and that the joy of the Lord is their strength. They weren't taught to be thankful for running water and clean sanitation while they scrubbed the toilets. They weren't taught to be thankful during each meal they prepared for the food the Lord had blessed them with. When they changed another dirty diaper, they should have given thanks for the precious life that the Lord had entrusted to them.
This is what the women in the 1950s needed. They needed to understand the value of their roles as wives, mothers, and homemakers. They needed to learn that whatever they did, they were to do all to the glory of God. They were just where God wanted them to be. Betty Friedan was just one of Satan's agents convincing women to leave their posts, and sadly, the women believed and are still believing her.
Thus saith the LORD, Stand ye in the ways, and see, and ask for the old paths, where is the good way, and walk therein, and ye shall find rest for your souls.
Jeremiah 6:16