Does a Wife's Conscience Trump Her Husband's Conscience?
Does a Wife's Conscience Trump Her Husband's Conscience?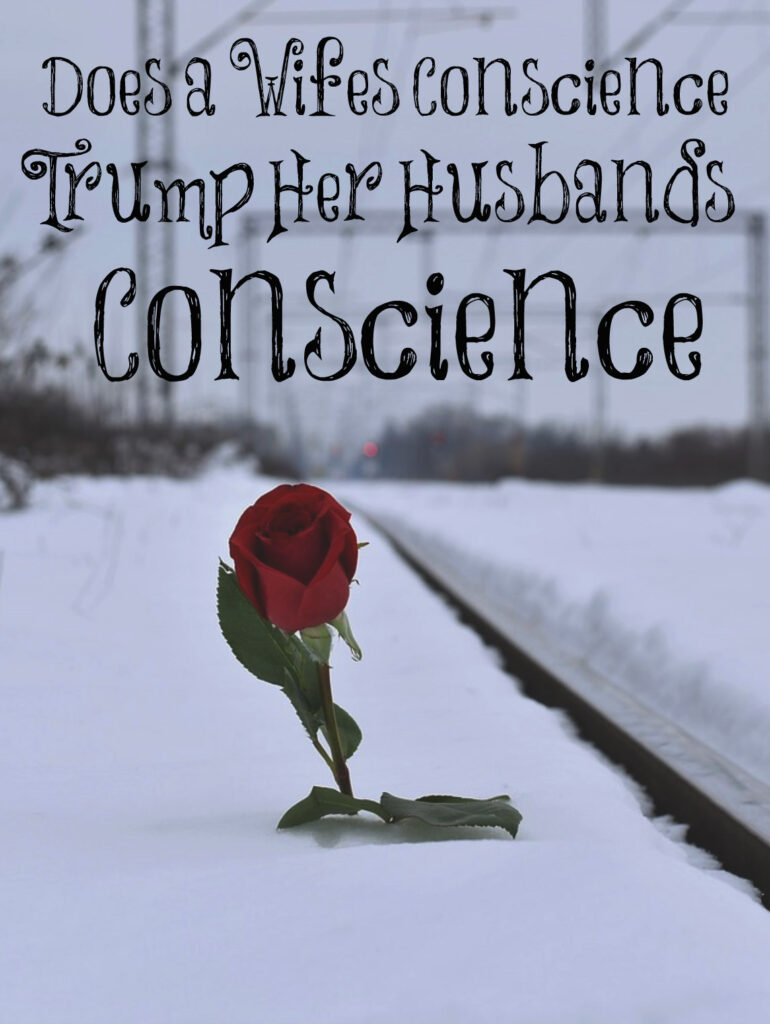 A few days ago, I made a video titled The Submission of a Wife to Her Husband. Someone asked me about submitting to a husband who wants his wife and children to be vaccinated, but she doesn't want this. I made a video about this the next day trying to answer her to the best of my ability. It wasn't easy, since I am very much against vaccinations, but I fully support God's Word and His will.
I shared the video I made on whether or not to submit to a husband concerning vaccinations on my Facebook page and Israel Wayne, who is a great homeschool advocate, responded this way: "No godly husband would ever ask his wife to violate her moral conscience." He then wrote this on his own Facebook page.
Conscience is defined as "internal or self-knowledge, or judgment of right and wrong." God's Word is what should always steer our conscience, not our own judgment of right and wrong. God's Word tells us that mature believers in Him can easily discern between good and evil (Hebrews 5:14). Unfortunately, most Christians aren't mature believers whose consciences are led by Truth, so I am not sure I agree with Israel completely.
Lindsay Harold responded to Israel Wayne.
"I'm not sure I agree with this. There are times that someone's conscience is so misguided that it would be wrong to follow it. For example, suppose the wife is pregnant with a disabled child and believes it is mercy to abort. Her conscience is telling her it is wrong to let the child have a difficult life. Yet her conscience is wrong. Very wrong. The husband would be right to tell her not to kill their child.
"I think the husband is given authority to lead the family precisely to avoid the tyranny of the wife's conscience. We can all get various ideas in our heads about what we should do, and we might even have a strong belief that this is the right thing. But if the wife goes by what she thinks is right all the time, how is her husband to lead her when they disagree? Essentially, any time they disagree, she can invoke conscience and, magically, she gets her way. God gave the husband authority over her conscience on purpose to avoid this problem.
"Of course, I fully agree that in the vast majority of cases, when the wife has a conscientious objection, the husband should listen and take this into consideration. That's wise leadership. If the husband commands his wife against her conscience, he will bear the blame if there is any sin. God will hold him responsible. So it's a very serious matter. But I would definitely not say he should never require the wife to go against her conscience. God made the husband, not the wife's conscience, the leader of the home."
Lindsay and I are on opposite sides of the spectrum when it comes to the issue of vaccinations. She fully supports them, and I do not, but I fully agree with what she wrote to Israel Wayne.
There's a young family that I know quite well. The husband is in the medical field and fully supports vaccination. He sees them as highly beneficial for his family. She does not, but she submits to him. She feeds her children the best that she can and prays over them when they are vaccinated. She is not going to fight or hurt her marriage over this even though her conscience says that vaccinations are wrong. Her husband's conscience says they are right and good. She submits to his conscience.
Vaccinations aren't a black and white issue, as I like things to be. We know robbing a bank is wrong. It's stealing. A husband can't make his wife sin against God. Porn is wrong. We are to flee all fornication. There are many things that are black and white issues that wives should choose to not submit to their husbands in, and they have the full backing of Scripture to support them.
Does she have to get into the car when he's drunk and wants to drive? No. He's doing something that is against the law. What about anal sex? All scientific research shows the harm of this, so she doesn't need to submit. Yes, there is a lot of research on the harm of vaccinations, but then there is a lot of good research on it too. It's a tough subject. All solid believers agree that stealing, porn, abortion, driving drunk, and anal sex are things wives should not submit to their husbands in, but they would not all agree that vaccinations are wrong. It's not a black and white issue.
Be wise, women. Pray. Seek the Lord in wisdom. But remember, your husband's conscience should trump your conscience IF your conscience is not being led by the Word of God, but God's Word always trumps your husband's requests of you.
But strong meat belongeth to them that are of full age, even those who by reason of use have their senses exercised to discern both good and evil.
Hebrews 5:14