Wives are to Submit to ONE Man
Wives are to Submit to ONE Man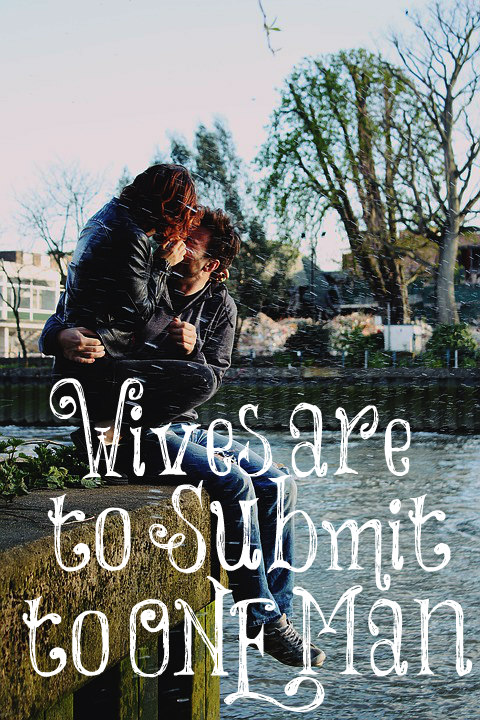 There is a good reason that the Lord commands wives to ask their husbands at home if they have a question concerning something that is said at church or they want the elders to "fix" their husbands. "And if they will learn any thing, let them ask their husbands at home: for it is a shame for women to speak in the church" (1 Corinthians 14:35). 1 Peter 3:1 is God's prescription for how wives are to win disobedient husbands. Our husband is the head over us, not our church leaders!
Here is an excellent article written on this subject by Ken Cascio at wickedshepherds.com. He is seeing way too many marriages destroyed because women are going to their elders for advice instead of their husbands.
Ladies, your closeness with your husband means a distance from every man who isn't, and that ESPECIALLY includes men who claim to be your so-called "spiritual overseers!"
Submitting to your "church leaders" renders it impossible to submit to one's own husband. Submission to your own husband means faithfulness to him, and to him alone, which means saying "NO" to any other man or group of men who are vying for your submission also!
Dear married sisters in Christ, be not deceived! You owe absolutely no submission WHATSOEVER to those who posture to be your "church leaders."
There are many cases where a pastor has deliberately placed himself between a husband and wife and used his so-called pastoral authority as a means of manipulating them both into personal loyalty to himself.
If either the husband or wife becomes in any way critical of the church or his ministry, the pastor will "counsel" the other mate (usually the wife) to put pressure on the first one to repent, and if no repentance was to follow, then the next step in counseling would be separation and/or divorce.
This was done on the ground that "your mate's soul is in danger" because they were daring to question God's "duly authorized" minister. One dear Christian lady was under such pressure to force her husband to submit to the pastor's authority that she felt she was being torn in half. She told someone, "I feel like I must choose between the two most important men in my life."
The person wisely answered, "God never intended you to have two men in your life in any sense where you had to make a choice between them."
My friend, when loyalty to, or dependence upon, any church or any "church leader" ever comes close to being equal to your loyalty and love to your husband or wife, then you are so sick spiritually that you can't think straight.
A woman for example, is under no obligation whatsoever to submit to any man except her husband; not to the "head pastor," or his "fellow elders," or his clones, or his wannabies, or anybody. The Scripture says, to "their own husbands."
Some foolish women have been brainwashed into believing that they are supposed to submit to their pastor more than their own husband. This is sinful.
When those in "positions of leadership" in the church, or anyone else, tampers with someone's marriage… THEY ARE TREADING HOLY GROUND!
SETTING THE STAGE
But you might say, "How can these things be? How is it possible that husbands and wives have allowed their marriage to be invaded; taken over; and then destroyed by this horrendous practice in church leadership?"
Many of these men that are "exercising the oversight" in the church are professionals and are well experienced in their diabolical schemes. They are able to effectively instill carnal fear in the congregation very rapidly. A simple twisting of Scripture; the pronouncement to "obey your god-given elders"; the waving of their pointed finger in your face along with their raised voices, is all that it takes for many people to succumb to its folly.
Families, and wives in particular, are falsely being taught from many pulpits today that the "eldership" and/or "pastors" have a "supposed" authority and rulership that reaches higher and is even greater than what a husband and father has in the home, especially when it comes to "spiritual matters."
This is total unbiblical nonsense. And unless many people start to wake up and take notice and learn, many more marriages are going to be destroyed. (You can read the rest of the article HERE)
But as the church is subject to Christ, so also the wives ought to be to their husbands in everything.
Ephesians 5:24