Should Women Teach the Bible in Public?
Should Women Teach the Bible in Public?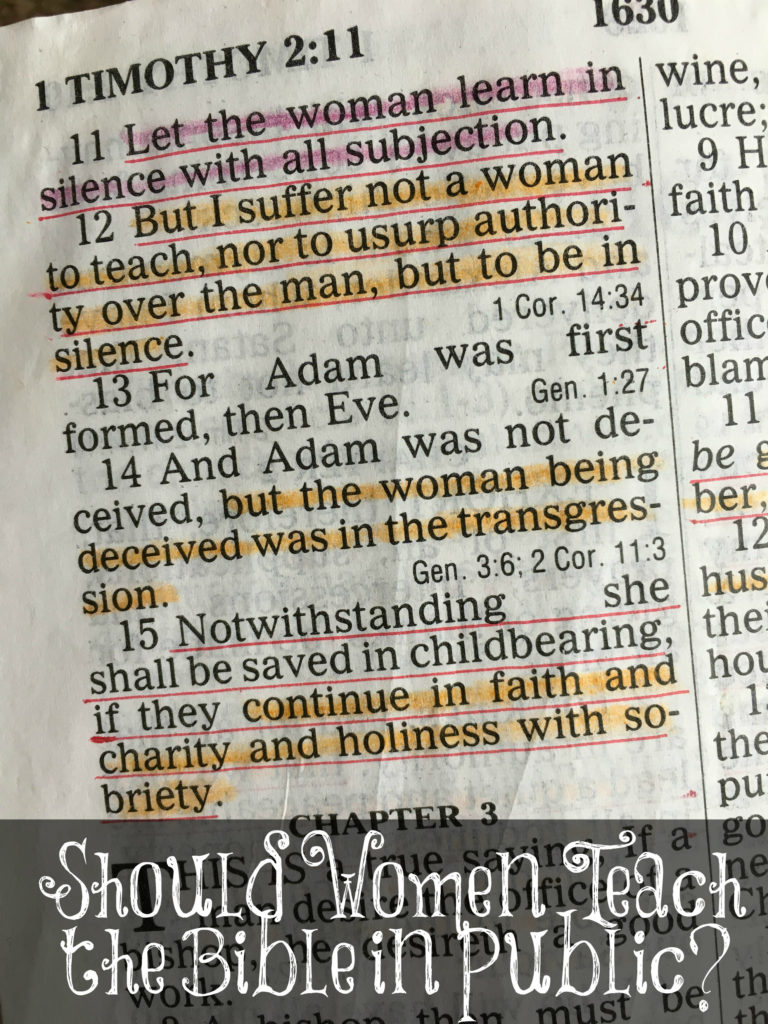 As many of you know, I have become convicted about teaching the Bible (theology) to women. I love learning from God's Word and want to know the truth of it above all. I teach all of the biblical principles of godly womanhood which includes a lot of Bible verses but I don't claim to be a theologian, pastor, elder, or deacon since God has made it clear in His Word that men are to be the preacher/teachers of the Word. I am seeing too many women preacher/teachers teaching things that are contrary to the Word of God to believe that God wants them teaching the Bible to other women. Plus, they usually teach everything but what the Bible has to say about being a godly woman.
I have decided to research two verses by going again to the commentaries of old to search out my convictions. I love these commentaries because they haven't been swayed by feminism or political correctness. The verse I am looking at is 1 Timothy 2:11, "Let the woman learn in silence with all subjection."
"According to St. Paul, women are not allowed to be public teachers in the church; for teaching is an office of authority. But good women may and ought to teach their children at home the principles of true religion. Also, women must not think themselves excused from learning what is necessary to salvation, though they must not usurp authority. As woman was last in the creation, which is one reason for her subjection, so she was first in the transgression." From this comment, women are to learn the Word of God from male leaders in the church and they are to learn in silence. Then, they are to go home and teach their children what they have learned.
"Let the woman learn in silence – Listen attentively to instruction, without attempting to teach in public." This goes against most teaching we hear today. There are many women who teach the Bible in public these days and they have no problems teaching men and women. I just had a thought. The reason these women don't normally teach the biblical principles of godly womanhood is because they can't or it would judge them as not obeying it. They are not learning in silence with all subjection and they usually aren't keepers at home under the submission of their husbands.
"With all subjection—not 'usurping authority' (1 Timothy 2:12). She might teach, but not in public (Acts 18:26)." Yet, another commentary of old saying that women should not be teaching out in public. If we look at all the commands to women, there's nothing that tells women to be known for teaching the Bible in public. Not one command or example.
"The apostle goes on to give some other instructions to women, how they should behave themselves in public worship, in the church of God; he would have them be learners and not teachers, sit and hear, and learn more of Christ, and of the truth of the Gospel, and to maintain good works; and he would have them learn in silence, and not offer to rise and speak, under a pretense of having a word from the Lord, or of being under an impulse of the Spirit of the Lord, as some frantic women have done; and if they should meet with anything, under the ministry of the word, they did not understand, or they had an objection to, they were not to speak in public, but ask their own husbands at home."
Learners and not teachers. Learn in silence. Not offer to rise and speak. They were not to speak in public. All things that we don't hear from preachers today. This would offend many rebellious women of today. (Nothing about God's Word offends me and I love to study it to know exactly what God requires of me.)
"Spiritual receptivity and activity in domestic life were recognized as the appropriate destiny of women, and therefore the female sex was excluded from the public discussion of religious subjects. Though in Christ there is no distinction, yet Christianity does not put an end to the natural distinctions ordained by God; it recognizes them in order to inform them with its higher life." God's ordained roles for the sexes is beautiful and create order. Women are to be known for having gentle and quiet spirits. Our role is not inferior to men in any way but it is different and it is good.
"But I suffer not a woman to teach, nor to usurp authority over the man, but to be in silence" (1 Timothy 2:12) Let's look at the old commentaries on this similar verse.
"The whole purpose of these weighty admonitions of the great founder of the Gentile Churches relegates Christian women to their own legitimate sphere of action and influence—the quiet of their own homes… St. Paul shows what is the only proper sphere in which woman should work, and in which she should exercise her influence and power; while man's work and duties lay in the busy world without, woman's work was exclusively confined to the quiet stillness of home. The Apostle then proceeds to ground these injunctions respecting the duties in public and private of the two sexes upon the original order of creation, and upon the circumstances which attended the fall." Keepers at home. Homes take a lot to run smoothly and there is a lot of work to be done in the home especially when there are children. Learn to love being at home, women. Find contentment there. It is a good place to be.
"But I suffer not a woman to teach, They may teach in private, in their own houses and families; they are to be teachers of good things." I love teaching in the privacy of my own home. I don't have to fly anywhere, stay in hotels, leave my husband or grandchildren. I'm able to visit by aged mother and father, and take care of my home. I don't want to leave my home and I love being a teacher of "good things" (Titus 2:3) to younger women as the Lord commands older women.
"The first argument, why it is not lawful for women to teach in the congregation, because by this means they would be placed above men, for they would be their masters: and this is against God's ordinance." When women seek to teach other women the Bible, these women they are teaching are learning and listening to women instead of men as God has directed them to learn from. Some of these women preachers/teachers are leading women astray. I see it happening. "God spoke to me so this word is for you…"  Many times, these women eventually have no problem standing in front of and teaching men.
It's become very obvious to me what this means for women. God made it clear exactly what He wants women to teach other women in Titus 2:3-5. There is absolutely no guesswork in this. If you are an older women, teach these good things to younger women. Allow godly men to teach them the majority of the Bible.