Why Do Women Despise Being the Weaker Vessel?
Why Do Women Despise Being the Weaker Vessel?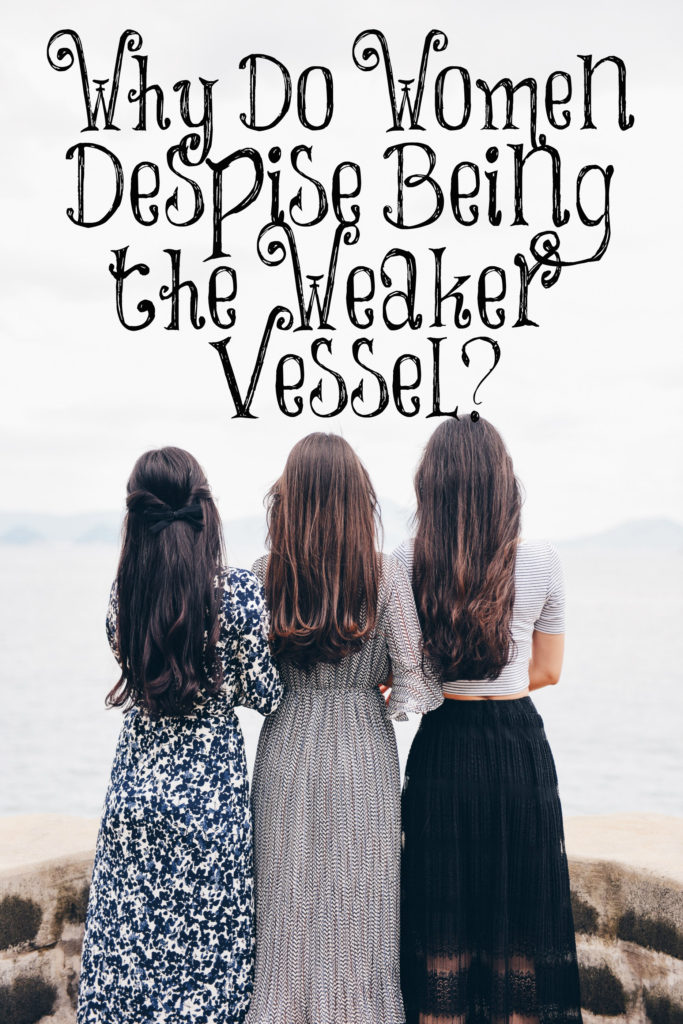 "Why do you think women despise the biblical term "weaker vessel" in describing women?" I asked this question to the women in the chat room and here are some of their replies.
"When I was much younger, I had the mentality that 'I can do anything a man can do. I don't need a man.' Sure I always thought about getting married, but I didn't look at it from a biblical perspective and how valuable each gender is…the strengths of one pick up the weaknesses of the other and vice versa. I honestly had no intention of staying at home. No intention of homeschooling. That stuff wasn't 'normal.'
I think being single my whole life (until I met my now husband) kind of fueled that. I was encouraged to stay single. To go to college. Establish a career. THEN find a husband and have kids one day. I was young and didn't need a husband and kids right away or I would be 'tied down.'
I did go to college. Freshman year, I went away from home and moved back for the remainder (my mama was very sick). At the local college, I met my (now) sister-in-law (we were both in nursing school…she a year ahead). After I met her brother…that all went away.
Why wouldn't I want to marry young? Why wouldn't I want to be a stay-at-home wife and mommy? Why wouldn't I want a man to depend on where I am weak?
I think women today are so brainwashed. But if they were to push aside the thoughts they are fed, you naturally just fall into your roles…at least it worked that way for me.
Sure I still had some work to do after I got married (this is where the chat room comes in
😉 ) but now I see how foolish I was when I was younger." (Sarah)
"In the eyes of society the term weaker indicates that women are not as good as, or as important as men and that term to them also sounds like men can be allowed to dominate over women. It comes back to control, wanting to be better than and do without men. If we look at women as weaker than men then women by large can not do everything that men can. That is what society fights against. They do not like being told they should not or can not do something." (Cassie)
"Pride." (Audra)
"Simply put, they have been taught by feminist to take offense of any term that does not indicate they are totally equal in all ways or better then men. Which is based on feelings, which makes us a weaker vessel, which confirms we are.
;)" (Tracy)
"It was actually a relief to me when I learned this. I was raised with mindset of 'you shouldn't need to depend on a man to take care of you.' It always felt unnatural to me, as if I just didn't have what it takes to be successful or follow through in the career world. When I learned what God says my role is, it was like a weight was lifted off of my shoulders. I don't have to carry the burden that my husband does as provider and protector, and for that I am grateful!" (Jessica)
"For those of us that live in reality, we know it's true. My husband is so much stronger than I am in almost every way. And I am fine with that! I can't imagine how miserable I would be if I lived my life everyday trying to disprove something that is an absolute truth." (Robin)
Likewise, ye husbands, dwell with them according to knowledge, giving honour unto the wife, as unto the weaker vessel, and as being heirs together of the grace of life; that your prayers be not hindered.
1 Peter 3:7
*If you are interested in being in the chat room, you must be a woman, fill out the application, and ask to join before being let in. We were receiving so many requests without knowing what the women believed. We don't want it to be a place of dissension but of godly women encouraging, rebuking, and exhorting each other in the ways of godly womanhood.