Your Legs or Your Life?
Your Legs or Your Life?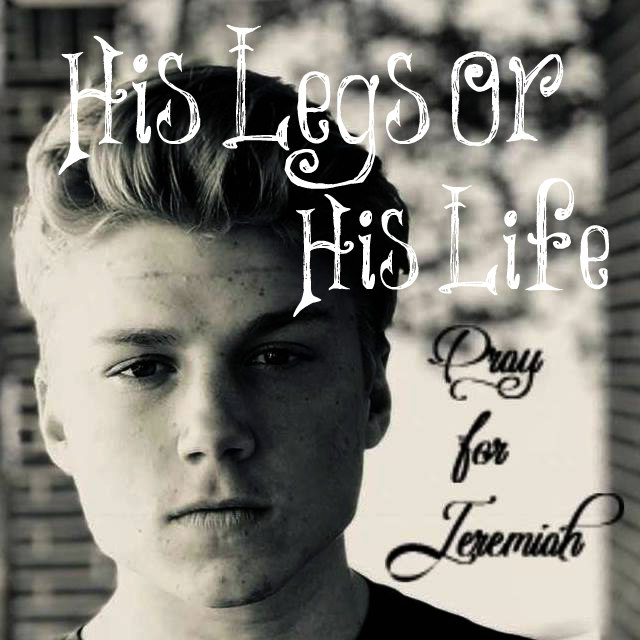 Jeremiah is a very young man (18 years old) who loves Jesus Christ deeply. He does street preaching, fights for the life of the unborn, and loves football. He is in a fight for his life now with aggressive bone cancer. I don't know him but one of my "friends" on Facebook keeps updating his status given by his father and others. He's a remarkable young man and I wanted to share one of the posts with you so you can pray for Jeremiah and the impact of the Gospel he is having on all those around him. (Here is his godly father's Facebook page so you can be inspired in your faith. Life is short and fragile. Use it to glorify and lift up the name of Jesus!)
If we do surgery to remove the tumor in your back, MD Anderson will not be able to start chemo for weeks. The risk far outweighs any benefit. The neurosurgeon and oncologist then delivered news that felt like a sucker punch to the gut. The reason the physical therapy stopped working, the reason you went from slowly relearning to walk after your first back surgery to being unable to move your legs or feet or feel from the waist down is because it's too late. Jeremiah, you've lost your ability to ever walk.
Our football playing, street preaching son took it like a champ. But there was wailing in the waiting room outside the doors of the PICU.
The risk involved, the five hour spinal surgery, 28 staples down his back, the metal rods, the pain of recovery. And the paralysis is back.
One of Jeremiah's personal goals, one of the thoughts that inspired him to keep fighting bone cancer, was to be back on the field for his senior year. His dad, Rusty promised to help. So did his coach, Bryce Frazier. So did his team, the Parkview Pacers.
The Pacers motto, that led them to become state champions last year, is "Rise up." The team uses it now to encourage Jeremiah in his battle with bone cancer. The other motto is "Jeremiah Strong!"
The youngest of five football playing brothers, Jeremiah has played football since a toddler. He knew how to truck, juke, and stiff arm before he knew how to read. He liked nothing better than tackling and being tackled and hurdling siblings. Flying through the air wasn't a superpower. It was his normal sports practice.
Friday nights back home in Texas meant bug spray, splinters from wooden bleachers, dad pacing the sidelines, and his sisters screaming their heads off as he made a touchdown. Grandpa and grandma unfolding chairs. His momma reading Football for Dummies so she could follow the game. Big brothers critiquing his plays from Facebook live. Football games were family reunions, tailgating with friends. It was learning how to take a beating.
How to overcome.
All that was taken from him yesterday.
I'm crying even as I write.
The blood in his lung. The pain in his body. The tumor in his chest. The tumor and rods in his back. The spots on his lung. But not HIS LEGS. Not his legs, God.
It is almost unbearable. Those of us who love him know what this means to him.
The world has told him to stop building his field of dreams. To give up on walking. To just let the cancer take over. That world tell us all that it's what we do or our quality of life that defines us.
What would you do if you lost your ability to walk? Would you believe the world? That it's your quality of life that defines you?
Jeremiah would say no. Life is precious because we are made in the image of God (Genesis 1:27).
When Jeremiah wasn't on the football field, he was protecting life (ending abortion) and sharing eternal life (the Gospel). The reason Jeremiah is still grateful for the life he has, is because human life, in any package, is a gift from God.
Life has intrinsic worth because we are made in His image. Even though we sin and the world we live in is fallen, Jesus loves us so much that he came to earth to die for our sins. The Bible says, "If you confess with your mouth the Lord Jesus and believe in your heart that God has raised Him from the dead, you will be saved" (Romans 10:9).
Jeremiah has spent most of his young life sharing this truth and hope outside of abortion mills and on street corners with his dad. When he rededicated his life to Christ at the OSA ministry event in Louisville in July, he "took on the ministry" like never before. It was his new passion. And he had a special burden for his lost generation.
Cancer may have taken his football and his legs. But it hasn't taken his heart.
Something more passionate than his love for the game, beats on the inside of Jeremiah. It's his love for Jesus.
When Rusty encouraged him after the doctors broke the news, Jeremiah said a couple of things. He connected his suffering to the suffering of his generation. He said, "I feel like everything is being ripped away from me; it's like our generation, everything is being ripped away from us because we don't respect life."
But he also said, "I can still preach from a wheelchair."
There's someone stronger than the strongest linebacker, stronger than his passion for football, stronger than Parkview Pacer's best defense, stronger even than "Jeremiah Strong" carrying him now.
Jeremiah can't walk . But Jesus is carrying him.
#PrayForJeremiah #GodsGotThis
My hope is built on nothing less than Jesus' blood and righteousness.
Blessed be God, even the Father of our Lord Jesus Christ, the Father of mercies, and the God of all comfort; Who comforteth us in all our tribulation, that we may be able to comfort them which are in any trouble, by the comfort wherewith we ourselves are comforted of God.
2 Corinthians 1:3, 4