A Checklist for a Godly Wife
A Checklist for a Godly Wife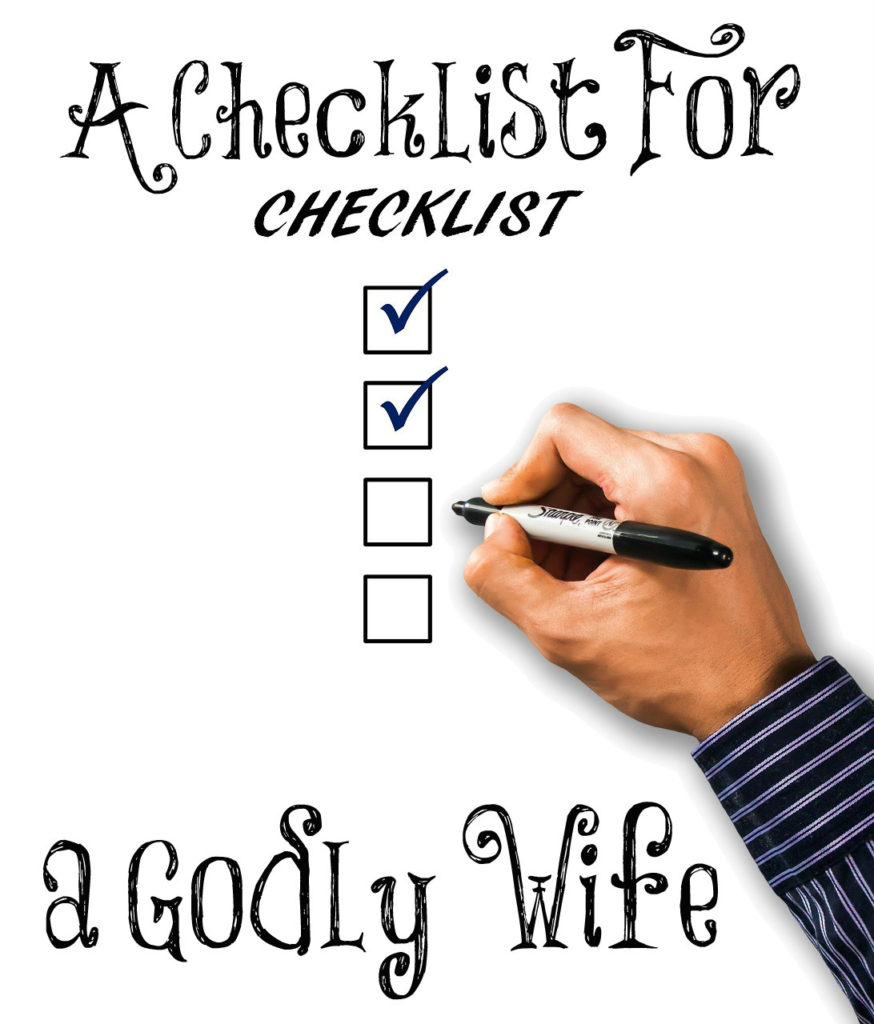 From Elisabeth Elliot's Gateway to Joy radio broadcast:
A checklist for Christian men seeking a godly wife—–
Make sure she is a Christian and is living her Christian faith. She should be feminine. In other words, she should be glad she's a woman, not angry or uncertain about it. Woman was made from man, for man, brought to man, and named by man.
She should know the divine order. Man is the leader. Woman is the follower. Man is the initiator. Woman is the responder.
She should acknowledge Christ as Lord. Wives are to submit to their husbands as unto the Lord.
She should choose to obey God and to accept her husband's destiny. In other words, if she marries a business man who later becomes a preacher and a pastor, she cannot say, "I married a business man. I did not want to be married to a preacher." His destiny is her destiny. She is to obey and follow her husband. This is not to say that she is a zero. A help meet is some one. A zero cannot be a helper. One plus one equals two, not one plus zero.
She needs a sense of humor. She doesn't have to be a comedienne, but she should have a good sense of humor.
She should be willing to lay down a career entirely to be a mother. Watch out for any woman who talks about "rights".
She should have the unfading loveliness of a calm and gentle spirit. As I Peter 3 teaches to a Christian woman living with a non-Christian husband or a husband who is not acting like a Christian. A calm and gentle spirit is an attribute to any woman.
She should know love is not a feeling, but an action. Feelings are no anchor for a marriage.
She should know how to cook.
She should like some of the same things such as books, sports, politics, hobbies, movies as her husband.
Whoso findeth a wife findeth a good thing, and obtaineth favour of the LORD.
Proverbs 18:22