A Life of Yieldedness
A Life of Yieldedness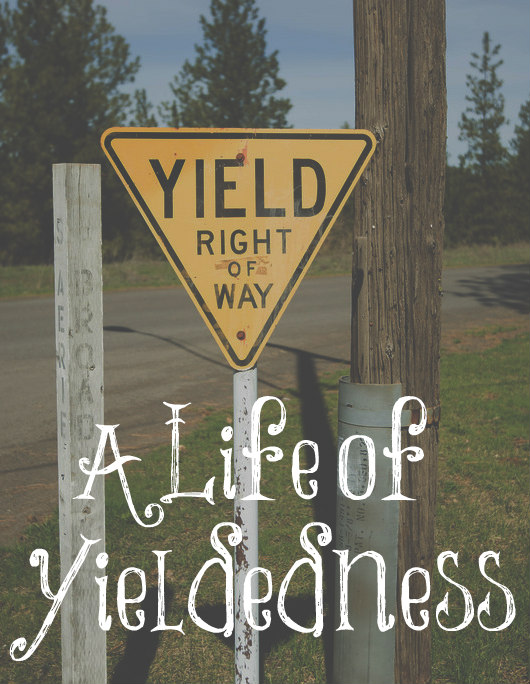 Do you live a life of yieldedness? Do you not care if you don't get your own way? Do you live to please others instead of yourselves? Do you first see that people around you are served before you serve yourself? Do you live to be served or to serve?
There's a great article about how the Amish raise their children and most Christian parents would do well to learn from them. From what I have seem, most "Christian" children are not being raised to be unselfish and yielding. Our culture promotes the opposite: independence, selfishness, and life is "all about me" attitudes. These are completely contrary to what Christ calls us to be.
"The Amish believe that the quickest way to spoil a child is to let them to have their own way." The sooner a child learns that life isn't all about them and their wants, the happier they will be. Selfishness never leads to happiness or contentment. This is why having large families is usually healthier for children. They learn to share and yield to others.
"Children are taught from the Bible 'Obey your parents in the Lord for this is right.'" Yes, it's the parents responsibility to teach, train, and discipline your children in the ways of the Lord. The sooner they teach their children to obey and respect them as their authority, the easier it is for them to obey and respect the Lord as their authority.
The one thing the article lacks is the importance of teaching children that the joy of the Lord is their strength. There must be a lot of smiles, hugs, and laughter in a home as well. If the home is somber and lacks joy, the children will grow up to be more attracted to the world and its ways, rather than to Christ. As parents, you need to show your children that living for the Lord is the very best thing in the world. They NEED to see your love, joy, and excitement for the Lord.
Children must also see parents who live lives that are yielded to the Lord and to others. They must see mothers who are yielded to their father's authority in the home. They must see mothers who yield to the Lord's ways and seek to please Him in all they do. They must see mothers who love to serve and love others deeply. This will make a huge impression upon their lives.
Don't allow your children to get their own way since this will lead to destruction. The flesh is controlled by the old man and its tendency is to chose selfishness and the wrong path. Teach your children who they are in Christ and obedience to Him and His ways; for this will benefit them all throughout their lives. When they are old enough, make sure you take them slowly through Romans 6 – 8 so they will understand that they have been crucified in Christ and it is no longer they who live but Christ who lives within them. Then they will walk after the Spirit as a new creature in Christ!
I have no greater joy than to hear that my children walk in truth.
3 John 1:4