Trying to Fix the World's Problems?
Trying to Fix the World's Problems?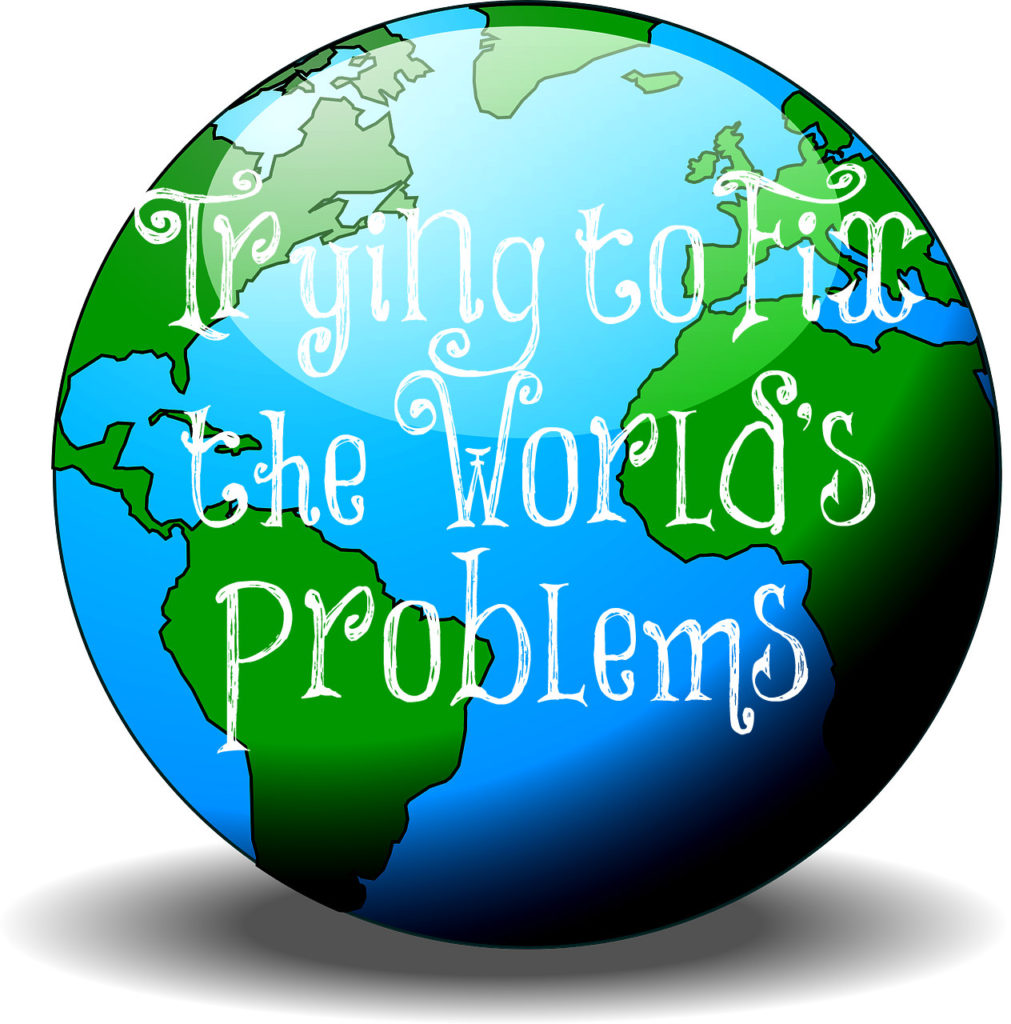 From my post about modesty that I wrote the other day, I have learned that some today think that women dressing immodestly is trivial compared to nations being bombed, corrupt governments, access to health care, education, human rights, and poverty so I shouldn't worry about these things I write about. There are so many more important things in the world to worry about, they tell me. So what if women want to run around naked, or be preachers, or have careers and leave their children in the care of strangers to raise. There are much bigger issues we should be dealing with!
Tell me, how are they going to solve the issues they are so concerned about? Now I see why many today are so miserable and unable to have happy lives. There is no way they are going to solve nations from being bombed, stop corrupt governments, fix all access to health care, education, human rights, and poverty. ALL of these are completely out of our control and God doesn't ask us to solve any of them!
There will always be nations at war with each other. Health care, education, and human rights are not God-given rights as long as we live on this sin-infested planet since this isn't our home. We are promised persecution if we believe in Him. Yes, we speak out and do what we can for all those who have no voice like the millions of babies who are being killed in their mothers' wombs each year, the fatherless, and the children who are being sold into sex-trafficking but these will continue to happen as long as there are evil people and sin in this world. As sexual immorality and the breakdown of the family increase, so will evil and the consequences of it.
Jesus said that we will always have the poor among us. Yes, we help those we can but we can't fix poverty or any of the world's problems. We aren't asked to do so. Even if we could possibly solve all of these issues, it would be meaningless in the end since this world and everything in it will one day be burned up. All those who refuse to believe in Christ and live in rebellion to Him will spend eternity in a horrific place called hell. This should concern us more than anything else! People need Jesus.
Sadly, many people today don't seem to have a problem with sexual immorality. It's low on their totem pole of the world's problems. I guess they have never read Romans 1 and the progression of sin in people's lives. It begins with people not glorifying God and being unthankful, then ends with all types of sexual perversions.
Do you remember why Sodom and Gomorrah was destroyed? Yes, sexual sin leads to many more sins that destroy nations so I would never take immodesty lightly since God doesn't. As President John Adams said, "The Jews, the Greeks, the Romans, the Swiss, the Dutch, all lost their public spirit, their Republican principles and habits and their Republican forms of government when they lost the modesty and domestic virtues of their women."
As long as we live on this earth, wars, poverty, human rights, and other sufferings will continue but God doesn't ask us to fix the world's problems or even worry about them. He wants us to believe in Him, live in obedience to His Word, love Him, and love all those around us by serving and being generous with them.
When the Apostle Paul was giving instructions about women's roles in the church and in marriage, he lived in an evil culture but when women live as they are called to live, they have a huge impact on all those around them. This is what this world needs more than anything else; Christians who walk according to God's way so they can see Jesus living in and through them.
But let it be the hidden man of the heart, in that which is not corruptible, even the ornament of a meek and quiet spirit, which is in the sight of God of great price.
1 Peter 3:4