A Message For Wives Who are Depriving Their Husbands
A Message For Wives Who are Depriving Their Husbands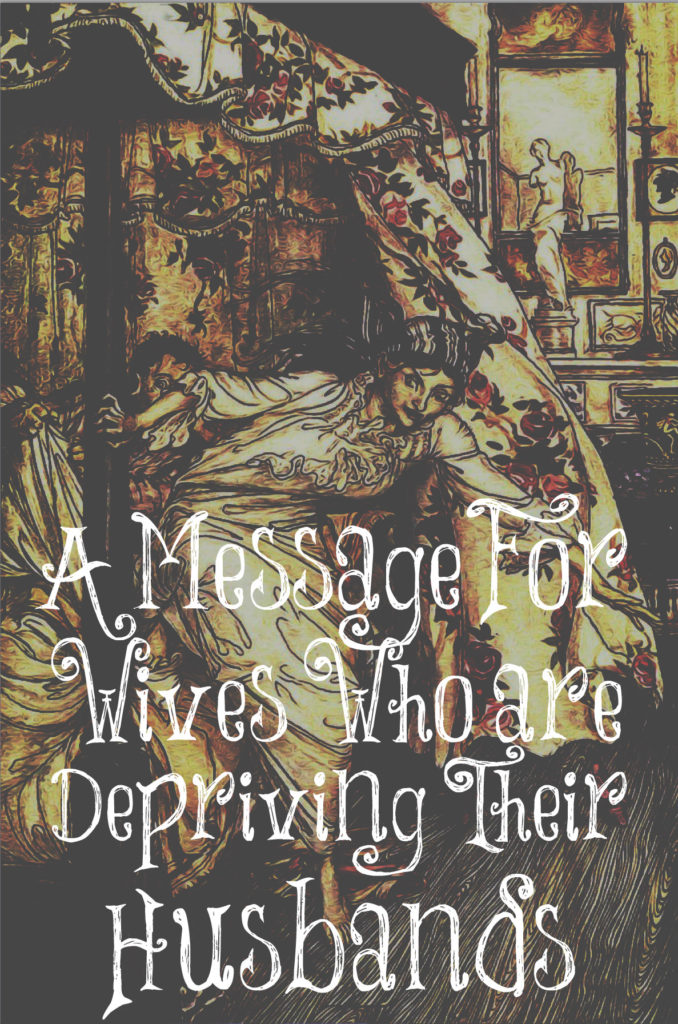 If you haven't noticed, I like to be blunt in my teaching; teaching that is straightforward. I like teachers who are blunt in their teaching. I don't need to be coddled, and I certainly don't want my ears tickled (2 Timothy 4:3). This kind of teaching never helped me. It was Debi Pearl's blunt teaching that finally helped me. She told me exactly where I was at fault in my marriage.
It's probably why I love the Apostle Paul's teaching. He's straightforward and preached the truth regardless of who it offended. Truth will always offend those who hate truth or have never heard it before. This should never be a reason we don't speak truth to others.
The issue of women depriving their husbands sexually is a hot topic. It infuriates MANY women. They falsely accuse me of promoting marital rape. It's not rape when a wife decides to not deprive her husband sexually. It's sacrificial love and obedience to God Almighty. Many can't comprehend a wife living a self-sacrificial life, since they've only been taught to look out for number one. We, as God fearing women, don't live like this. There is no joy in living like that.
Michael Pearl is blunt in his teachings too. I have learned who I am in Christ from His clear teachings of Scripture. I have learned that I am dead and freed from sin, and a new creature in Christ. I now focus upon this rather than who I was before Christ! Here is an exhortation that he gives to wives in his book "The Bible on Divorce and Remarriage."
"Dear lady, if you think your husband can just pray and do without, you must think you are married to Christ or the Apostle Paul. Has your husband proven to be the most disciplined and self-denying man you have ever met? Does he strike you as the martyr type? No? Well, has he been castrated? No again? So you now expect him to exercise the most extreme form of human self-denial? If not, then stop defrauding your husband and start pumping him dry about every day or so. If he is younger than 25, make that every day and twice on Sunday. When he begs for mercy or claims a headache, you will know you have met his quota. The key is to be available and willing.
"If you do not cheerfully, joyously make yourself a willing participant, you are the tool of Satan to bring your husband down. 'The wife hath not power of her own body, but the husband' (1 Corinthians 7:4)."
Some will most undoubtedly complain, because it's their husbands who are not sexually available to them. If he's struggling with pornography, have him read this post by Michael Pearl. Your teenage sons need to read it too! Here's the post for women with higher sex drives than their husbands.
Do not deprive your husbands, women! The Apostle Paul tells us "…to avoid fornication, let every man have his own wife, and let every woman have her own husband…for it is better to marry than to burn" (1 Corinthians 7:2,9). If sex hurts you, seek out help but continue to find ways to sexually please your husband. He married you because he was burning, and he didn't want to commit fornication! God created men with a high sex drive for a reason. He wants them to marry and have children with the wife of their youth, while working hard to provide for them.
 Let the husband render unto the wife due benevolence: and likewise also the wife unto the husband. The wife hath not power of her own body, but the husband: and likewise also the husband hath not power of his own body, but the wife.  Defraud ye not one the other, except it be with consent for a time, that ye may give yourselves to fasting and prayer; and come together again, that Satan tempt you not for your incontinency.
1 Corinthians 7:3-5
***There's a HUGE difference between being unable to sexually satisfy your husband due to illness, pain, childbirth, etc. and intentionally depriving your husband. Husbands know the difference. One is not sin, and the other one clearly is sin.