A Woman Who Fears the Lord Shall Be Praised
A Woman Who Fears the Lord Shall Be Praised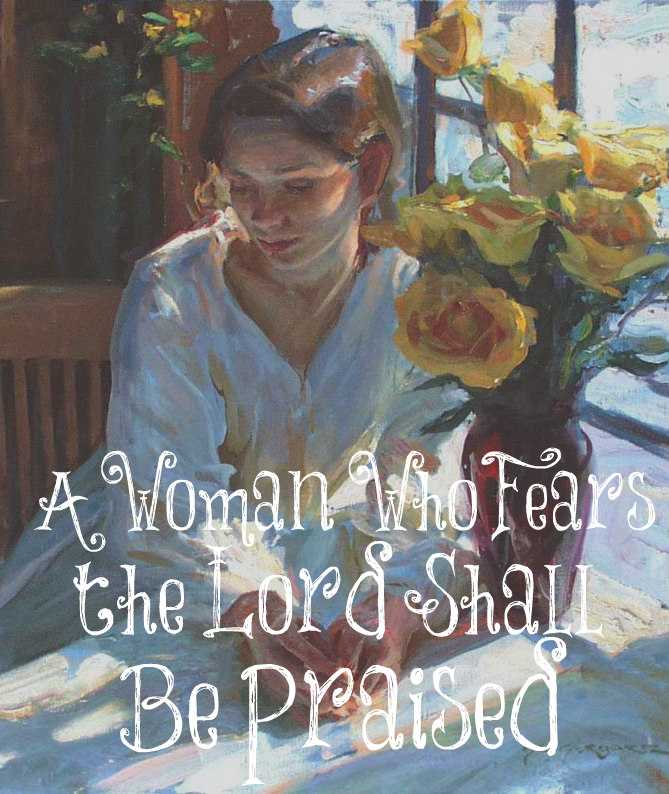 Favour is deceitful, and beauty is vain: but a woman that feareth the LORD, she shall be praised.
Proverbs 31:30
Outward graces do not last; praise that will be real and enduring is for those only who fear the Lord, and, out of regard for Him, perform the duties of life as the "virtuous woman" here described. (Ellicott's Commentary)
Our looks fade. This is a fact of life for everyone. When we're young, we can't imagine this happening but then slowly we see one gray hair and then another. Then some wrinkles begin to appear and we see that we are indeed aging. Looks only go so far. They don't make us happier, wiser, or more godly. They are literally only skin deep and have nothing whatsoever to do with having a meaningful life.
Making wise choices is what matters. Do we live for ourselves or do we live for the Lord and what He has asked us to do? Do we make our looks an idol in our lives (because if we do, we will be devastated when we find that first gray hair) or do we make the Lord our God and know that His plan for our lives is perfect?
 A well favoured look, a graceful countenance, symmetry and proportion of parts, natural or artificial beauty, are vain and deceitful; oftentimes under them lies an ill natured, deformed, and depraved mind; nor is the pleasure and satisfaction enjoyed as is promised along with these; and particularly how do they fade (e) and consume away by a fit of illness, and through old age, and at last by death?
There are many beautiful women today. We see them on TV and advertisements all over the place. They show off their bodies and try to entice men but what happens to them as they lose their beauty? They have built their lives and security on their looks which fades over time and then what do they have? Have they built up their marriages and families and their relationship with Christ – the things that last or have they built their lives upon sand?
…but a woman that feareth the Lord, she shall be praised. (Gill's Exposition)
This is what it all comes down to, women. We are called to fear the Lord. This means that we live for only His approval. We do what He has commanded for us to do since we owe Him our lives. Our homes are built upon His Word. We train our children in His ways. We rejoice in Him always! Yes, we fail but we dust ourselves off and get right back up again and "do the next thing" as Elisabeth Elliot said. We never give up because we know that Christ works mightily within us.
It is the fear of the Lord that makes us beautiful on the inside and adorning ourselves with a meek and quiet spirit while living in submission to our husbands. The fear of the Lord urges us to grow in wisdom since we must be able to navigate clearly in this evil generation that tells us that what is right is wrong and what is wrong is right. The only way to grow in wisdom is to be in His Word and learn from the One where all wisdom comes from.
The days that we live in are very unstable but the Lord is not; for He is the same yesterday, today, and always. Measure everything you hear and read with His Word. He is our stability and knowing Him and living for Him is all that matters in the end.
And wisdom and knowledge shall be the stability of thy times, and strength of salvation: the fear of the Lord is his treasure.
Isaiah 33:6
***Picture By Daniel Gerhartz