Marching for Social Justice Isn't What God Asks of Us
Marching for Social Justice Isn't What God Asks of Us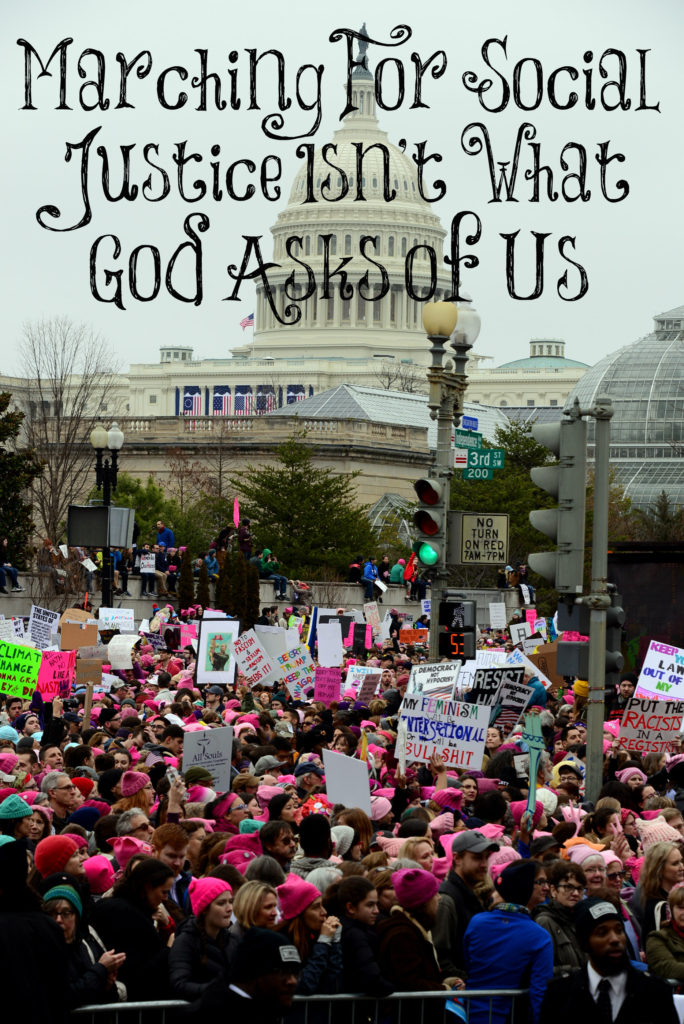 There's going to be a Women's March in Los Angeles in January so I looked it up to see what they are marching for. Here is what it stated: "At Women's March LA Foundation, we recognize that there is no true peace, freedom, or inclusion without equity for all. Our event on January 20th will feature music, art, community booths, and speakers in a shared voice of resistance with advocacy aligned with the national Women's March Unity Principles: ending violence, protection of reproductive rights, LGBTQIA rights, workers' rights, civil rights, disability rights, immigrant rights, Indigenous people's rights and environmental justice."
I guess these women never had a dad like Ken who gave them a long lecture on life NOT being fair when they were young so we never heard our children say, "That isn't fair!" They grew up knowing that life wasn't fair but they know God is a just God and will have the final say.
This is what Voddie Baucham wrote about social justice: "If the social justice movement went by its actual name, young Christians would not have been lured into it. Because the social justice movement is actually Cultural Marxism. There's no such thing as 'social justice,' people. In fact, in the Bible, justice never has an adjective. There's justice and there's injustice, but there's not different kinds of justice."
As godly women, we aren't called to march for our rights or for social justice since it's a made up word by those who hate God. God never told us to go out and change culture. He told us to go out and share the Good News and speak the truth in love while individually helping those in need. People need Jesus. They don't need more "rights." They need the hope only Christ provides.
Most feminists are never satisfied and will never be happy. They continue to expect more instead of being thankful for what they have. Remember, being unthankful is one of the first steps towards being turned over to a reprobate mind according to Romans 1. These women marching falsely believe that there is "no true peace, freedom, or inclusion without equity for all." No, there is no true peace, freedom, or inclusion without equity for all without Jesus Christ. They are marching for the wrong thing.
As women, He calls us to have the opposite of marching for what we want; He has called us to have meek and quiet spirits and to quietly work hard with our hands at home as keepers at home. "And that ye study to be quiet, and to do your own business, and to work with your own hands, as we commanded you" (1 Thessalonians 4:11). Did you notice that we must study to be quiet? It doesn't come naturally. We are to do our own business at home and not involve ourselves with other's business. This is the life the Lord has ordained for us, women, and it is good. This brings Him glory!
I love how often in God's Word that He instructs us about being quiet. "In quietness and in confidence shall be your strength" (Isaiah 30:15) not in fighting for what we want. "Thou wilt keep him in perfect peace whose mind is stayed on thee" (Isaiah 26:3). These women who march will find no peace even if they get the rights they are marching for. Perfect peace only comes from the Lord and keeping our minds stayed upon Him.
"And the work of righteousness shall be peace, and the effect of righteousness quietness…And my people shall dwell in a peaceable habitation and in sure dwellings and in quiet resting places" (Isaiah 32:17, 18). Expectations, wants, and rights don't accomplish what is best. Peace and quietness is what is best and it only comes from being clothed in Christ's righteousness and doing what He has called us to do. Godliness with contentment is great gain. These women marchers are not content and never will be because they are trying to find satisfaction and "fairness" on this earth. It won't happen. It's only found in Christ. "Shall not the Judge of all the earth do right?" (Genesis 18:25)
Being on our knees and praying to the King of Kings while being salt and light in a dark culture will accomplish much more than any march because eternity is what matters. This life is a blip on the whole of eternity so let's be women who use our time wisely and obey what the Lord has called us to do.
That we may lead a quiet and peaceable life in all godliness and honesty.
1 Timothy 2:2