Are Husbands Supposed to Submit to Their Wives?
Are Husbands Supposed to Submit to Their Wives?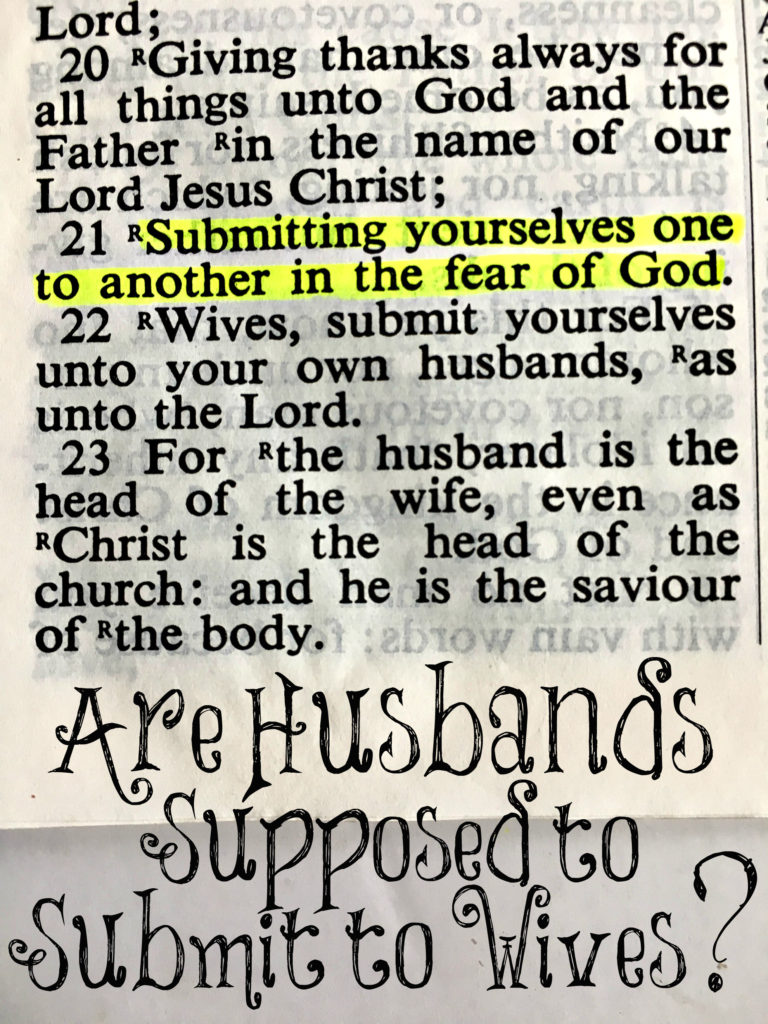 Many people use the verse in Ephesians 5:21 to explain that husbands and wives are supposed to be mutually submissive. Submitting yourselves one to another in the fear of God. I have heard this from the pulpit, from books, blogs, speakers, and teaching preachers on the radio. My question is how can that work in marriage when wives are commanded to submit to their husbands multiple times and husbands are never directly commanded to submit to their wives? I decided to go to the commentaries of old to find out what they had to say about this verse.
Elliot's Commentary: In grammatical construction this clause is connected with the preceding verses; in point of idea it leads on to the next section, which treats of the three-fold submission of wives to husbands, children to parents, slaves to masters.
Barnes' Notes on the Bible: Maintaining due subordination in the various relations of life. This general principle of religion, the apostle proceeds now to illustrate in reference to wives Ephesians 5:22-24; to children Ephesians 6:1-3; and to servants, Ephesians 6:5-8.
Matthew Poole's Commentary: to those to whom ye ought to be subject in natural, civil, or church relations.
Gill's Eposition: Which may be understood either in a political sense, of giving honour, obedience, and tribute, to civil magistrates, since they are set up by God for the good of men, and it is for the credit of religion for the saints to submit to them; or in an economical sense; thus the wife should be subject to the husband, children to their parents, and servants to their masters, which several things are afterwards insisted on, as explanative of this rule.
Cambridge Bible: The primary point in the spiritual ethics of the Gospel is humiliation; self is dethroned as against God, and consequently as against men. Here the special, but not exclusive, reference is to fellow-Christians. "[The precept] seems to have been suggested by the humble and loving spirit which is the moving principle of thanksgiving" (Ellicott). Special applications of this great principle now follow, in a study of the relative duties of the Christian Home.
I couldn't find one that said specifically that husbands are to submit to wives. Some said we are to serve others in the body of Christ and I agree since we are called to be living sacrifices but these men of old were wise enough to take the Scripture as a whole and not make a doctrine out of one verse since there are other verses that specifically command wives to be submissive, subjective, and obedient to their husbands. God is very clear about this and there should never be any confusion.
Likewise, ye wives, be in subjection to your own husbands; that, if any obey not the word, they also may without the word be won by the conversation of the wives (1 Peter 3:1).
Wives, submit yourselves unto your own husbands, as unto the Lord.
 For the husband is the head of the wife, even as Christ is the head of the church: and he is the saviour of the body.
Therefore as the church is subject unto Christ, so let the wives be to their own husbands in every thing (Ephesians 5:21, 22)
…and the wife see that she reverence her husband (Ephesians 5:33).
…To be discreet, chaste, keepers at home, good, obedient to their own husbands, that the word of God be not blasphemed (Titus 2:5).
But I would have you know, that the head of every man is Christ; and the head of the woman is the man; and the head of Christ is God (1 Corinthians 11:3).
For a man indeed ought not to cover his head, forasmuch as he is the image and glory of God: but the woman is the glory of the man (1 Corinthians 11:7).
I am not sure how you can argue that a husband is ever commanded to submit to his wife with all of these verses. It would be the same as saying that parents should submit to their children and many are doing this these days which causes chaos in the home because it's not God's order, just as it's not His order for husbands to submit to their wives.