Barrenness is Celebrated in the Church
Barrenness is Celebrated in the Church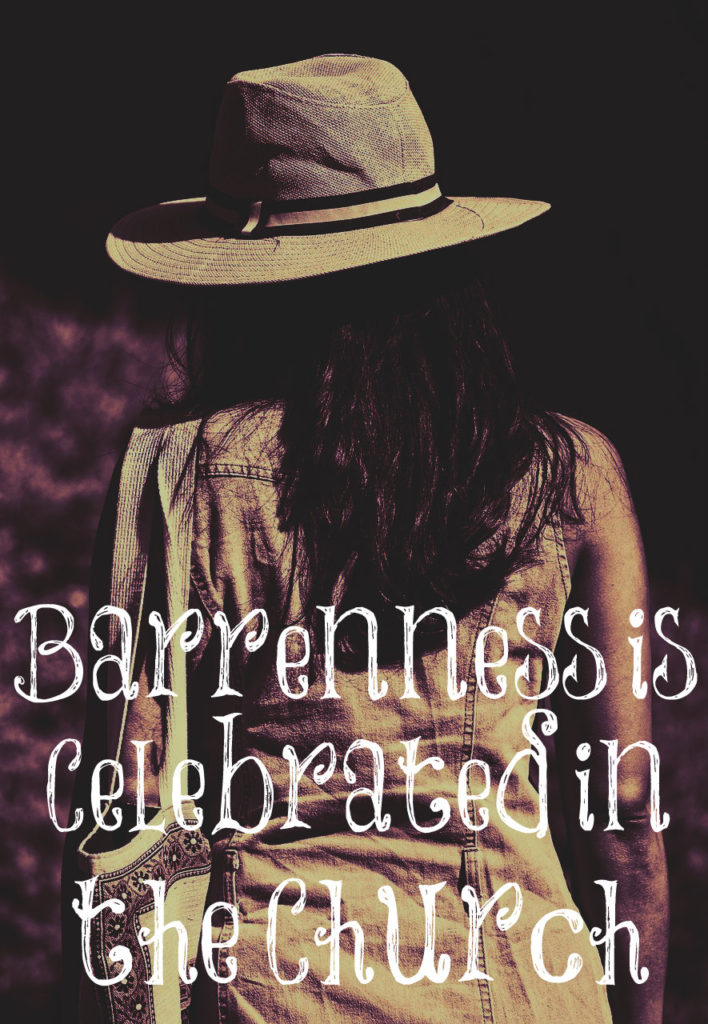 He makes the barren woman to keep house, and to be a joyful mother of children. Praise ye the LORD.
Psalm 113:9
Sadly, many women in the church celebrate and force barrenness upon themselves by taking birth control pills and all types of other things used to prevent having babies conceived. Some of these things even cause an embryo (a human life) to be destroyed. Millions of women per year will have their babies murdered in their wombs if they become pregnant at an "inconvenient" time and never allow their babies to take a breath. They don't believe that keeping house and being a mother to children can be joyful as God has said.
Too many women in the Church value careers and traveling over being blessed with children. I will watch a mother holding her precious baby and never understand how a career can be more important than a blessing of a baby. Women go on birth control so they can have careers and travel. Babies would interrupt these plans during their most fertile years and they value temporary pleasures over God's blessings.
God's plan is for young women to marry, bear children, and guide the home (1 Timothy 5:12). They are to love their children and be keepers at home (Titus 2:4, 5). He may bless barren women who have open hearts to children with children and make them a joyful mother of children while they keep house yet most churches don't teach this because this offends women. God's ways offend Christian women and I wouldn't be allowed to teach these things in most churches! Ponder that for a moment.
After marriage, being blessed with children, if one is able, should be a natural part of marriage. Divorcing this from marriage, as the Church has done, has been devastating. Christian women who want to have all of the children that God blesses them with will be asked rude questions by other Christians, such as, "You do know where babies come from, don't you?" As if preventing children is a godly and good thing! This is perversion.
"The entire purpose of the sex drive is to marry and have children. Christians have been bamboozled out of their heritage and 80% of Christian women think birth control is acceptable. It's not, unless we are dealing with health concerns. Remember when God told his people to make sure you can afford kids before you have them? Yeah, me neither. So American men and women have killed off 200 million kids with abortion and contraception since birth control was legalized by a rogue SCOTUS in 1965. To put that in perspective, less than 2 million Americans were killed in all our wars combined. So we've killed 100 times as many Americans as our enemies have. Hitler and Stalin are green with envy." (John Jefferson)
"The church's sin which has caused us to become unsavory salt incapable of uplifting the society around us is selfishness, lack of love, refusing to consider children an unmitigated blessing. In other words, family planning…When the church came out in favor of family planning, it produced certain effects. Outside careers became truly possible for women with the blessing of the church. Only when a woman deliberately chose to stop having children and was able to carry through on her plans would she be able to launch into a career without fear of 'interruptions.'" (Mary Pride)
Women give their babies to strangers while they go off to work. They have two children and decide this is plenty because they have other dreams and goals to accomplish. Women, God's plan is for you to marry and bear children! It isn't to have careers and travel. He never planned for you to have a load of debt from higher education and then a career which prevents you from having children and being home full time with them. This was NEVER His plan yet the church fell for it hook, line, and sinker. This blasphemes the Word of God according to Titus 2:5.
Let's repent of our evil ways and stop going along with this wicked and adulterous culture and instead open our wombs to the Lord and allow Him to bless us with godly offspring. (Yes, if I were still young, I would still be wanting babies. We never did anything permanent to prevent them and would have loved having more children but I became too ill. Thankfully, we had our children when we were young. If we had waited until I was 30 years old, like many women do today, we would not have been able to have children.)
If you have prevented babies, pilled up debt from higher education, sought out careers, and maybe even had an abortion, know that there is forgiveness from God. He is a loving and merciful God. Many Christian women have gone along with the flow of culture and don't understand that the way they are living is against God's plan for them. They do all of this in ignorance. There's been no older women in their lives teaching them the ways of biblical womanhood. I understand this and you are not alone. If you are still young, change the course of your life into God's plan for you and remember that with God ALL things are possible!
Don't take your fertility for granted, young women. It's only for a few short years so use it to produce godly offspring, if the Lord blesses you. The world needs this more than it needs anything else. Keep your eyes upon eternity instead of the temporary thrills of our evil culture.
Lo, children are an heritage of the LORD: and the fruit of the womb is his reward.
Psalm 127:3