Being Home Full Time is Boring, Tedious, and Lonely?
Being Home Full Time is Boring, Tedious, and Lonely?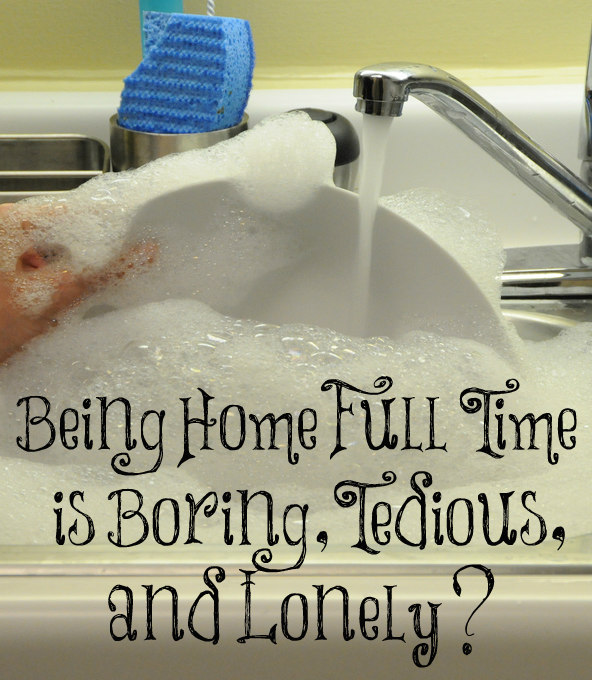 Recently, a woman my age was sharing with me that women in my mother's generation were married young, then had children and were stuck at home all day long where it was boring, tedious, and lonely. "They were pulling their hair out with boredom," she exclaimed. Women pursuing higher education, having careers, and traveling around the world would keep them from being bored, lonely, and having a tedious life, so they thought.
I attended college for four years and went on to graduate school for another year and a half. I can tell you that a lot of that time was boring, tedious, and I was lonely. The classes and studying were especially boring and tedious. Sure, I had some great times with my friends but it sure didn't keep me from being bored, lonely, and having a tedious life.
I was a waitress every summer while I was a teenager and then a school teacher until I had my second child. You can bet that a lot of the time spent waitressing and teaching was boring, tedious, and lonely. Every day, I was basically doing the same thing over and over again.
Let's take traveling. Riding on planes, trains, and buses doesn't get boring, tedious, and lonely? Staying in hotels and eating out all of the time doesn't get boring, tedious, and lonely? No matter what we do on this earth, we will spend a lot of time doing things that are boring, tedious, and will get lonely. This isn't our home. We can search all we want to have a thrilling and exciting life but we'll never find it to be exactly what we want it to be.
The Apostle Paul was in a dungeon (prison) when he wrote that we are to "learn" to be content; for godliness with contentment is great gain! I was home alone for many years because I was so ill. I missed out on many holidays and vacations with my children because of it. I had to learn to be content and I did. I can do ALL things through Christ who strengthens me!
"The secret of contentment is the realization that life is a gift, not a right. Next to faith this is the highest art – to be content with the calling in which God has placed you" (Martin Luther). God has called younger women to be keepers at home.
The "aged women" need to be teaching the younger women to learn contentment being home full time and raising their children. There will be times of becoming bored, doing tedious things, and getting lonely but it's okay. Learn to be content. In my opinion, I had a much easier time learning to be content being home full time than I did going to college or having a career.
When I am at home, I have the privilege of beautifying my home by keeping it clean and tidy. I make delicious food with quality produce (completely unlike eating in the cafeteria at college). I can take a walk outside when I want to and read and write. There are so many opportunities to learn contentment at home! I have heard that only boring people get bored.
Learn contentment while taking care of your precious children, husband, and home. These are what the Lord has called you to do so find joy in this ministry. Remind yourself that the JOY of the Lord is your strength, not having a career and making your own money as our culture screams at us. If you are a wife/mother at home, you are blessed. Count your blessings and be thankful.
Love not the world, neither the things that are in the world, If any man love the world, the love of the Father is not in him. For all that is in the world, the lust of the flesh, and the lust of the eyes, and the pride of life, is not of the Father, but is of the world. And the world passes away, and the lust thereof: but he that does the will of God abides for ever.
1 John 2:15-17