My Husband's Encouragement For Raising Godly Children
My Husband's Encouragement For Raising Godly Children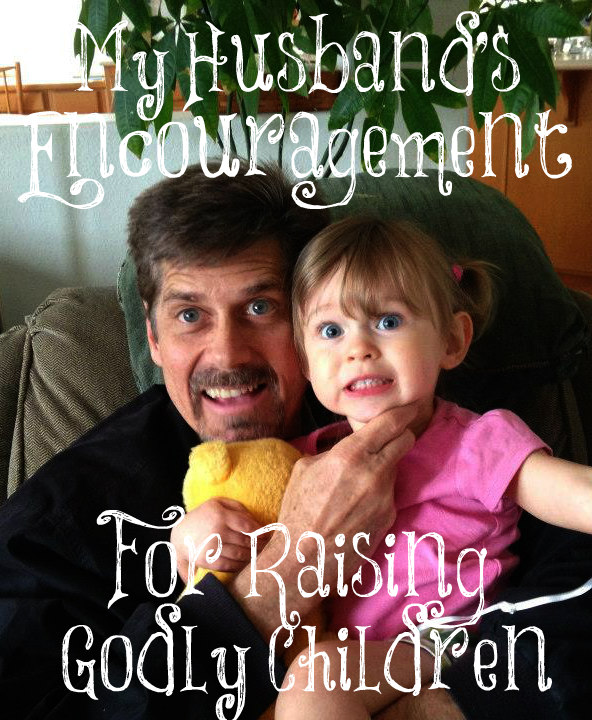 Written By Ken
Here are some of the things we believe have really helped us with raising godly children:
1) Love them and accept them fully, finding ways to praise and encourage their strengths while regularly working graciously on their weaknesses. Never allow a weakness of sin to go unchallenged, but do it in a loving and accepting way.
2) Discipline. Make sure your children understand that so long as they live in your home they must follow your simple rules, especially the rule that in our home we will do "all things Christian." Teach a disciplined life, especially over emotions. No cross word or anger should be allowed to go unchallenged without speaking of God's grace and His desires for how we treat one another with love and respect.
3) When you see a child starting to fall in with the world, with bad friends or desires, jump right in and talk and talk and talk to them. I had 60-90 minute talks at times with my child to work not on their behavior but their thinking. All bad behavior or wrong desires comes from bad thinking, so find the lies they are telling themselves and replace them with the truth and the truth of God's Word.
4) You and your husband should establish for your family what you as a family are all about. For the Lori and Ken Alexander family we were about four things, and our children could rattle these four things off with ease. We could appeal to them when they violated one of these four things and ask them to reflect on their own purposes in life. They knew they could one day choose to accept or change what is most important to them and their family some day, but while they lived with us, they were to live by these simple precepts:
 Love God and Serve Him
 Do what is Right
 Be the best you can be
 Treat others the way you would like to be treated
5) Pray for each one of them every day and let them know you are praying over them, and what you are praying for their lives.
6) Live your life joyfully and confidently in the Lord. Lead them by the example of Mom and Dad and how much joy and love they have in the Lord Jesus. The greatest gift we can give our children in life is have them watch our faith in action, and if we really believe what we believe, we will be singing and praising and playing and praying all in the joy of the Lord. Believing that no matter what may come, our God is in the struggles of life with us all the way, for we are in Christ, and Christ is in us.
7) When the teenage years come, it is time to teach them one more principle that "there are a lot of stupid people in this world, don't be one of them." They will watch their friends want to do stupid and risky things and they need a mind that can process why they do not just go along with the crowd. They need to realize that just because their friends are drinking and doing dope, or having sex before marriage that this does not prove anything except that there are a lot of stupid people in this world doing stupid things. It will give them a reason to make good choices seeing the wisdom of God vs. the folly of this world as so well seen in the book of Proverbs.
8) Hide the Word of God in their hearts. Take them to AWANA or do your own Bible memorization competitions in your own home. Consider paying prizes for memorizing the book of Ephesians or at least the first 3-4 chapters and Colossians 3, and any verses that speak of our new life in Christ. Help them understand who they are in Christ Jesus and out of that reality they will live a new life, abundant and freed from sin and the appeal of this world. Study together Michael Pearl's great commentaries on the matter especially listening to Romans 6-8 which are audio MP3's on his site, but also get his DVD's called "Sin No More." No this does not mean we will never sin, but it does mean that if we are in Christ, we will walk a righteous life that is dead to sin and alive to Christ.
9) Never give up, and never lose hope. Show your children what a walk in the Spirit looks like as you shine the fruit of the Spirit in your life. Tell your children daily to begin the day and the rest of their life "with the end in mind." "What do you want your life to reflect today and what do you want your life to look like at the end of your days?" Keeping a heavenly focus and perspective is the way to live a victorious Christian life as the struggles of this world come our way.
10) "You know I will always love you." These words were the last words my children often heard at night as I tucked them into bed and prayed with them. "That no matter what may come, no matter what they may do, Daddy will always love you, even if he has to kick you out of the home someday." Unconditional love is the foundation upon which children can grow up to have healthy self-worth and self-being. It is the unconditional love of our heavenly Father that we must give our children and love and adore them greatly, while always correcting sin as gently but as firmly as necessary to stop it in its tracks.
Our children are the greatest gifts God could ever give us, and they are the gifts that keep giving with beautiful grandchildren who are also walking with Jesus day by day. There is no greater joy than to know that our children and their children love God and His ways. Invest in them in these ways early and often then leave the rest to the Lord to honor your faithfulness. "Expect nothing, but hope for the best!" For our hope is in God and not the things of this world.
And, ye fathers, provoke not your children to wrath: but bring them up in the nurture and admonition of the Lord.
Ephesians 6:4