Being Mocked For Serving One's Husband
Being Mocked For Serving One's Husband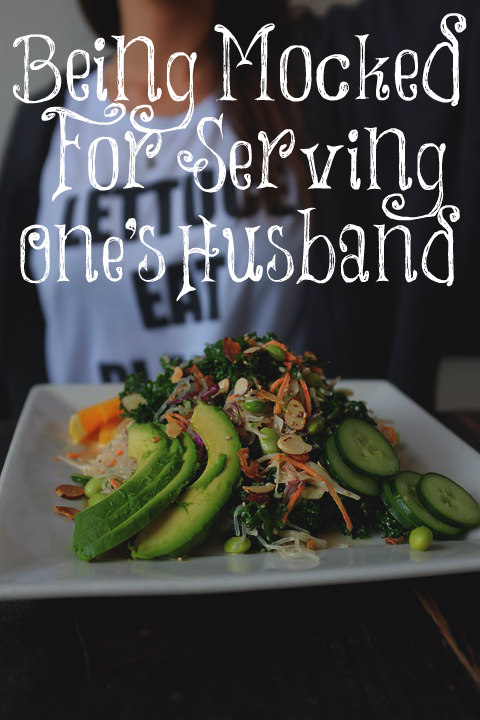 A woman in the chat room alerted me that I was on Diply and told me she prayed for me. I had never heard of this site before but found it easily. It's not a Christian site but the author of the article wrote, "A Christian blogger is facing major criticism after a Facebook post encouraging women to find majority of their joy doing housework and submitting to one's husband." I am not sure which post he was referring to since I write about this topic often and he didn't link to it. He also said the name of my blog was The Transformed Housewife! 🙂
What I found entertaining about it were some of the comments. Of course, most of them on Facebook mocked me for suggesting a wife should cheerfully serve her husband but there were many who didn't. I copied some of them to share with you. It would be great if all people shared the following opinions – that if someone doesn't agree with something online, then simply move on instead of harass and bully those whom they disagree with.
"How horrible that she should want to make his life as easy and happy as possible!! (Sarcasm) Don't wives want husbands to make their lives easy and happy? (Not sarcasm)"
"Women in the middle east are being burned alive, and you're up in arms about a Christian blogger who is encouraging people to be cheerful about doing housework?! ?‍♀️"
"Her life, her choice, her God. My perception differs so her blog is not my go to. Who cares. Live and let live, less anger, less stress!"
"Why do people feel the need to find fault? If this makes her happy so be it. Nothing she is doing has any effect on their lives."
"Words of wisdom given to me once when I was feeling pretty resentful and struggling to find my way upon reconciling with my husband after an 18-month separation…'treat him like a king and he will treat you like a queen.' We've been together (mostly) for 33 years and married 23 years. My opinion on this: Worry about yourself. Who cares what other people do? If you think this is too 1950s for you then scroll along. It's not your marriage."
"And I bet they have been married for years [38 years and counting!] and are happy [yep!]. Nowadays people have different babies: daddy's and momma's. I wonder why?"
"This isn't a 1950's thing; it's the Godly thing. We allow the world to change our beliefs instead of following God's beliefs. Worldly views are toxic to the soul.".
"I don't agree with everything this woman has to say, but she does have a lot of good points. I serve my husband. I clean the house, cook meals, take care of him and our kids. In turn, he works 14 plus hour days, works in the cold and extreme heat while the kids and I are in air conditioning or a warm home. We have nice clothes, a car and home and so much more that he provides us with. He has missed milestones and holidays so that I don't have to. I get the option to stay home and raise our kids. It's a partnership. We both bring something to the table and I think that's what some people miss when reading this. Make him happy to to come home and sad to leave. I know this isn't a reality for everyone. I'm realistic. Do what works for you and your family. If this isn't it, then it's not meant for you, so move on."
"Ugh. I have some feminist views. But come on people! I've been with my husband since I was 20. Bought a house when he was 22 and I was 21 and I've always been  the one to clean and cook. By 21, I started staying home with kiddos. Now with seven kids and I'm still the one that keeps up with cleaning and cooking and mowing, most of the laundry, etc. If you can't understand that it's about who has the time to do it then don't get married, don't have kids. Give life 100 percent. Stop fussing over it and just do it!"
"Anyone ever heard of the book, The Proper Care and Feeding of Husbands? Read it; it will save marriages. If you're stubborn and are not interested in giving your all to a man in marriage, don't get married."
"What's the big deal? They want to live like that, that's their thing. I think we could all do with going back to some old-fashioned values. Maybe not as this women but there is nothing wrong with wanting to serve your husband if that's what you want."
"I was criticized extensively for catering to my husband. While it's not 24/7 hand and foot service, having his lunch packed, tea ready, work clothes (he wears a uniform) ready and meals ready, it is something I feel he deserves. I get to stay home, teach our children, and run a small farm. If it helps him to go those few extra steps when he's working up to 70 hrs a week, I'm more than happy to make his life a bit easier and less stressful."
…but she that is married careth for the things of the world, how she may please her husband.
1 Corinthians 7:34