Why Most Men Don't Want More Children
Why Most Men Don't Want More Children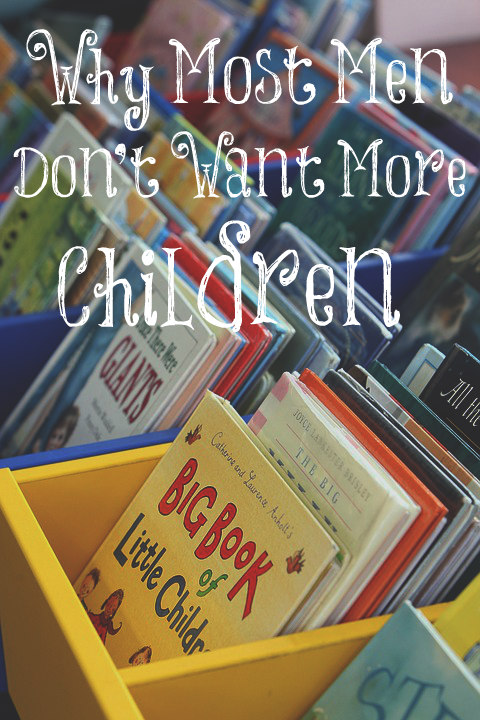 Women will frequently write me and tell me that they want more children but their husband do not. I have some ideas why men may not want more children. First of all, many wives put their children above their husbands once they have children. They co-sleep with them even if their husbands don't want this. The women give all of their time and energy to their children and have little to no time left for their husbands. They forget that they were first created to be their husbands' help meet.
Secondly, they expect their husbands to help with housework and the children after their husbands get home from a long day at work. They expect their husbands to get up in the middle of the night to change their babies' diapers. They have a "to do" list waiting for them so children become a burden for the husbands. Their lives are already full of working and trying to make a living for their families, then they come home and have to work more.
Thirdly, the wives don't discipline their children to make them enjoyable for their husbands to be around them. They don't teach them to not yell in the house, to not fight with their siblings, and the children don't obey. The husbands don't enjoy their children since their wives make little to no effort to discipline and train them while they are home all day with them. Wives are with the children much more than their husbands so most of the discipline and training needs to be done by them.
There are some young mothers that I know whose husbands want a lot of children. These women take joy in their role as wife and mother. Their husbands come first and the wives make sure their husbands' needs are being met. They honor their husbands' wishes and try to please them. They don't expect their husbands to do a lot of the child raising nor help much with housework since they know they are the ones who are called to be keepers at home. When the wives need to go somewhere and ask the husbands to watch the children for a few hours, the husbands don't mind at all because the children are well-behaved and a joy to be around. The wives who are intentional about training their children have made having more children desirable to their husbands.
Husbands who work hard to provide for their families carry a heavy burden. Yes, being a mother is difficult, too, but a mother at home gets to set her own schedule. She can train her children to help her as they get older. If she doesn't feel good, she can rest on the couch and watch the children. Her days are full of variety with cleaning, cooking, training, teaching, shopping, going to the park, taking naps, and whatever else she decides to do. Plus, the children grow up and her life gets easier but her husband must bear the responsibility of providing for the family for many more years.
When husbands are the providers and wives are the keepers at home, each one knows their roles and things run along smoother. Life is better for both when they don't have to bear the burden of the other's role. Yes, there may be some circumstances when the one needs the other to help in their role (such as during sickness or injury) but other than these, it's best to find contentment in the role the Lord has given to you and depend upon His strength and His grace to accomplish what He has called you to do.
Happy is the man that hath his quiver full of them: they shall not be ashamed, but they shall speak with the enemies in the gate.
Psalm 127:5