Children Being Taught By Feminists
Children Being Taught By Feminists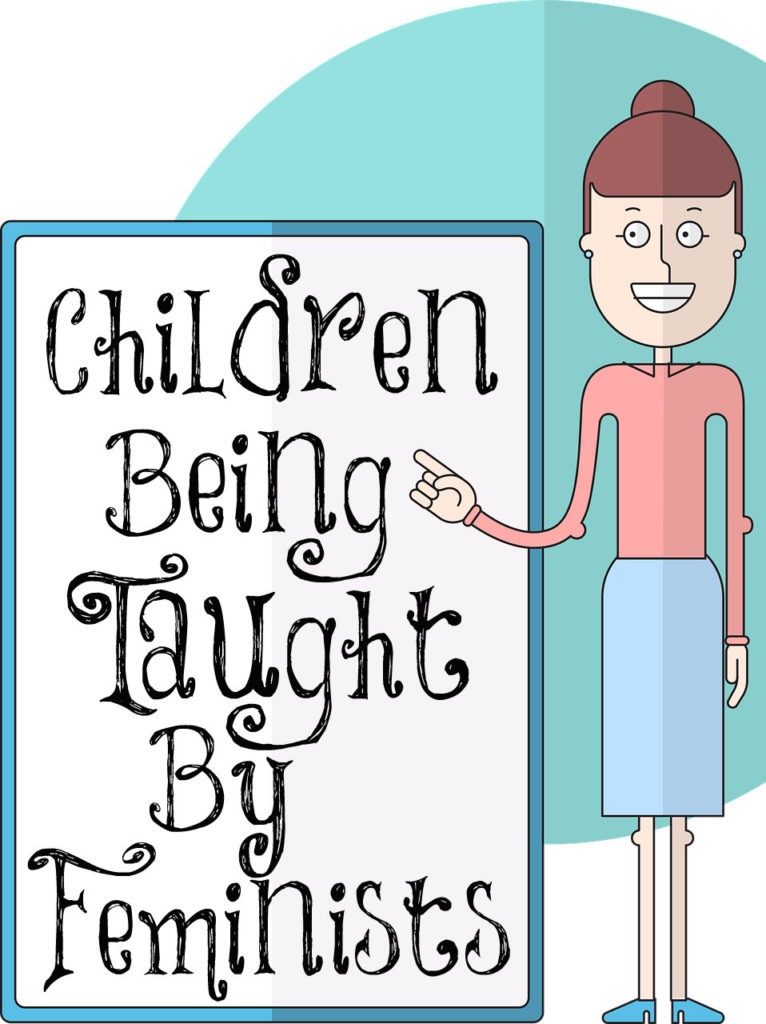 A man wrote me this the other day concerning female school teachers: "I started Kindergarten in 1957, and my teacher was an older woman, probably late 50's or early 60's. Same with first grade. When I started second grade at a brand new school, I had my first of many female teachers who were young, probably mid 20's to 30's. While there were a few male teachers at elementary schools in the 60's, women were the norm. So here is my question to you: How do you feel about young boys being taught at school by young women some barely past the tender age of 21, especially in this feminist world in which we live?
I think we can both agree, teaching has always appealed to the feminist woman, probably since the early 60's. In fourth grade I had my first feminist teacher, though I did not know of the term feminist then. What I did know and could easily see was she favored girls in the classroom like I'd never seen before and was quick to put down any boy who did not measure up to the girls, or at least it seemed that way. Recently, after re-connecting with an old classmate from that time, we were discussing this very teacher, so I did a little research. After not finding out anything I looked up obituaries and sure enough found her by her maiden name even though she was married. She had a hyphenated last name with her maiden name-husband's name. So my early thoughts back in 1961 about her being different were definitely true. In fifth grade I had an older teacher again, whom I liked very much. Then in sixth, I had what I would classify female teacher who was a 'subtle' feminist. Favoring the girls with preferential treatment, things like that, but very subtle.
So back to my question. I know how you believe (as do I) women should not be teaching men, and that it should be the reverse. How does it fit in when the women doing the teaching are paid teachers and instilling their value system (usually feministic) in young impressionable boys and girls, too, for that matter? I see very few older female teachers nowadays, and this has concerned me for a long time."
This, my friends, is another reason why Christian parents should be the ones teaching their children at home. I began kindergarten about six years after this man and I can recall that most of my teachers were feminists. Even in Christian schools nowadays most of the teachers are feminists! This should be very concerning to the majority of you. There's no way that feminists should be raising the godly remnant.
I taught for about five years before being able to stay home. Almost all of the teachers I worked with were feminists. There's only one that I can recall being a Christian. Most of them had children and weren't the ones home raising them. One day sitting around the lunch table, about six of these women told me they regretted having children since their children turned out to be rebellious. Their careers were way more important to them than being home to raise their children. Do we really want these women raising our children?
"Raising children in today's evil times is not for the lazy, indifferent, or casual parent who is swept along with the flow of society – even Christian society. Nor is it for the parent who is too busy to pay attention. We need to be willing to lay down our lives, to step up to being the person God wants us to be. We need to guard and sanctify our children's environment.
Can we expect to win against this bombardment of evil? Absolutely! When your baby sees and feels joy and peace, he grows up addicted to it and adopts your lifestyle as a means to the continuation of that which brings pleasure. He loves the lovely, praises the worthy, and eschews the evil. It is automatic." (Debi Pearl)
And ye shall teach them your children, speaking of them when thou sittest in thine house, and when thou walkest by the way, when thou liest down, and when thou risest up.
Deuteronomy 11:19