Christian Couples, Have Children!
Christian Couples, Have Children!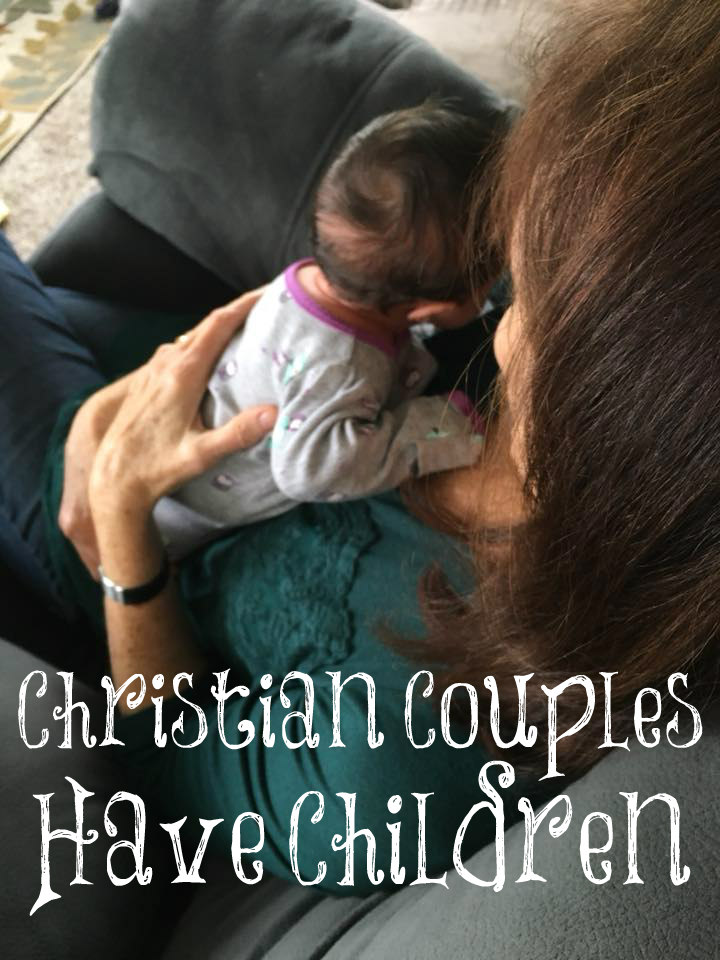 It seems that many young Christian couples are deciding not to have children these days. They either fear the future, think they don't have enough money, aren't ready, or they simply don't want them. They have no problems deciding this. They don't search Scripture to see what God's views are on this. They go along with the birth control mentality of our culture which has led to the slaughter of millions of unborn babies.
If fearing the future is why you don't want to have children, you are allowing fear to control your life instead of faith. God wants Christian couples to have children. One of the main purposes for marriage is to raise godly offspring. What if all Christians decided not to have children? One reason our culture is tanking so rapidly is probably due to Christians not having children and if they do, they aren't raising them in the nurture and the admonition of the Lord. This culture needs more salt and light, not less. As long as Christian couples can have children, they should! Never allow fear to govern your lives.
Maybe you are not having children because you don't have enough money. This never prevented couples from having children in past generations which were much poorer than ours. When the Israelites were in bondage in Babylon, these were God's instructions to them: "Thus saith the Lord of hosts, the God of Israel, unto all that are carried away captives, whom I have caused to be carried away from Jerusalem unto Babylon; Build ye houses, and dwell in them; and plant gardens, and eat the fruit of them; Take ye wives, and beget sons and daughters; and take wives for your sons, and give your daughters to husbands, that they may bear sons and daughters; that ye may be increased there, and not diminished" (Jeremiah 29:4-6).
God wanted them to continue to have children even in bondage! The Israelites grew in power during their captivity in Egypt too, how? By having children! Many of you forget that God is our Provider. If He blesses you with children and your husbands are willing to work hard, He will provide for your needs. Maybe He won't provide your wants, but He will provide your needs. It's a matter of trusting Him.
I have been pondering 1 Peter 3:5 recently. We are told that the holy women of old were known for their "trust in God." This defined their lives. May we likewise trust in God Almighty as we live our lives as foreigners and pilgrims in this wicked generation. Let us raise our children to walk in truth and be beacons of light for the Truth. Never allow fear to make decisions for you, young women.
Some will say they are just not ready to have children yet. They want to finish their careers, have money for a down payment on a home, travel, and other goals that they have. Do you understand that without birth control, these wouldn't be goals of yours at all? Once you married, you would know that a baby could come at anytime, and this was simply part of being married. Sex between married couples is supposed to produce children! It's God's intended purpose for us. If you don't think you're ready, reorganize your life so you are ready for the blessings that God may pour into your lives.
If you are married and you decide to not have children simply because you don't want them, you are in sin. God commands the young women to marry, bear children, and guide the home (1 Timothy 5:14). He never commands women to go to college, travel, and have careers. No, this is the feminist agenda for women, not God's. Be careful you are following God's will for your life before you suddenly wake up one day wanting children but are too old to have them. Don't pass up God's best for the fleeting pleasures of our culture. My children and grandchildren bring me more joy in my life than anything else possibly could.
Lo, children are an heritage of the Lord: and the fruit of the womb is his reward. As arrows are in the hand of a mighty man; so are children of the youth. Happy is the man that hath his quiver full of them: they shall not be ashamed, but they shall speak with the enemies in the gate.
Psalm 127:3-5
***Here's a great post for the single and barren women. May it encourage you.