Continuation of a Dysfunctional Life
Continuation of a Dysfunctional Life
This was shared on my Facebook page last week: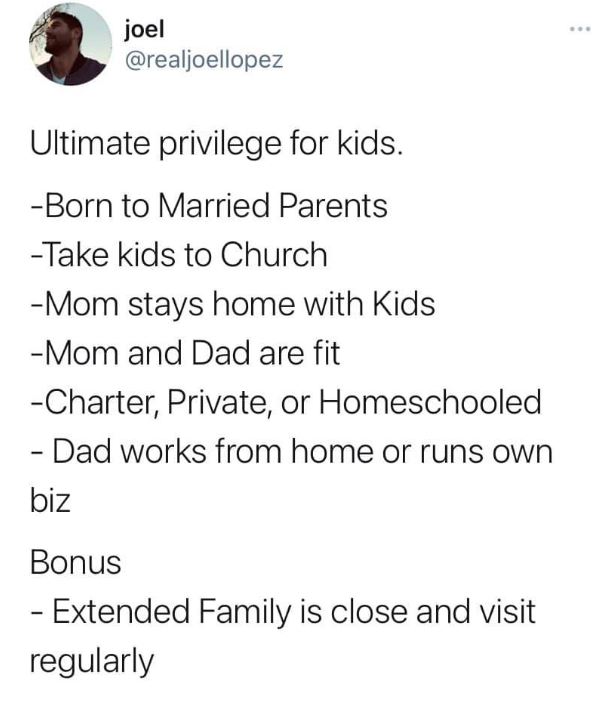 The following is a comment about Joel's tweet written by James D Ferrand:
It amazes me, that our generations, mainly 80's, 90's and early 2000's babies, most of us grew up in broken homes, and many of us dealt with the social and psychological consequences of such, sowing a lack of growth and maturity because of this. In any case, we were not shown the proper way to have family, with two parents or without. And you can't expect the education system to teach this, as it's a family dynamic and should remain so, intimate and not institutionalized for genuine authenticity.
We coped with our broken homes with addiction, video games, drugs, sex, whatever vice that we could use to "escape." We continue this "coping" into our adult life by leaving nasty comments on threads like this before retreating back to Netflix for the night to ignore and tune out the world's problems. And how powerless we must truly feel in-between cries of "we are powerful." How sad it really is. How deeply we have all been lied to.
Where what's being said is fundamentally true for everyone regardless of your world-views or opinions. One child, two loving parents, is and will always be what is going to set a child up for less problems in his or her adult life, not more.
To insult this basic premise and building-block of family is a coping mechanism and nothing more. People are either so jaded, black-pilled that they've given up and are calling their self-induced nihilism "being a realist," or they genuinely think doing what's harmful is, in fact, better somehow because of an op-ed they read somewhere online that reinforced their already held bias.
If not they summon the straw-man, "Well, I had two parents and had a terrible childhood." Well, I have news for you.
Having two parents wasn't your problem; having dysfunctional ones was. So stop throwing the baby out with the bathwater like you do with everything else, not limited to and including faith, God, and Christianity because some hypocrites at a church in your town belittled a gay friend or family member of yours, or your grandmas made you shut-off the Nintendo to go to church when you didn't want to.
mic drop
Most peoples' rejections of Christian ideals are, in fact, reactions not responses.
Because they are still coping, instead of owning up to our broken-ness, facing it, and healing by saying, "Though I didn't have this growing up, this is the right way, and how can I heal my trauma in order for me to have family the right way and not be a dysfunctional parent." Esoteric, spirituality, and even mysticism aside, the principles alone without the faith are even slandered and violently rebuked.
But pride, a nasty thing pride is and pride does what pride does best…
Act like a jerk and ignore the pain you have to face a way to improve your life.
No, instead of the rational approach, it's "leave edgy online insult here" then accuse the Christian of being irrational because they to choose to believe in a higher power.
Continues with dysfunctional life…
Says they believe in a higher power; they just don't call it God…
Congratulations humanity.
Peak failure and increasing daily.
 This know also, that in the last days perilous times shall come. For men shall be lovers of their own selves, covetous, boasters, proud, blasphemers, disobedient to parents, unthankful, unholy, Without natural affection, trucebreakers, false accusers, incontinent, fierce, despisers of those that are good, Traitors, heady, highminded, lovers of pleasures more than lovers of God; Having a form of godliness, but denying the power thereof: from such turn away.
2 Timothy 3:1-5