Trying to Wake Up the Church
Trying to Wake Up the Church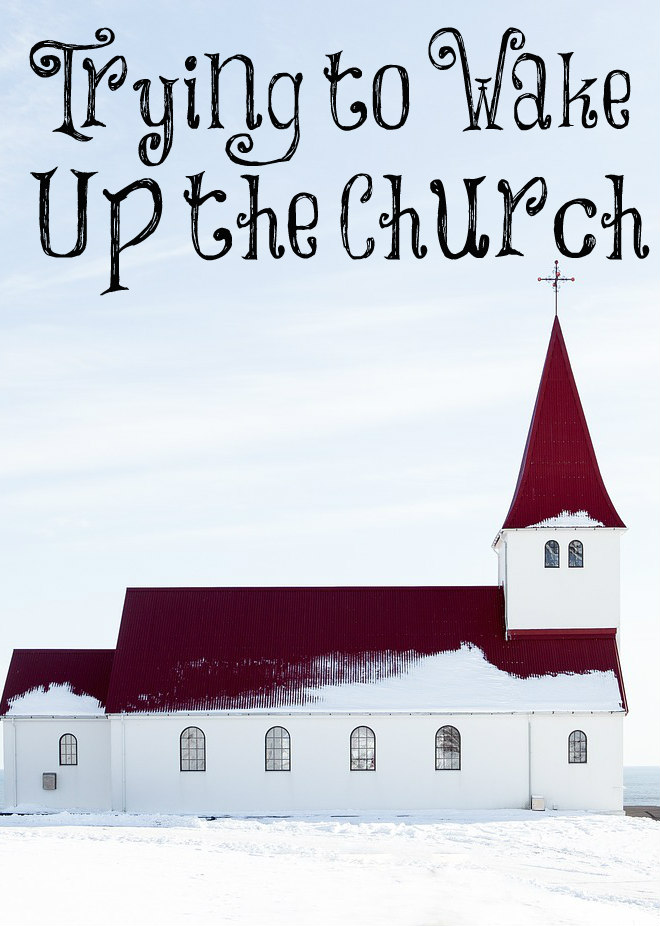 Written by Ken
As we reflect over the past year and our forty years of marriage, we cannot be more thankful with what God has done and will continue to do with our lives. We recognize that apart from His grace and mercy, we could have easily divorced or followed along with the rushing river of culture, yet God gave us His mercy to help us stay faithful to His Word and calling on our lives.
We have four wonderful adult children who now have families of their own that keep growing each year. Their loving marriages appear to be well beyond where we were at their ages with love and mutual service and living their lives to glorify God.
No one size fits all of God's Word and ways and contrary to what the detractors believe, Lori's goal is not to brainwash anyone or to say that you have to do things our way. Our ways have proven to be successful, but there were some "misses" as we sought to integrate God's Word into our lives and life of our family. Even as there are alternate approaches to how the Christian does marriage and family, whatever we do should always be based on God's Word. And why? Because we have chosen to allow Jesus Christ to be Lord of our lives, so we must seek His Word as we make our choices in life, or He is not Lord at all.
I must confess that I have spent very little time on the blog this past year for a number of reasons. Lori seems to do a great job without much of my help, and I am still very busy with my work and my own ministries. She is remarkable how much she can do in a day with her blog and family life; cooking and caring for not just me but the clan.
Last night as I watched two grandbabies crawling on her lap, I thought about the newborn coming any day when she will run to another home for a week or two to help care for Momma and baby, and that this woman I married is quite remarkable. She started out as a typically somewhat self-focused young bride but God and life's circumstances, and more particularly God's Word and the Spirit inside of her, has made her into a wife and mother who is almost completely focused on others rather than herself. I must admit that although I have always thought I was much more service-oriented than she was in our younger years, I had lots of growing up to do too. Together our lives are not seeking cruises and alone time, but rather still trying to make investments in others that will have an eternal lasting value.
The salad and soup was chopped and made after our walk today and taken to our other daughter who was not feeling well. Pumpkin pie was made for me, just because I asked, and now she is off to bed and I thought I would take the opportunity to write. We will never get rid of the detractors and slanderers so long as we put ourselves out in the public domain. But until the Lord makes it clear Lori is to stop blogging, she will continue to be obedient to the Lord's calling on her life to train the younger Christian women to love their husbands, lead chaste lives, and be keepers at home. And she does it with great success.
I so wish that she could share with you the regular emails, messages, and comments that bolster her spirits and make us know that God is doing a mighty work through the TTW blog, social media, and books. I am pretty sure she would continue to blog if just one woman a month wrote her about their own transformation in marriage. Many have written that when they first started reading her, they hated what she wrote, but it made them so angry and curious, that they kept reading. In time this seemingly "old fashioned" woman started to make a lot of sense, and then it hit them square between the eyes. God's Word and will for them became clear, and they are now loving their husband like never before, and some are coming home to take care of their babies as soon as practically possible.
The blog's success is not measured in the large number of readers, but the actual success of God using this grandma to help call a weak and wandering Church back to some of God's basics in the Word. Many of the basics, pastors and other women leaders are refusing to teach. It has been truly remarkable that many young and older women's lives have been truly transformed when confronted with God's Word.
And it is not as if God's Word does not make great common sense. Of course, wives are to love their husbands and care for their families with a full-time focus!  Nature, history, and the Word all point to these simple facts, yet the world wants to say that modern woman can choose to do and be whatever she wants with no repercussions. Well, maybe it makes no difference to the world, even as statistics on divorce, depression, and suicide don't lie. It certainly makes a huge difference to the Church and in raising the next generation of godly offspring.
Society is now filled with lost people seeking careers, pleasures, and new gender identities to try and escape who they have become. The "cat ladies" can attest to this. You cannot ignore husband and family and throw your life into your career without finding yourself at 52 years old lying on the ground pleading for your cat to come to you as he walks away with a smirk. No one else of any lasting value in your life. If we do not define what life is about at the beginning, we will end up with exactly what we focused upon… self and self-desires over the things that truly count.
We are in the camp that says that the only things that really count in life are the time, energy, and investments we make in relationships for Christ, beginning with our spouse and family then extending to all those who God puts in our path. We are to be Jesus to a lost and broken world and that begins at home raising wonderful, well-disciplined God-loving children. Then we take it to friends and the world trying to expose the love and life of Christ in all we do and say.
Yes, sometimes TTW shouts loudly in order to try to wake up the Church. Some say it's unkind to speak so loudly … going on to say how unkind she is for not listing every exception as to why some woman in "Timbuktu" can't live up to what was just posted. The words posted are not speaking to Timbuktu but to you… personally. The mind set on the flesh seeks to justify and give excuses and exceptions for why they personally do not want the Word or its admonitions to apply to them. The mind set on the Spirit says, "Lord, thy will be done. Is this something I need to consider or can I pass on by?"
Fundamentally, we believe that God has communicated plainly and clearly through the language of His Word and with 99.9 percent accuracy, the main Bible translations like the KJV are faithful to the original language. For this reason, TTW can give the simple straightforward message of the Word without needing to read the latest liberal scholars, many of whom may not know Jesus but have discovered how to make the Greek and first century culture render the Bible almost meaningless to today's culture. They are convinced that this modern world needs a modern gospel to fit it so they go about building it. The echo of "Did God really say…" continues to this day with the march to eradicate the plain teaching of the Word in the modern churches.
If you are a woman who desires to trust God with what He plainly says, then this blog is for you. But if you are one who wants the Holy Bible to open its arms to sex before marriage, porn, homosexuality, women preachers, and putting careers before babies even when you do not have to work, then please pass on by. Let this grandma speak from her heart the Word of truth and don't expect her to be perfect in how she says it.
Take my word for it as one who lives with her each day, that she loves women and wants nothing but God's best for each and every one of you. Don't take her word for anything, but check it out for yourself in the Bible. She's just the messenger and the rest is up to God. You can't threaten or mock or detract this older godly woman from her mission because she's already escaped death multiple times and her days are numbered, just as are yours and mine are. Then we can all give an account for how we lived in this life and body as we stand before our Lord God. We desire to tell God that we stood with the plain history proven teaching of His Word.
Many blessings to all the supporters of The Transformed Wife's ministry. May you keep us in your prayers and pray that many would be won to a sensible Biblical faith and practice as we try to live life under the Lordship of Jesus our Savior. No man or woman trying to control the other, but just the love of Christ invading our marriages, families, and churches moment by moment each day.
Let the word of Christ dwell in you richly in all wisdom; teaching and admonishing one another in psalms and hymns and spiritual songs, singing with grace in your hearts to the Lord.
Colossians 3:16