Desiring to Promote Your Husband's Happiness
Desiring to Promote Your Husband's Happiness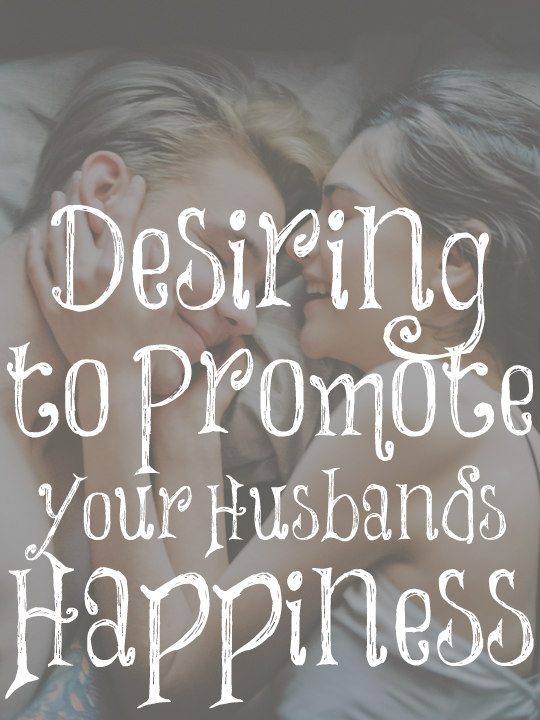 Let's study God's instructions to us about sexual relations in a marriage. 1 Corinthians 7:2-5 shows us clearly what these are. If you don't like them, you will have to take it up with the LORD since I am simply teaching what He commands.
"Nevertheless, to avoid fornication, let every man have his own wife, and let every woman have her own husband." God forbids all sexual relationships outside of marriage. He wants one man to marry one woman. This is His plan for us. "For this cause shall a man leave father and mother, and shall cleave to his wife: and they twain shall be one flesh" (Matthew 19:5). What this means is that sex is a very important part of marriage. It helps us to avoid fornication. Marriage is a safe and holy place where a man and woman can enjoy each other's bodies.
"Let the husband render unto the wife due benevolence: and likewise also the wife unto the husband." What does due benevolence mean? The 1828 Webster Dictionary defines it this way: "The disposition to do good; good will; kindness; charitableness; a desire to promote another's happiness." Do you desire to promote your husband's happiness? Do you have a disposition to do him good? Do you show him kindness? Men enjoy sex. IF you want to promote your husband's happiness, do him good, and show him kindness, you will be available to him sexually.
Years ago, a bunch of my friends went on a trip together and during one dinner, we were talking about how often we have sex with our husbands. We had all been married for many years by this time so we were considered older women. One of the women piped up, "We have it every day!" Another woman asked her why and she quickly responded, "Because it makes him happy!" This woman promotes her husband's happiness. I know this man. He is very happy with his wife!
"The wife hath not power of her own body, but the husband: and likewise also the husband hath not power of his own body, but the wife." Your husband has power over your body, women. Most women recoil at this idea. They want to be in control of their own body but God tells us that our husbands have power over our bodies. Therefore, we are not selfish with our bodies. We allow our husbands to freely enjoy our bodies. We don't insist on having sex in the dark. Men are visual and your husband likes to see your naked body. Be naked and unashamed with your husband. This pleases God.
"Defraud ye not one the other, except it be with consent for a time, that ye may give yourselves to fasting and prayer; and come together again, that Satan tempt you not for your incontinency." Defraud means to "deprive of right; to withhold wrongfully from another what is due to him; to defeat or frustrate wrongfully." When you withhold sex from your husband, you are defrauding him and depriving him of what is rightfully his. This is sin, women. So many women do this to their husbands. I know. Ken hears from them often. This must not be the case with us! You are frustrating your husband wrongfully when you do this and withholding what is due him.
Look at the last phrase in this verse and why we should never deprive our husbands: "that Satan tempt you not for your incontinency." This means that if we are withholding sex from our husbands, we are allowing Satan to tempt them. Do you want Satan to tempt your husband to look at porn or go have an affair? NO! Now, this is no guarantee that if you are available to him sexually, he won't look at porn or have an affair BUT we are only accountable for our own actions and as far as it depends upon us, we don't want to do anything that will allow Satan to tempt our husbands sexually.
God created sex for marriage to bring pleasure and produce children. This is very good. Satan distorts what God calls good, uses sex to destroy people's lives, and convinces women to prevent having children. Satan has completely divorced sex from marriage and sex from having children in our culture. This is not from God. Sex is good and to be thoroughly enjoyed by married couples. Children are good and a beautiful fruit from sex between married couples. All of God's ways are good, and acceptable, and perfect!
She will do him good and not evil all the days of her life.
Proverbs 31:12