Discontentment is a Marriage Killer
Discontentment is a Marriage Killer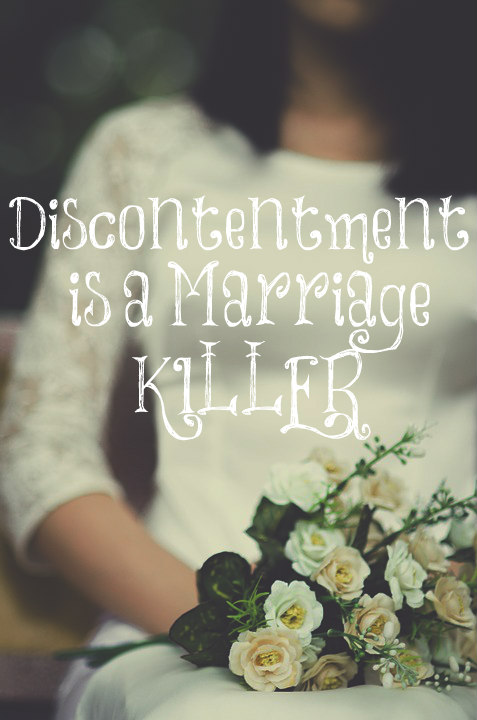 Divorce always begins with seeds of discontentment planted in our minds by ourselves or others. Feminism flourished because it appealed to wives', mothers', and homemakers' discontentment. "We can no longer ignore that voice within women that says: 'I want something more than my husband and my children and my home.'" (Betty Friedan, The Feminine Mystique)
As soon as we allow discontentment into our thought life, we are on the path to nowhere good. "He is not as romantic as he should be." "He doesn't treat me kindly all the time." "I am not happy." "He ignores me too much." "He watches too much TV." "He doesn't help me with housework and the children enough." "I am bored at home." "I could accomplish so much more than simply raising these children." "There's got to be more to life than housework." And on and on the list of discontentment goes.
Discontentment comes when we stop being thankful: discontentment for the life we have, the husband we married, the children we are called to raise, the home we live in, and the blessings we have been given. In Romans 1:21, we are told that being unthankful is the beginning of turning away from God and living a life of sin: "Because that, when they knew God, they glorified him not as God, neither were thankful."
Discontentment is self-pity and as Oswald Chambers wrote, "Self-pity is satanic." Feminism hasn't made women happier and more content. No, it's made them more unhappy, discontent, and full of self-pity. Life and our circumstances aren't about making us happy. They are about making us more like Christ.
Eve stopped being thankful for the position that God put her into in the garden and seeds of discontentment were placed in her mind that reaped tragic consequences. Satan beguiled her with the question: "Hath God said….?" His desire is to kill, steal, and destroy. He wants women asking, "Hath God really said that young women are to marry, bear children, and guide the home? Hath God said that women should be keepers at home and silent in the churches? Hath God said that wives are to be submissive to their husbands in everything?" Feminism is simply acting as Satan's agent of destruction.
If a woman believes she is "dying inside" and blames it on her husband, she has made her husband an idol instead of finding her satisfaction and fulfillment in Christ. Women naturally rebel against their husbands (Genesis 3:16) and try to find fault with them so we must always be on guard against doing this. God wouldn't have had to tell us so many times in His Word for us to submit to our husbands if it came naturally and easy for us.
Discontentment among women in marriage is a common malady today since 70 – 80% of divorces are initiated by women. We must constantly be aware of this in us, women. We must do everything we can to fight against Satan's questions and doubts he tries to plant in our minds and put on the full armor of God every day. Remember to be continually renewing your minds with the truth of God's Word and taking every thought captive to the obedience of Christ. Let the Word of God dwell in you richly, meaning frequently meditating, reading, and studying the Bible.
Learning contentment is a deliberate choice, as believers in Jesus Christ, to be joyful and content and to love our husbands as stated in 1 Corinthians 13:4-8, even if we aren't feeling loved by or love for them. It's learning to say, "The JOY of the LORD is our strength" and believing it. It's learning to live for the Lord and His glory, not our own.
Be thankful. Dwell on the good and the lovely. Live a life of service to others. Rejoice. Count your blessings. Learn contentment in God's good, and acceptable, and perfect will for you! Never allow discontentment to kill your marriage.
But godliness with contentment is great gain.
1 Timothy 6:6