A Husband Bears NO Responsibility For His Wife's Submission
A Husband Bears NO Responsibility For His Wife's Submission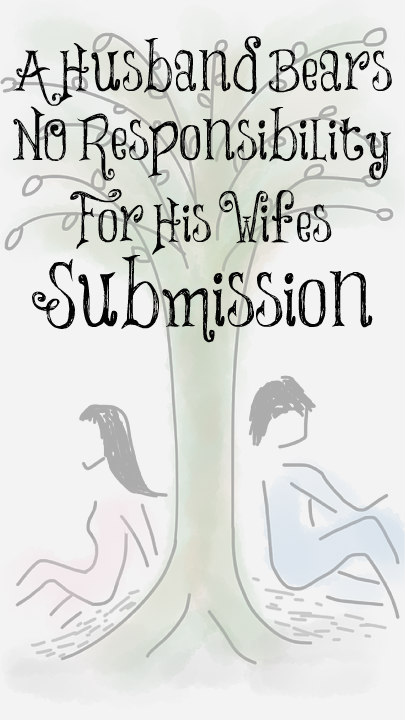 It's much easier to put the responsibility of a wife submitting to her husband on the husband's shoulder. After all, most marriage books and pastors teach that if a husband is loving his wife as Christ loves the Church, then it will be easy for a wife to submit to her husband. Or if the husband meets all of his wife's "needs" then she will willingly submit.
Here is how many preachers/teachers of the Word teach biblical submission: "When husbands are doing what God commands them to do in their marriage and they are doing it rightly and biblically, most wives love it and are happy to respond to it enthusiastically." Therefore, the wife's submission is incumbent upon the husband's behavior. Our obedience to God is NEVER dependent upon someone else! It's our responsibility to obey God regardless of the circumstances we are in and putting the burden on the husband simply makes it easier for women to shirk their obedience in this area. She then becomes the determiner of whether or not he is worthy of her submission. It is never the husband's fault if the wife isn't submitting to him. It's her fault alone.
I have mentored women for many years. Many of these women are married to kind and gentle Mr. Steady's but these women wore the pants and were very unhappy with their husbands. Most women's natural inclination is to want to be in control and be discontent with their husbands. Once they learned true biblical submission, that it has absolutely zero to do with a husband's behavior, then they learn to appreciate their husbands' good qualities and begin to submit to them out of obedience to the Lord.
If it were true that wives should only submit to their husbands when their husbands love them as Christ is loving the Church, then what about 1 Peter 3:1? Wives who are married to husbands that are disobedient to the Word are to win their husbands how? by living in subjection to their husbands. So this blows that theory out of the water!
No, a husband can't make his wife submit to him unless he is cruel and uses force which is wrong. He can tell her to submit to him as her leader but true submission must come from a decision by the wife to obey God even when it's hard. Obedience to God isn't easy in our wicked world. Living godly, set apart lives isn't easy. Walking on the narrow path that leads to life isn't easy. Living our lives to love and serve others, even our enemies, isn't easy. No. And for ministers of the Word to water down biblical submission and tell women that their husbands should make it easy for them to submit goes against the clear teachings of the Word. They need to read and study 1 Peter 2.
"For even hereunto were ye called: because Christ also suffered for us, leaving us an example, that ye should follow his steps: Who did no sin, neither was guile found in his mouth: Who, when he was reviled, reviled not again: when he suffered, he threatened not; but committed himself to him that judgeth righteously" (1 Peter 2:21-23).
A wife's submission is not always easy. It's giving up her rights for his. It's giving up control and allowing her husband to be the leader. Yes, some husbands are a lot easier to submit to than others but this has no bearing on whether or not a wife should submit or not. If she wants to live a life of obedience to her Lord and Savior, she willingly and lovingly submits to her God-ordained authority, her husband, regardless of his behavior.
Wives, submit yourselves unto your own husbands, as unto the Lord. For the husband is the head of the wife, even as Christ is the head of the church: and he is the saviour of the body. Therefore as the church is subject unto Christ, so let the wives be to their own husbands in every thing.
Ephesians 5:22-24