Do God's Roles for Women Offend You?
Do God's Roles for Women Offend You?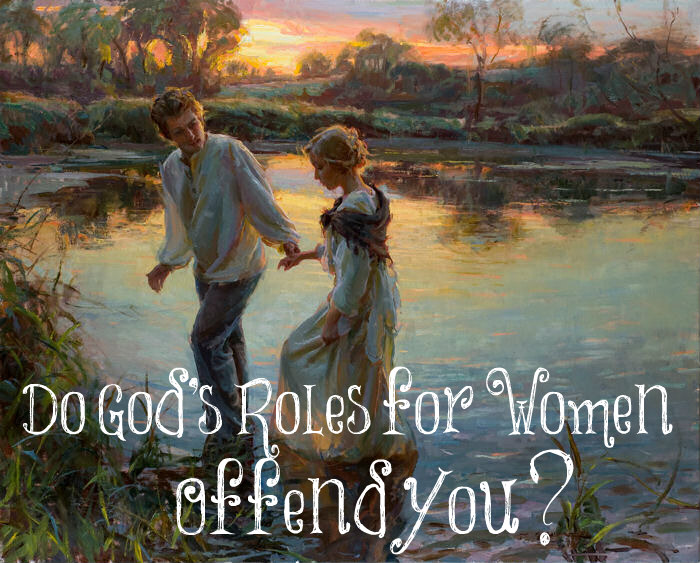 Why are so many women offended by the Lord's will for them? Why are they offended with the concept of submission and the husband being the head over the wife? Why are they offended because women must be silent in the church and not teach nor be in authority over men? Why are they offended that God calls younger women to be keepers at home and doesn't call them to careers and fulfilling their dream? Why is there so much hatred directed towards those who teach these truths to women?
These women must see that most marriages are not good today. Seventy five percent of divorces are initiated by women. They must see this as a bad thing. They see the children of divorce suffering from not living under the same roof with their mother and father but being shuffled from house to house. They see wives who are manipulative and controlling towards their husbands and must think it looks ugly. They see women who are exhausted from trying to hold down a career along with a family and keeping a home. They have to see the ugly fruit from doing things opposed to God's plan for women, yet they don't seem to be able to connect the dots.
I asked the women in the chat room if they have ever been offended by any of God's instructions to women because I know I never have. He created us and knows what's best for us. No, I didn't always live them out perfectly, but I know they are perfect. Most of the women in the chat room have never been offended by them either. They also love the Lord and His ways. Some of them didn't know or understand godly womanhood but since they've come to understand and apply it to their lives, they see a huge difference in their marriage and in their lives!
Terri answered, "No, not offended at all. It made (makes) me feel protected and some sort of relief that all the pressure of leadership is put on the man, not woman."
Nakkitta wrote, "Nope! It's completely aligned with how I wanted to be anyway! It's a hard transition, because I was raised with women who were ALWAYS in charge and the men who were submissive, quiet, and didn't get in the way."
Morgan replied, "No, it was life and freedom from what I had thought and seen life as a woman was supposed to be. I'm so grateful. People often think this way (God's way) of life is bondage and I've had ladies 'reach out to me' to try to 'help me' see cultural truths that they assume, as I once did, to be biblical."
Kareena wrote, "I felt relief. Being surrounded by feminist, I always felt something didn't sit right. When I discovered the Word and my true role I felt at ease, protected, and grateful. I am now happier and my marriage is better. At the start, I did get questioned with 'You're a strong confident women; how can you put up with that?' I am stronger, more confident and more at ease in my role now."
Judy answered, "Not really. I am very thankful to have the honor and privilege to carry, birth, nurse, nurture full-time, and be the one that our children are the most attached to. I figure that my husband should get a few benefits as well, even though they don't compare to mine!"
Deb responded, "Oh yeah! lol but it didn't take long for God to touch my heart and show me His way is the only way! I was raised by a feminist and my dad raised me more like a boy than a girl….. It was hard to grasp at first. I had to 'learn' how to be more feminine, as sad as it sounds it was embarrassing at first to act or feel like a lady. I make sure to raise my daughters to be very feminine and embrace being a female!"
How about you? If you are a believer in Jesus Christ, do His ways offend you? If so, you need to examine yourself to make sure you are in the faith.
And blessed is he, whosoever shall not be offended in me.
Matthew 11:6
*picture by Daniel Gerhartz