Doctors, Drugs, and Demons
Doctors, Drugs, and Demons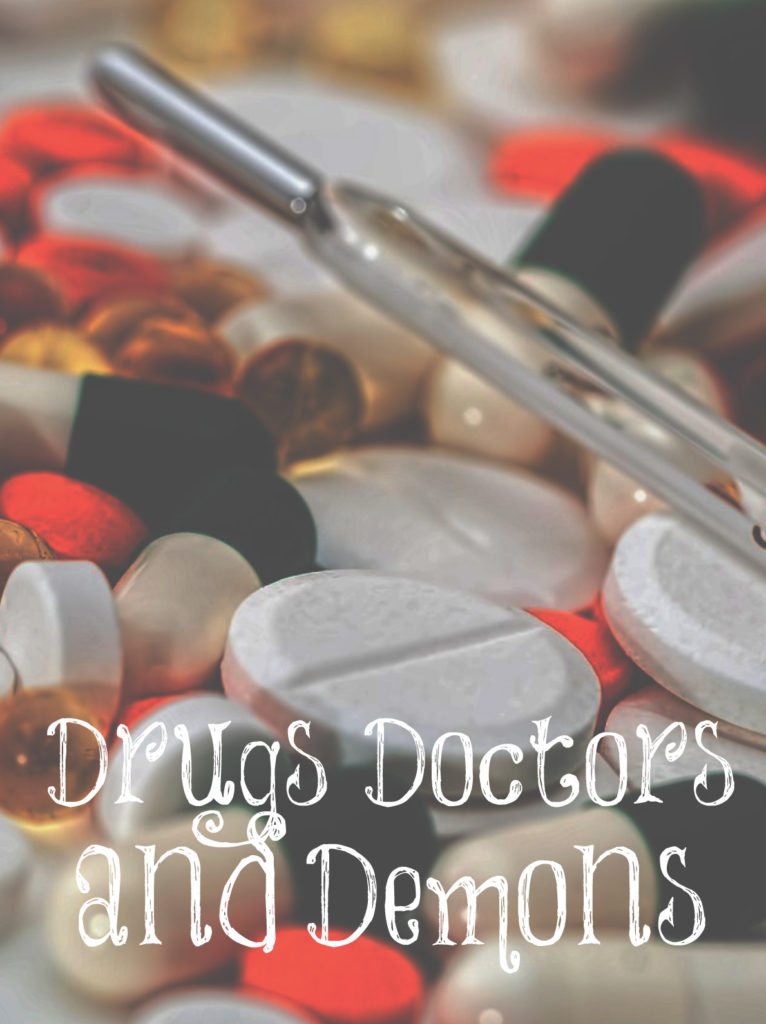 My mom grew up in a church where doctors, drugs, and demons were synonymous. Her mom raised seven children without ever taking them to the doctor. Her home remedy for almost everything was warm water with fresh lemon and honey. Then my mom married a doctor. She developed ulcerative colitis when I was very young. She went to a doctor who put her on only "white food" and steroids, and told her that there was no cure. She grew sicker. She knew this wasn't going to work.
She went to "health farms" where they would fast her for several weeks on water only, then give her fresh juices from organic vegetables. After much trial and error, she was able to heal herself completely and even had a doctor do a colonoscopy to prove it to him. (Jordan Rubin from "The Maker's Diet" cured himself from the same disease.) If drugs, radiation, or surgery can't heal oneself, doctors will tell their patients that it's incurable.
I don't ever remember my mom giving me drugs for anything. We rarely went to the doctor. Therefore, my sisters and I grew up with a healthy fear of drugs. We all went to a large public school where drugs, alcohol, and fornication were rampant. (There was no homosexuality nor transgenderism back then and if there was, it certainly wasn't out in the open.) This was in the 1970s after the sexual revolution of "free love." (Satan sure likes to take what is evil like fornication and give it a good name like "free love." He's the master deceiver.)
Because all us had a healthy fear of drugs, none of us were ever even tempted by them. Besides, I was relatively happy and didn't need anything to make me "happy" or deaden any pain in my life like many of my classmates did.
Yesterday, I read a post from a woman whose brother just killed himself with heroin. They weren't raised in a Christian home, but she became a strong believer in Jesus Christ later in life. She eventually led her brother to the Lord. He had to go to prison shortly afterwards and shared the Gospel with whomever would listen. He went to rehab facilities but could never stay sober for long. Oh, how he regretted ever taking the wicked stuff. It eventually took his life.
A beautiful woman I mentored was married to a man who became addicted to opiates due to a leg injury he sustained while being a fire fighter. He went to a Christian rehab center, and then the two of them were reunited. Eventually, the fire department wanted to reinstate him, but she noticed something wasn't right about him. She asked him to test his urine and sure enough, he was back onto drugs and a destructive path.
Women, warn your children about the dangers of drugs. I rarely gave my children drugs growing up. Maybe a few Tylenol when they were in bad pain, but that's almost it. They grew up with a healthy fear of drugs. Yes, there is a time and place for drugs. They have saved many lives including mine, but they should be the last resort, not the first as many do these days. All drugs have side effects and need to be taken with care.
If you are raising your children in the Lord and to know who they are in Christ, they most likely won't turn to drugs. Their lives will have meaning. Many children are growing up in daycare, then being taught humanism in public schools. They're taught they came from apes, thus there's no meaning to their lives. This is such a lie! God formed them in your womb. He sent His Son to die for them to take the penalty of their sin so they could live eternally with Him. They need to hear this often!
And thou shalt teach them diligently unto thy children, and shalt talk of them when thou sittest in thine house, and when thou walkest by the way, and when thou liest down, and when thou risest up.
Deuteronomy 6:7