Virginity is a Patriarchal Concept?
Virginity is a Patriarchal Concept?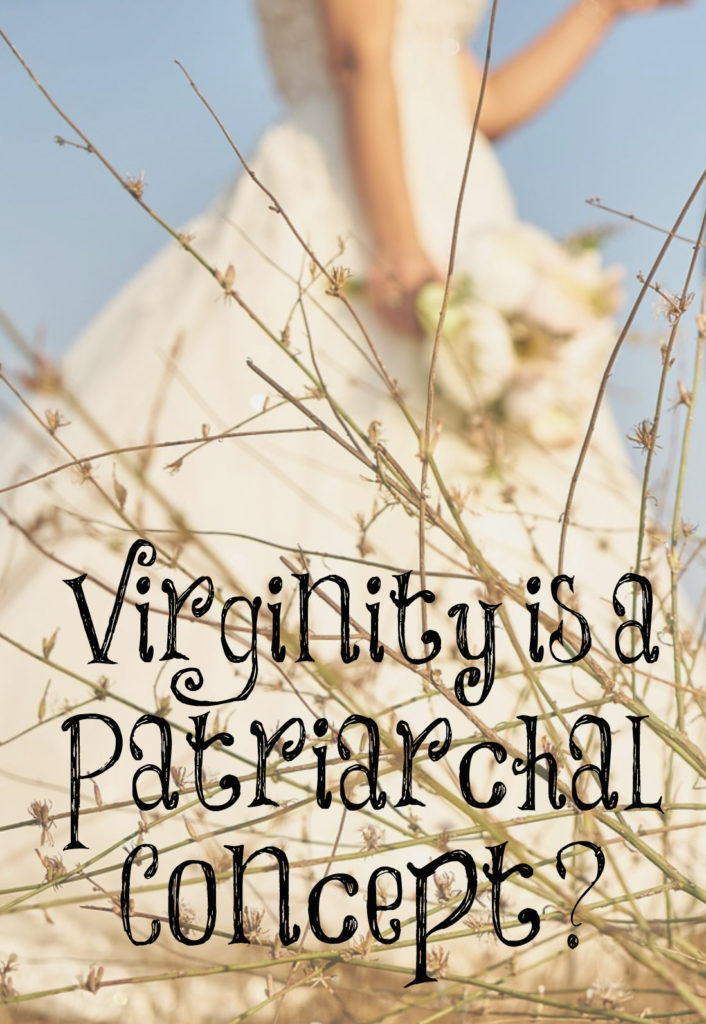 Everything seems to be blamed on "Patriarchy" and "White Supremacy" these days, doesn't it? Why is that? It's to find an excuse and blame someone else for their own misery or something they don't like. That's it.
Here's a woman whose rant went viral when she shared what she is teaching her five daughters about virginity.
"Cayce's video immediately went viral with over two million views. In it, she explains why she is raising her five daughters to believe that there is no such thing as virginity. 'It is a patriarchal concept used to control women and serves no purpose — other than making women feel bad about ourselves. Just because some guy randomly sticks his penis in you at some point in your life does not change your worth, it does not change who you are, it doesn't do anything other than it happened. Sex is important. It's a big deal. It should always be a big deal. It has nothing to do with your first time…it's just ridiculous. The whole concept is ridiculous,' she says in the video." (From an article on BuzzFeed)
There is such a thing as virginity. It's a concept created by God Almighty to protect women, not hurt nor control them. Women are facing so much pain from fornication, which we are told to FLEE. Virginity doesn't make women feel bad about themselves. Fornication is what makes women feel bad about themselves.
Our worth comes from Jesus Christ, not from sex or virginity as she tries to claim. This is why His commands to us are for our good. Yes, sex is a big deal. In this we agree. The first time should be with one's husband on their wedding night. This is the safest and most secure place for women to experience sex their first time, not with some random guy in the back of a car.
Women who have their virginity stolen from them through rape, do suffer. It's not the teaching of virginity that causes them to suffer. They suffer because they know something horrible was done to them against their will. They feel violated and used. This nonsense that teaching the value of virginity makes those who were sexually abused feel badly is ridiculous. Their own reactions to what was done to them proves the value of virginity. One's virginity being stolen from them is completely different than giving away one's virginity freely, and everyone with common sense already knows this to be true. They just want to use this argument to stop all those who are teaching the value of virginity.
I asked the women in the chat room if they had sex before marriage, how it affected them. This is how some of them responded:
"It created an emotional separation basically from sex itself. It's more of just an act for me than a true connection."
"Having the memories of past lovers. It would have been a satisfying accomplishment to have been a virgin on my wedding night, but because of fornication, I robbed myself of that."
"It caused all kinds of problems. I was always honest about my promiscuous past once I became a Christian, and I felt like I had so many hard conversations over and over. I developed major intermittent anxiety over having to discuss it. There are still issues from me having sex before marriage that are too sensitive to discuss in a group this size, but I still suffer the consequences."
"I would say this is my biggest regret in life. God created sex for husband and wife, and it isn't meant to be shared with anyone else. When you share it, it looses its exclusivity. You almost make yourself less 'special' if that makes sense."
"I feel cheap, guilty, and used. I have lasting scars on my heart that I don't know how to heal."
"It ruined my view of sex in my marriage for a long time. It affected how I saw my husband for a while too. I treated him like the horrible men from my past that I had no business being with in the first place. I lost my virginity three years before I got married. Just three years."
"It stole my purity. It opened the door to Satan stealing a lot from me. I left my first boyfriend after we had sex when I went to college. Then I became promiscuous under the guise that if I was good in bed, then I would be loved and I also left that boyfriend because in many ways, my culture at home and around me told me I could do better and find a better 'well off' suiter in college. This way of thinking led me to drugs, alcohol, and promiscuity. Then that led me to being pregnant at 20 and having an abortion. Having sex before marriage was the first life altering decision I made that opened the door to Satan stealing and destroying. But Praise be to God for His redemption. I have come into my calling of being a wife and a mother. I struggle with my past in my marriage and my motherhood, but am trusting God that my husband and I will be able to teach our children the value of purity."
A man from @masculinerevival on Instagram asked what people thought about the hookup culture.
"Oh, man. I wish I had never done it before marriage. It's awful. Sometimes my past experiences are triggered while I am with my husband, and it's almost as if I'm letting someone else into our own private bedroom or our own private love and life. It's not worth it. The society is definitely geared towards making you feel like you're missing out, and it constantly bombards you everywhere you turn; billboards, ads on your phone, gross clothes in stores, etc. All of those things have a great influence on a young mind."
"It diminishes the ability to properly pair bond for a lasting relationship down the lines."
"There is a correlation between number of past sexual partners and higher divorce rates."
"Destroyed my perception of what a healthy relationship and sex life should look like."
"I think the hookup culture is one thing that damaged chivalry and true masculinity."
"SO many of my married female friends have the exact same experience. Many of us were pushed/persuaded to be sexually active years before we would have been ready, and many end up regretting every single encounter."
"Personally, if I could go back and make changes, I would. It did nothing positive for my life right now. It only made my struggle with lust, pornography, and masturbation more difficult. It made me look at women as objects, prizes to be claimed, as bragging rights among the people I kept company with. It takes only minutes to hook up, but it takes years to fully recover from it. If you can fully recover at all."
"Slowly but surely it destroyed me in every way possible. Future conversation with future husband will be very rough."
Oh, yeah. Sounds like virginity is a patriarchal concept meant to control women. Right. There's so much insanity these days, women. Be in God's Word daily, so that you are wise instead and don't stop teaching your children the value of virginity. God's ways are for our protection, and they are perfect. Fornication has made no one's life better. God's ways do.
Flee fornication. Every sin that a man doeth is without the body; but he that committeth fornication sinneth against his own body.
1 Corinthians 6:18