Does College Make Better Mothers?
Does College Make Better Mothers?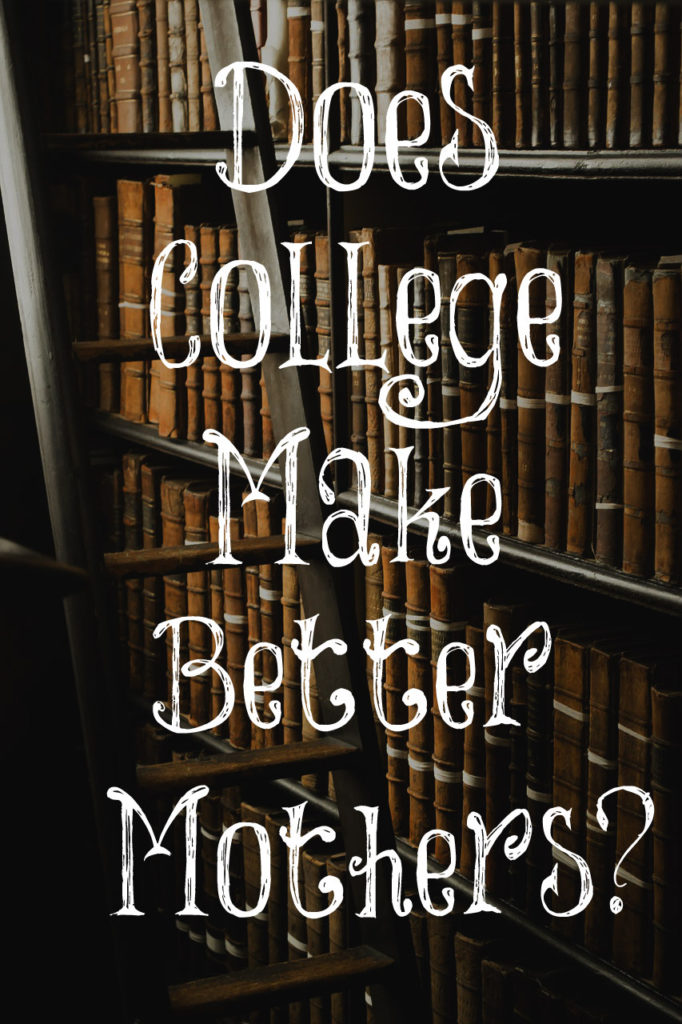 There is nothing biblical about going to college so let's just get that out of the way. There's no command that tells women that they must get a job or even make money. Yes, there are examples of women who made money in the Bible but no commands from God that women are required to make money. Women going to college and making money are not biblical concepts so let's not try to say that they are or are of any value to God.
Women have told me that college makes better mothers. Is this true? I don't believe so at all. All that is required of a mother to be a good mother is for her to love her children deeply, sacrifice for them, and want to be the one who raises them full time. Yes, some want to raise them full time but are unable. I am not referring to them. The key word is "want." Many mothers don't want to be the ones raising their children and I believe college has made this much more common.
As I have stated in previous posts, most colleges are extremely expensive so mothers come into marriage with a lot of debt. This debt often prevents the couple from having children sooner rather than later and if they do have children, the mothers most likely have to keep working to pay off the debt. This doesn't make a good mother.
Dennis Prager stated that people go into universities knowing the difference between male and female and come out not knowing the difference. So this is a big negative for secular universities. The Bible warns us to not be equally yoked with unbelievers (and no, this isn't concerning marriage but that is true, too. Look at 1 Corinthians 6:14-18.) We are repeatedly warned against listening to false teachers and those who manipulate the Word of God which are both rampant in the universities.
The colleges teach women nothing about biblical womanhood (how to be a good wife and mother). In fact, even the Christian colleges teach women more about how to be a feminist: how to be independent, how to make money, and how women don't need a man. This was true even many years ago when I attended a Christian college. As believers in Jesus Christ, this is not what we are commanded to learn. We are taught to depend on the Lord Jesus Christ and then if we get married, to depend upon our husband's protection and provision.
Children are more insecure and emotionally unstable than they were in past generations and I believe it's due to mothers not being home with their children full time. Dr. Brenda Hunter in her book "Home By Choice" proves this to be true. Of course God wants mothers raising their own children! I'm not sure why so many women are offended by this truth.
Colleges, debt, and careers have taken mothers from their children and this has been devastating. Marriages are crumbling and children are abandoned. It's a very high price that our children have had to pay so women can go to college and have careers.
No, I'm not telling women to not go to college but warning them about the consequences. Many young people who were raised in Christian homes walk away from the faith in universities. This is the worse consequence of all but how can we expect anything different when we disobey the Word of God (1 Corinthians 6:14-18).
If you can get through college without any debt, get a career that you can quit immediately when you have your first baby, keep a solid foundation in Jesus Christ and a good godly support system around you, and don't allow the filth in the universities (if you go to one) not affect you, then go for it but there are things women can do without going to college if they aren't married.
Our nation idolizes college (as I could clearly see from the responses from my viral post) and, as believers, we should not. We need to carefully count the cost before making any decisions such as this. My mom never went to college and has been an excellent mother which is way more important than any college degree or career she could have had. No, women who go to college don't automatically make better mothers. That is a myth that can be easily seen by looking at the sad state of our culture and children.
For the wisdom of this world is foolishness with God. For it is written, He taketh the wise in their own craftiness.
1 Corinthians 3:19