Dogged Determination to Stay at Home
Dogged Determination to Stay at Home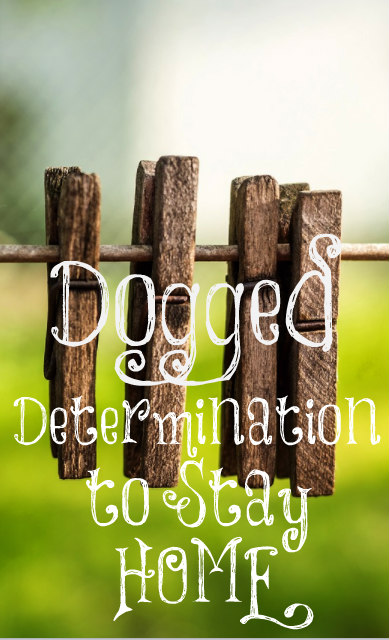 Written by a woman who wants to remain anonymous who was determined to stay home with her children.
In order for me to stay home with my children, I grew a lot of my food and I taught myself to can it. I bought fabric at the thrift store and taught myself how to make my clothes and my children's clothes. I hung my clothes on a clothesline to dry. We installed a wood stove in our fireplace and heated our home with a wood stove instead of paying a expensive power bill. I drove an older car. I learned to sew and made craft items to sell at local craft shows to contribute to my husbands income. I found a bent can grocery store and bought my grocery items there. I gleaned lots of information from the older women in my church on how they saved money. I turned the air conditioner off in my home and used a fan until my children became too uncomfortable then I turned it back on only during the hottest months. I prayed for wisdom and knowledge and for God's provision.
During this time, God blessed us with two new homes that we had built and provided all our needs. When God saw that I was willing to work hard and say "no" to worldly things, He blessed us continually. I refused to leave my babies in the care of others because I wanted to be the one that cared for them.
Many mothers want a easy way to stay home by just laying on the couch all day. That is not possible! It is a big commitment and takes dogged determination to learn things to be able to stay home. It is not for lazy mothers. It is much easier in my opinion to go to work than to teach and train your own children and cook healthy meals every day.
It IS possible for everyone but it takes a lot of work. I worked from early morning getting up to nurse my baby and worked until sometime 11:00 pm before I went to bed. I remember canning my garden vegetables after my children went down for the night. I also baked my own healthy bread for my family.
I was a 21 year old mother at the time with a newborn and a three year old! Being young is not a excuse to not learn to do things. I would be happy to help anyone that wants any advice on how to save money to stay home. I did all if this with four people living on one income and my husband did NOT have a college education and did not make a lot of money.
The heart of her husband safely trusts her;
So he will have no lack of gain.
Proverbs 31:11