Drastic Do's and Don'ts
Drastic Do's and Don'ts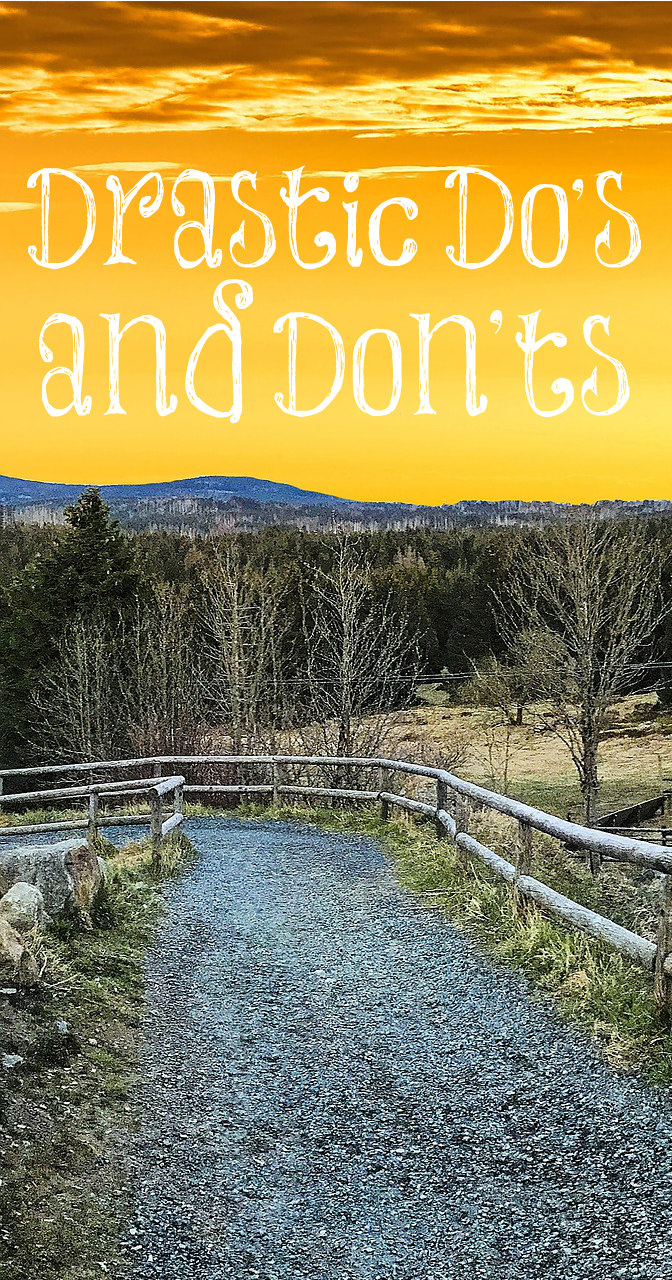 When I was a little girl, my parents attended Lake Avenue Church in Pasadena, CA. Ray Ortlund was the well-beloved pastor at this time and my parents became good friends with him and his wife, Anne. When I was five years old, my parents moved about an hour away but Anne would come out to our home to give Bible Studies. As an older women now, I love her writings (except for her book about marriage which I wasn't too crazy about). The following was at the end of her book Disciplines of the Home and she shares wisdom we all should strive to obtain.
Lord, I'm not going to try to drag my family back to yesterday – that's impossible. But I want to go back to the Bible and courageously follow what You want us to do, together as a family.
Lord, I'm not going to divorce, from here on, ever. (If you now have a marriage partner.) As I did when we married, I surrender my heart again to lifelong commitment, faithfulness, love.
Lord, give me the courage to slow down, to truly seek to capture the elegance, the grace, of a more simple life, as You desire for me. Work this in me as I surrender to Your Spirit's control.
Lord, I'm going to seek a lifestyle to stay close to my kids until they're out of the nest. Please make them great men and women of God.
Lord, as a loving, faithful Father, please continue to discipline me, and help me to do the same with those You have given me.
Lord, with the loving firmness of Your Holy Spirit, I'm going to slash the TV watching.
Lord, I want to model and teach "male" and "female." (Yes, this book was written in 1990. Oh, if only Anne could see how important these words are for today.)
Lord, I want to model and teach respect for authority.
Lord, I want to seek after the values of Your Word, and model and teach them to my children.
Lord, I want to believe You. "Help me overcome my unbelief!" (Mark 9:24) I want to live not in unhealthy fears but in joyous trust in You.
Lord, in these precious years, teach our family to "cocoon" – to love our home, our table, our family altar.
Lord, please preside over our finances. And as we handle them in obedience to you, I trust You to care for all our needs.
For whether we live, we live unto the Lord; and whether we die, we die unto the Lord: whether we live therefore, or die, we are the Lord's.
Romans 14:8