Not Teaching Exceptions and What Ifs
Not Teaching Exceptions and What Ifs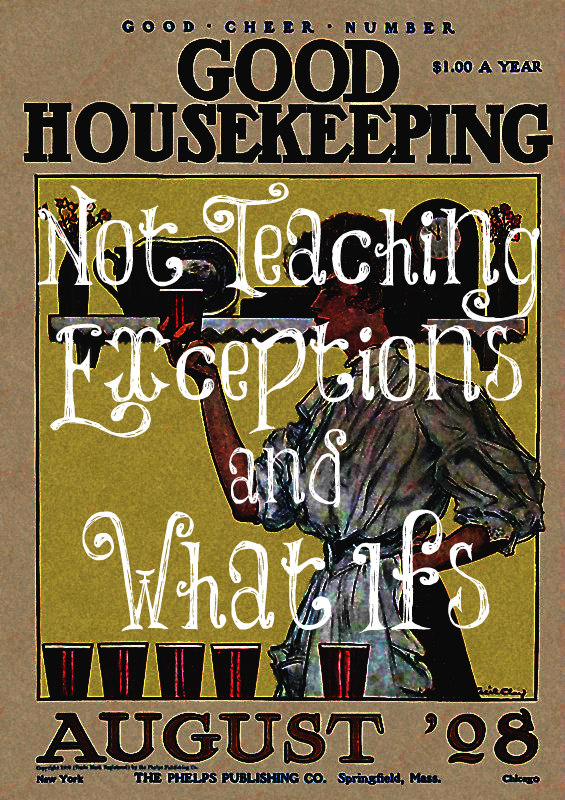 God commands that I teach women to be keepers at home so this is what I will teach no matter how much backlash I receive from it. But what if a woman asks me if it is okay for her to work two days a week? I would tell her "no" since she is called to be a keeper at home as God has commanded. Let's say she decides to work two days a week and puts her child into daycare and that child is molested, abused, or neglected which does happen? I dare not compromise God's command to me and take responsibility for possible harm to the child. God gave mothers to children for protection.
What if a wife asks if she can work at night while her husband watches the children? Yes, he works all day and then would come home and watch the children because she "enjoys" working. I am not going to take responsibility when the marriage falls apart because they had little time together and she was too exhausted to be a proper help meet to him.
I'm not giving exceptions and what ifs. Those are up to each of you to decide. I'm committed to teaching what God has told me to teach. You're going to have to take sole responsibility for going outside of God's will and plan for you. I sure don't want it on my conscience. I want no part in having God's Word blasphemed.
This is why God has commanded older women to teach young women to love their children and be keepers at home. It's not a natural tendency to give up self and its desires to do what is in the best interest of children which is to have their mother home full time caring, loving, training, and disciplining them. This takes a lot of time, patience, gentleness, and consistency which can get tedious but this is storing treasures in heaven where they belong. There is absolutely NO greater joy than to have children who walk in truth. None.
That they may teach the young women to be sober, to love their husbands, to love their children, To be discreet, chaste, keepers at home, good, obedient to their own husbands, that the word of God be not blasphemed.
Titus 2:4, 5