Enduring Character Assassination and Slander
Enduring Character Assassination and Slander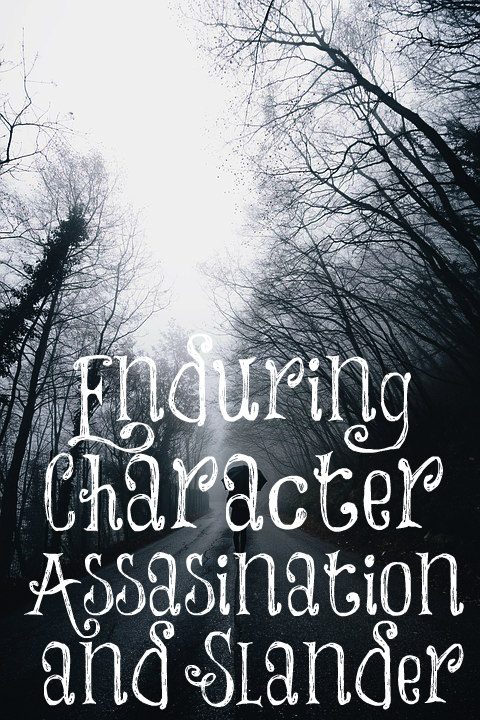 It's not easy for me to comment on a popular Facebook person's page or blog without those who hate what I teach finding my comments and taking the opportunity to slander me and say all types of vile things about me. This happened last week but one woman took the trolls to task and wrote this:
"Okay, first off, I had to go see for myself what y'all were accusing this woman, Lori Alexander, of and if it were true. So I checked out her page The Transformed Wife, and there were  ZERO posts from this woman saying the trashy things ya'll are accusing her about! There were people mocking her for her biblical beliefs on marriage and sexuality in marriage, but NONE of this mess y'all are saying she said, or says!
"Shameful, that y'all would stoop so low as to character assassinate and slander this woman simply because you disagree with her! Dear God, I hope and pray none of you are claiming to be Christians, cause if you are, you're a liar and clearly doing the work of your father…satan! I'm reporting each of you for bullying and harassing this woman! Lori Alexander, I am so sorry that human beings have become such evil and twisted vipers! Know God knows who these women are, and He will serve them justice for their actions here today! ??? "
She probably doesn't know that I receive these types of slanderous comments on a daily basis but I thanked her for her boldness. People have privately written to me and asked me if I could get rid of the trolls on my Facebook page since they are trying to sabotage what I teach. I would if I could but they just keep coming and remember, what they intend for evil, God will use for good! Here's a verse that brings me a lot of comfort, however. (Actually, there are many verses in the Word of God that bring me comfort.)
"And in nothing terrified by your adversaries: which is to them an evident token of destruction, but to you of salvation, and that of God" (Philippians 1:28). We aren't supposed to be terrified by our adversaries! We are not to fear them. We are to fear God instead! When we are not terrified by them, it's an "evident token of destruction" for them. We must stand strong in the Lord and in His mighty power as the world grows darker since greater is He who is in us than he who is in the world.
Here is what Gills' Exposition of the Bible had to say about this verse:
"And in nothing terrified by your adversaries,…. Not by Satan, though a roaring lion, for Christ is greater than he; nor by the world which Christ has overcome; nor by false teachers, though men of art and cunning; nor by violent persecutors, who can do no more than kill, the body; let not the power, the rage, the cunning, or the violence of one or the other, move, discourage, or affright from a close attachment to the Gospel and the truths of it:
"Which is to them an evident token of perdition; when men willfully oppose themselves to the truth, and show a malicious hatred to it, and hold it in unrighteousness, and either turn the grace of God into lasciviousness, or persecute it with rage and fury, it looks as if they were given up to reprobate minds, to say and do things not convenient; as if they were foreordained to condemnation; and were consigned over to destruction and perdition; and very rare it is, that such persons are ever called by grace:
"But to you of salvation; when men are reproached and ridiculed, are threatened and persecuted for the sake of the Gospel, and are enabled to take all patiently, and persevere in the truth with constancy, it is a manifest token that such are counted worthy of the kingdom of God; that God has a design of salvation for them, and that they shall be saved with an everlasting one: so that the different effects of the opposition of the one, and the constancy of the other, are made use of as so many reasons why the saints should not be terrified by their enemies: it is added
"And that of God; meaning either that the whole of this is of God, as that there are adversaries, heretics, and persecutors; this is by divine permission, and in order to answer some ends and purpose of God, and the perdition or everlasting punishment of such persons will be righteously inflicted upon them by him; and that the constancy, faith, patience, and perseverance of the saints and their salvation, are all of God: or it particularly respects the latter, the salvation of those who persevere to the end; this is not of themselves, or merited by their constancy, patience, and perseverance, but is God's free gift."
We have nothing to fear, women! We can rejoice at the times to come. God's Spirit works mightily within us. He has made us new creatures in Christ and promises us that we can do all things through Christ who strengthens us. So don't lose hope. Don't live in fear. God is good and His plan for you is good. We must remember that this is not our home. We are strangers and aliens just passing through. The worst that can happen to us is that we die and are alive with Christ for eternity on the brand new earth! We always have hope.
God is our refuge and strength, a very present help in trouble. Therefore will not we fear, though the earth be removed, and though the mountains be carried into the midst of the sea; Though the waters thereof roar and be troubled, though the mountains shake with the swelling thereof. Selah.
Psalm 46:1-3