Girls are Outperforming Boys in Academic Success
Girls are Outperforming Boys in Academic Success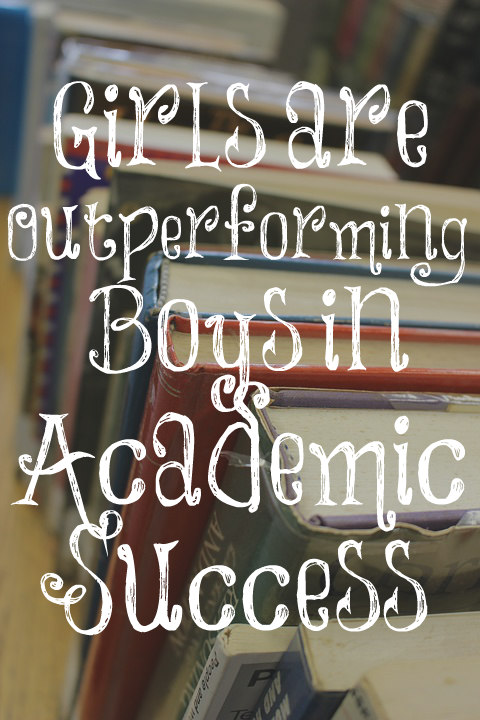 Yes, girls are outperforming boys in every area of academic success and feminists cheer while I grieve. This is NOTHING to celebrate but it has been feminism's goal from the beginning.
"The report is yet more bad news for boys, who lag girls on nearly every measure of academic success, with massive gender gaps in reading as well graduation rates in high school and college. One extensive study by Stanford last year found that the gap in favor of girls in reading exists in every grade, every year, and every district (it examined 260 million state tests given to students in grades three through eight in 10,000 US school districts). Girls, on average, outperform boys by about a half a grade level in fourth grade, but a full year by eighth grade. …
"If girls are performing better on tasks like this, it should bode well for employment later in life, since being able to work with technology while also communicating and collaborating effectively is more versatile than having tech skills but no social ones."
Therefore, more and more young women will be leaving their homes (if they have one), leaving their children in the care of others (if they have them), and being help meets to their bosses instead of their husbands (if they are married). This portends terribly for the future of societies. Women have taken the bait hook, line, and sinker. They value the prestige of a job and paycheck more than they do making a good life for their families at home.
Let's face the facts. Schools are NOT set up for boys. They are set up for girls. Boys aren't made to sit in chairs all day long doing tedious work. They are created to move, build, run, climb, explore, and compete. The public school system has been a grand failure for boys. Women are slowly taking over all of the medical and dental schools. It won't be long before they outnumber men. They are taking jobs away from men who need the jobs to support their families but they don't care. Sadly, most of them aren't thrilled with careers once they have them (they've figured out they've been duped) but it's too late then because of the massive amount of debt they have and all of the time they've spent in higher education.
One of my sons wasn't doing that great in school so I began homeschooling him. I bought loads of excellent books from Sonlight Curriculum and Saxon Math. (My younger son wanted to be homeschooled when I homeschooled my older son. He was not a fan of school!) They both read for two hours a day and then did an hour of math. They became great readers and still love to read. If children are good readers (they will become good readers if given good books) and are good at math, all other subjects are easy for them. After three hours each day, they played ball together, went to sports' practices, surfed, and did things that boys like to do rather than sit in a chair all day long.
Don't allow the public school system to destroy your sons. They don't like to sit in chairs all day. This doesn't mean they should be drugged to do so. We have a culture at war with boys and men. Don't fall for it. Homeschool your sons. Let them MOVE! Teach them to read when they are a bit older. They don't have to be great readers at five years old. If they don't start reading until a few years later, that's okay. They'll catch up to their classmates quickly. Feed them nourishing food. Build up their bodies and minds. Most importantly, teach them the ways of the Lord all throughout the days so they will grow up to be strong men of God.
Thy word have I hid in mine heart, that I might not sin against thee.
Psalm 119:11