Fatherlessness is Destroying Our Country
Fatherlessness is Destroying Our Country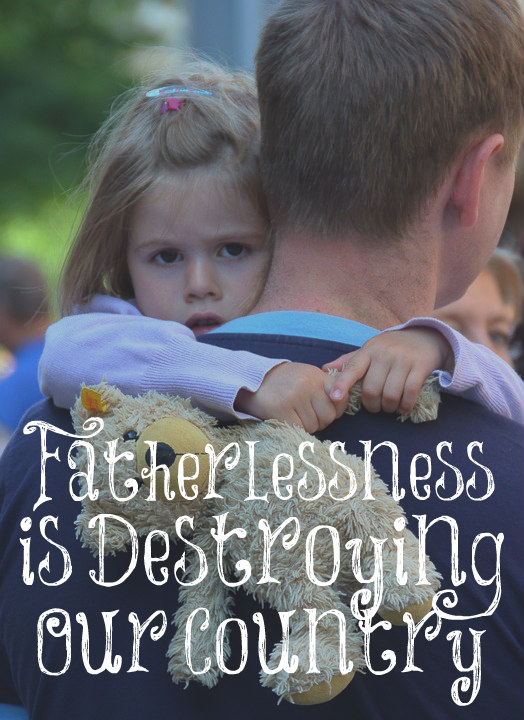 Evil seeks to destroy men. Feminism seeks to destroy men. Alcohol seeks to destroy men. Welfare, the government, and no-fault divorce seeks to destroy men. Fatherlessness and divorce seeks to destroy men. If Satan can destroy men, he's won the battle.
In my post about women needing men, there were plenty of women who told me that they didn't need a man. That's plain wrong. Children need a father. Little girls need a father. Little boys need a father. They both need mothers who love their fathers and speak no evil against them. They need a stable home. They need the security that only this can bring. "And he shall turn the heart of the fathers to the children, and the heart of the children to their fathers, lest I come and smite the earth with a curse" (Malachi 4:6).
Fatherlessness is destroying our country. Boys are growing up to join gangs because they are trying to fill that void that only fathers can fill. Children aren't being modeled strong marriages that last a lifetime, therefore, they fear the idea of marriage because they haven't seen good ones. Many have seen their own mothers tear their homes down with their own hands. They don't want this. Abortion and birth control have made the idea of having children a negative thing. All that God has created good, our culture has proclaimed to be bad.
Most of the ills in our culture today is because of evil destroying men. Have you noticed that even many of the news programs are slowly getting rid of men? Men are considered the scum of the earth by many. Feminism teaches women to rebel against men: against their authority ("patriarchy"). Guess who is behind all of this? Satan, the Father of lies and many are being deceived by him.
God made man first. "And God said, Let us make man in our image, after our likeness: and let them have dominion over the fish of the sea, and over the fowl of the air, and over the cattle, and over all the earth, and over every creeping thing that creepeth upon the earth" (Genesis 1:26)." He made men to be the protectors of families and nations. When this protection is gone, women and children are in grave danger.
"Children need the wise, masculine discipline of an interested and involved father. Parenting children throughout all ages is a mother/father team effort. Children need the feminine love and nurture of their mother. However, sons and daughters, on a daily basis, need the masculine encouragement, correction, and if needed, discipline of a loving father" (Colin Campbell).
The just man walketh in his integrity: his children are blessed after him.
Proverbs 20:7