These Women in the Bible Were NOT Preachers in the Churches
These Women in the Bible Were NOT Preachers in the Churches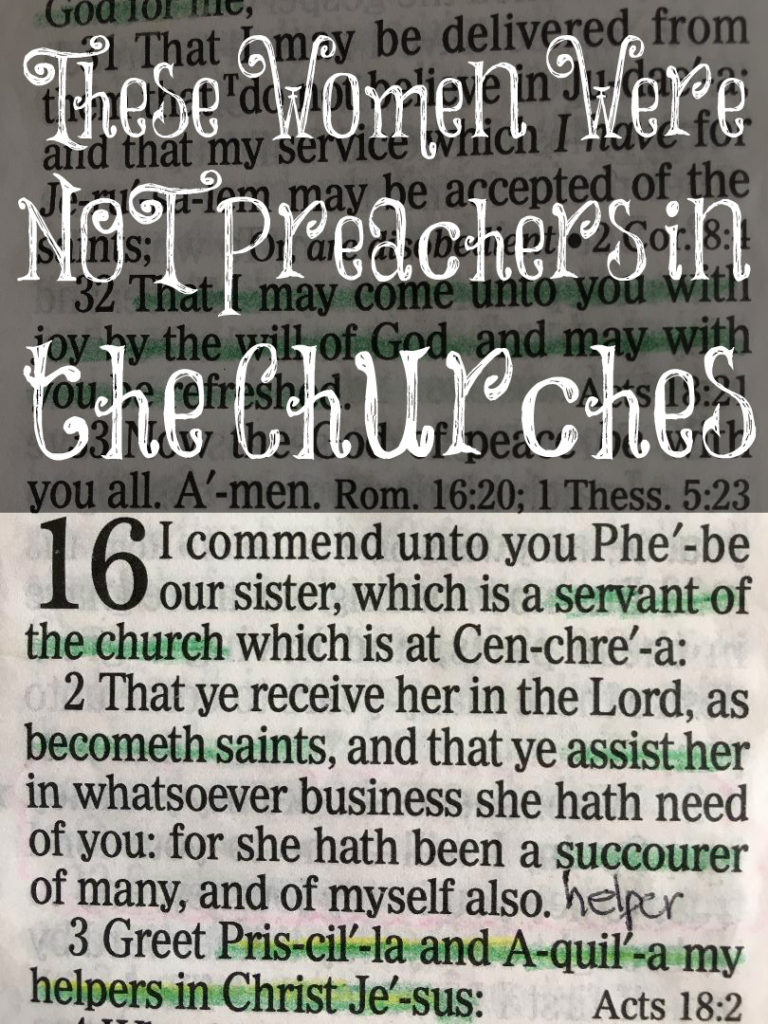 Without fail, whenever I teach that women are not to be preachers/teachers of the Word of God, women will bring up a laundry list of women who were supposedly preachers/teachers in the churches. They ignore the clear commands that women are not to teach nor be in authority over men but to be silent in the churches. Instead, they search the Scriptures to try and negate God's commands on this issue. Here is one such comment I received on my video called Women are NOT Called to Be Preachers.
"I will ask one thing if you believe all the Bible is true, which I do believe you do even if I completely disagree with your hermeneutics. I ask if you know who Phoebe is in Romans 16:1-2, and was she not a leader and teacher in the early church? Who is Lydia in Acts 16:11-15, and the church which was started in her home, was she not a leader in the early church? What was Priscilla but not a worker in Christ in Romans 16:3 (Paul called her his fellow worker). I know that you are pulling from 1 Corinthians 11, but that chapter honestly says women are to be prophecy and praying in public, even if they have some restrictions. There are many female leaders in the Bible and teachers: Debra, Easter, Ruth (she went up to Boaz), Mary, Martha and the list of women who lead and serve goes on. I ask you if you believe all scripture is God-breathed, are these women, you would look down on or not listen to them preach."
Let's take Phoebe first. "I commend unto you Phebe our sister, which is a servant of the church which is at Cenchrea; That ye receive her in the Lord, as becometh saints, and that ye assist her in whatsoever business she hath need of you: for she hath been a succourer of many, and of myself also" (Romans 16:1, 2). She is listed as a "servant" in the church who helped many. There is not one word about her being a preacher/teacher/leader in the church.
What about Lydia? "And a certain woman named Lydia, a seller of purple, of the city of Thyatira, which worshipped God, heard us: whose heart the Lord opened, that she attended unto the things which were spoken of Paul. And when she was baptized, and her household, she besought us, saying, If ye have judged me to be faithful to the Lord, come into my house, and abide there. And she constrained us" (Acts 16:14, 15). She sold purple fabric, believed upon the Lord Jesus Christ, was baptized and invited Paul into her home. There's nothing said about her being a preacher/teacher/leader in a church.
How about Priscilla? "Greet Priscilla and Aquila my helpers in Christ Jesus" (Romans 16:3). One time, she, along with her husband, took one man aside to explain the truth of God more accurately (Acts 18:26). There was a church in their home (1 Corinthians 16:19) but there is nothing written that she was a preacher/teacher/leader in any church.
Are women allowed to pray and prophesy in the churches according to 1 Corinthians 11? There's nothing in this chapter that tells us that the practice of women being covered when they pray and prophesy is related to praying or prophesying out loud in a church gathering since a few short chapters later, we are told this by Paul: "For God is not the author of confusion, but of peace, as in all churches of the saints. Let your women keep silence in the churches: for it is not permitted unto them to speak; but they are commanded to be under obedience as also saith the law. And if they will learn any thing, let them ask their husbands at home: for it is a shame for women to speak in the church" (1 Corinthians 14:33-35). The Bible doesn't contradict itself. 
Deborah, Esther, and Ruth are in the Old Testament are used mightily by God but they didn't live during the Church age and thus, were not preachers/teachers/leaders in the churches. There isn't one single verse that tells us that Mary or Martha or any other woman was a preacher/teacher/leader in a church, no, not one.
One more person that people will use to say that women can preach and teach in the churches is Junia. "Salute Andronicus and Junia, my kinsmen, and my fellowprisoners, who are of note among the apostles, who also were in Christ before me" (Romans 16:7). No, Junia wasn't an apostle. He was "of note among the apostles." We know who the apostles were and Junia wasn't one of them. He was most likely not a she at all; for he was called "my kinsMEN."
There were not even any women written about in the Bible who stood up before groups of women and preached or taught the Word of God to them. I firmly believe the teaching of God's Word has been given to men. God's clear what older women should be teaching younger women in Titus 2:3-5. Instead of trying to find ways to negate God's clear commands, let's just simply obey them! Either you decide to obey God at His Word or you don't.
…but as for me and my house, we will serve the Lord.
Joshua 24:15