Fearing the Coronavirus
Fearing the Coronavirus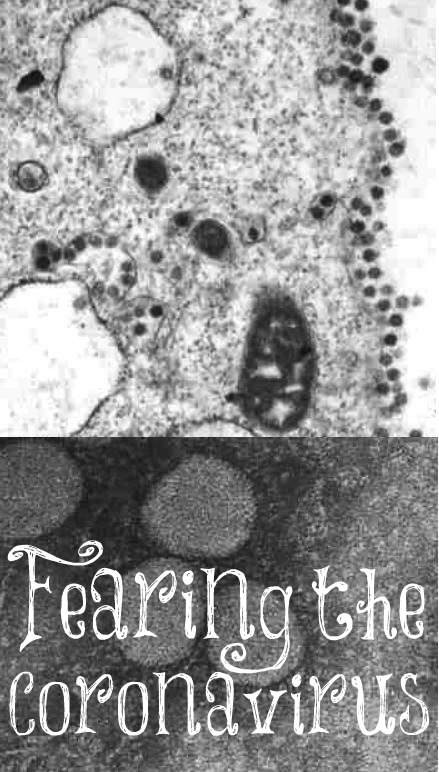 My mom didn't fear germs at all. She feared toxic chemicals. She learned that a strong immune system is the best fight against germs and the diseases that result from them. So I grew up believing the same thing. I haven't gotten the ordinary illnesses (colds and flu) much until I began having grandchildren. If they had a cold, I would get it and it would be much worse than the others due to my weakened immune system because of the lack of hormone production and an almost dead pituitary. However, once I began taking elderberry syrup, I haven't been getting their colds, thankfully. It really does work!
We're experiencing something in our country that has never happened in my lifetime. A national fear of a killer virus with the stock market plunging and the future unknown. It is a scary time for many but should we, as believers in Jesus Christ, give in to the fear?
Look at the Proverbs 31 woman. In some translations, we are told that she "smiles at the future." The KJV states, "she shall rejoice in time to come." We are to live by faith and not by fear. God is still on His throne and He holds the future!
Mothers of young children, you can rest assured concerning this virus since no children from zero to nine have died from it and most children have mild cases of this. It seems to mostly be killing the elderly and those with health problems. (The average of death from the virus is 80 years old.)  I fit into the health problems category but I don't fear it. I will do the best to keep myself healthy but trust the Lord with my life. Remember, this virus is NOTHING close to being like the Bubonic plague or polio, yet many are acting as if it were.
I am not a hand washer since I'm not afraid of germs. I have dry skin and I greatly dislike the feel of dry hands. Yes, I wash my hands after using the restroom but I have never thought about washing my hands after going shopping or out and about. I don't use hand sanitizer and won't since I have read that soap and water are much more effective. I will now wash my hands after going outside of my home to shop or anything else I do away from home. I will try to not touch my face if I haven't washed my hands. I don't eat junk food and have a lot of elderberry syrup ready to go. I take vitamin C and D every day. I do what I can and leave the rest in the Lord's hands.
This life will always be unstable and fearful. This isn't our home. Many of the things going on in our culture (abortion, children being allowed to change genders, pornography, sex trafficking of children, and so on) are must more destructive to our culture than this virus or the stock market crashing. Maybe God will use this virus for good. Our culture needs a good wake up call. We're all going to die someday and many times things such as this cause people to examine their lives more closely. The prospect of illness and/or death is where the rubber meets the road and has the ability to wake people up from their slumber.
Don't live in fear, women, but by faith. God is still on His throne! He is sovereign over all and He has us in the palm of His hands. Our lives are not our own. This is a temporary assignment and we are to use it to glorify God, and yes, even in the scary, uncertain times. Let people see your lack of fear and your trust in God Almighty. Give encouragement to those around you and share the hope that you have in Christ.
For God hath not given us the spirit of fear; but of power, and of love, and of a sound mind.
2 Timothy 1:7