Female Preachers Got It Wrong on Roe v Wade
Female Preachers Got It Wrong on Roe v Wade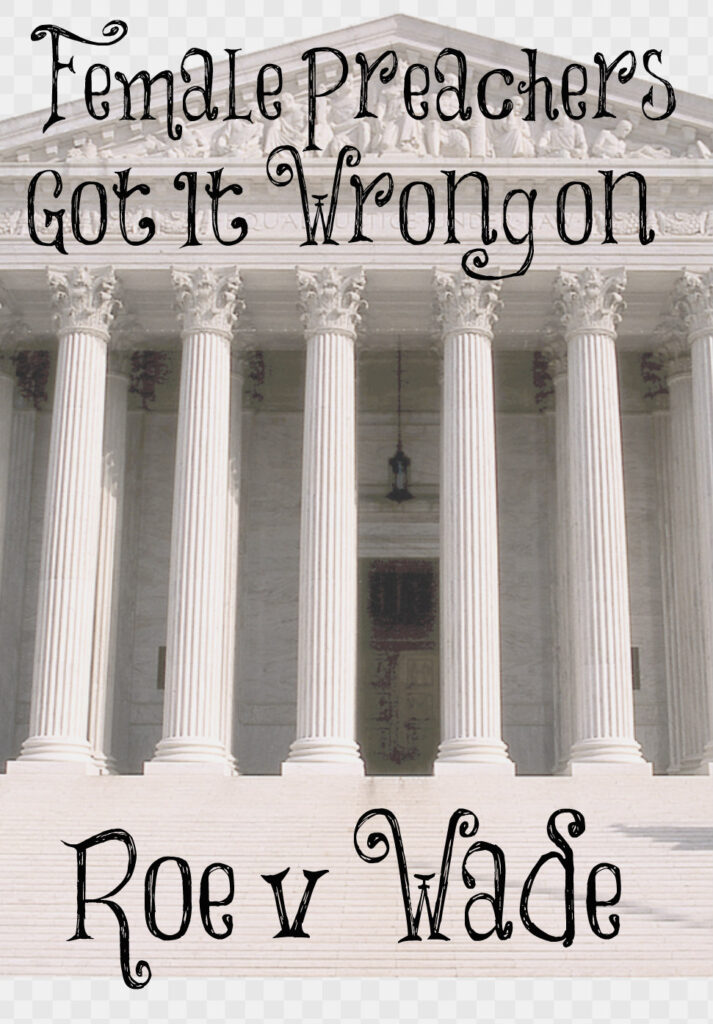 The day after Roe v Wade was overturned, Beth Moore responded to Karen Swallow Prior's tweet. Here is what Karen wrote: "Our work now is just starting: we must help and support moms, dads, and babies. Love them all – and in so doing making abortion unimaginable." Beth responded, and it's the ONLY thing she has written on this topic: "Yes, step up, church. Take responsibility for the fact that pro-life is either pro-all-life – which is in step with the truth of the gospel – or pro-some-life which for many is in step with political expediency. Unborn/born. Babies/Girls/Women need immense support, compassion, care." (Beth always writes in riddles IMO.) I just checked out Beth's Twitter, and there's still no tweet celebrating this historic decision.
Lisa Bevere wrote: "A door is now open for each state to make their own decision. This ruling is not the end…it is a beginning. I pray we steward it well. Let's not just be pro life let's be pro love and choose to love and support those who now find themselves pregnant and afraid. Be willing and ready to open up your hearts and homes. I'm praying for a spirit of adoption to awaken in our nation. Pray for the safety of the organizations and individuals who will be targeted in retribution." And in the meme she shared, it read: "With the overturning of Roe v Wade, our work has just begun." I just checked Lisa's Twitter and still no tweet simply celebrating it and being thankful.
I couldn't find anything that Lysa TerKeurst wrote about it. If you find something, let me know. No tweet from Lysa at the time I wrote this.
Priscilla Shirer shared something her dad, Tony Evans, wrote about being thankful for the overturning of Roe v Wade, and he wrote: "It is time for God's people to lead the way in promoting a 'Whole Life Agenda,' from the womb to the tomb, as we simultaneously proclaim the good news of Jesus Christ…" He exhorted men to be responsible for the children they helped create and "women should never have to bear the challenge of an unplanned pregnancy on their own. We, as the body of Christ, should come alongside those in need through spiritual and tangible support." No tweet written yet by Priscilla celebrating it.
Christine Caine shared this tweet: "Overturning Roe will not be the end of the pro-life movement; it should be the beginning; it should be the beginning of a more robust, expanded pro-life movement and ministry." The comment she shared under it was about Catholic people having a large social service that helps with the unborn…"We should intensify our commitment to abortion alternatives…and be involved in a foster care and adoption…" No tweet of her own celebrating this victory.
Lastly, Jen Wilkin tweeted this: "The era of Roe is ended. Now we redouble and expand our efforts to address the underlying factors that make abortion appear the only alternative for so many women. Let's give out money, time, and prayers to that end: to render abortion unthinkable because support is so abundant."
Not one of these false female preachers simply wrote a tweet celebrating the overturning of a Supreme Court decision that was unconstitutional and has resulted in the death of more that 64 million innocent human beings; the greatest tragedy that has ever happened in the history of the world! WHY??? If you notice that what they wrote appeals to feminists. "Do more. Be better!" NEVER blame the women for wanting their babies to be murdered.
Who do they think has been waging this war against abortion for 50 years, running and supporting pro-life clinics, caring for pregnant mothers and newborns, praying and beseeching women entering Planned Parenthood to save their babies, adopting babies, and fostering children? CHRISTIANS!!! Last Friday was a day of rejoicing! I felt absolutely no desire nor did I even think of exhorting the churches to do more. I cried off and on throughout the day; tears of happiness and thankfulness.
Christians will continue to work to save babies and help pregnant mothers and newborn babies. They will continue to support pro-life clinics. They will continue to adopt and foster children BUT this wasn't the big deal on Friday. Most women going in for abortions are doing so out of convenience. Getting pregnant was not in their plan even though they were having sex, and abortions are easy to get. "Besides, they're constitutional!" Babies are an inconvenience to women. The harder it is to get an abortion, the fewer abortions there will be.
This decision by the Supreme Court was a historic day! I am thankful for the Christians who have waged the battle against this, spoken up for the life of the unborn, wept and prayed over these millions of babies who have been aborted, and cheered and rejoiced at this good news! We must continue to pray and speak the truth in love. People are greatly deceived. Women need to be taught to save themselves for marriage and then value the babies God blesses them with. THIS is what needs to be said, but on Friday, the only thing that needed to be said was, "PRAISE THE LORD AND THANK YOU, JESUS!"
These six things doth the LORD hate: Yea, seven are an abomination unto him: A proud look, a lying tongue, And hands that shed innocent blood.
Proverbs 6:16,17
***Click on the link of the false female preachers I wrote about, and it will take you to Michelle Lesley's posts on why these are all false teachers. ALL female preachers are false teachers because they are in rebellion to God's commands to them. Men are the ones God has called to be preachers, teachers, leaders, and pastors in the churches, NOT women.