Feminism's Disdain for Femininity
Feminism's Disdain for Femininity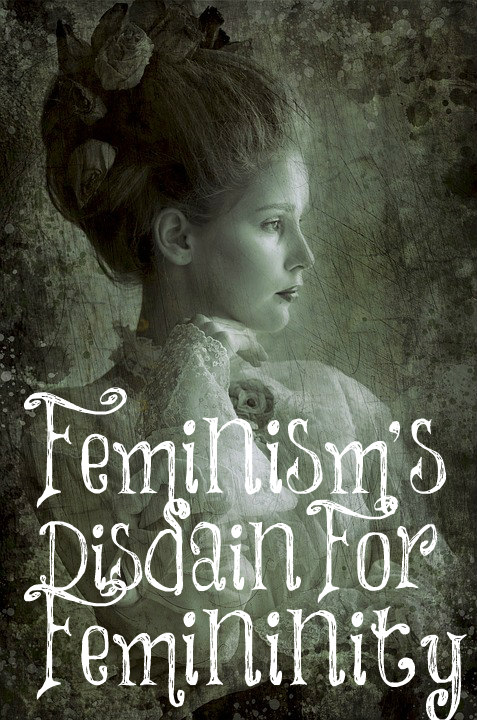 This is an excellent comment from Paul Craig Roberts' blog.
It's sadly ironic that feminism has such disdain for femininity. Our society now heaps the most praise on women when they exhibit traditionally male traits such as strength, independence, and excellence in STEM occupations. The woman who wants to marry and devote herself to being a good wife and mother, and making home a safe and happy place to be is ignored or disdained by the media.
It's okay for a woman to be gorgeous and have lots of sex appeal, as it's another form of power, but to devote herself to her family and sacrifice for her children is now considered embarrassingly old-fashioned. It is universally understood that a happy childhood is the main key to creating happy, productive adults but motherhood is being delegitimized.
Could this be because our overlords want to create a loveless society where every man and woman are looking out only for number one?
Mothers most of all LOVE, and good mothers (and fathers) raise children who are also capable of forming strong, lasting bonds with other people and creating their own happy families some day. Love strengthens us, and the bigger our network of loved ones, the safer we are. We thrive when our lives are filled with laughter, intimacy, companionship, knowing that we matter, and that we will always matter even when we can no longer care for ourselves.
On a material level, when one falls, the others can raise him up, so no crisis need ever be permanent. For a person on their own, the loss of a job or a serious illness can drag them down so low that they may never recover. This is, of course, what our satanic rulers want; for us to be isolated, scared, and vulnerable.
Another disturbing trend is the state intervening between parents and child and superseding the parents in determining what is right for the child. For example, a woman who had just given birth refused the Vitamin K shot for her baby, and the nurse then left the room with the just-born infant rather than letting the parents immediately hold her. It was 12 awful hours before they got their newborn back. It's part of a trend. Parental rights are being trampled. The state, we are told, knows better than parents what is best for their child.
I believe the ultimate goal of driving women towards careers and unattached sex is to destroy the family and eventually have children being born (possibly from test tubes) who have no parents and belong only to the state. Children outsourced to preschool, nannies and daycare, are not encultrated into family life.
But let it be the hidden man of the heart, in that which is not corruptible, even the ornament of a meek and quiet spirit, which is in the sight of God of great price.
1 Peter 3:4