Feminists are Weak Women
Feminists are Weak Women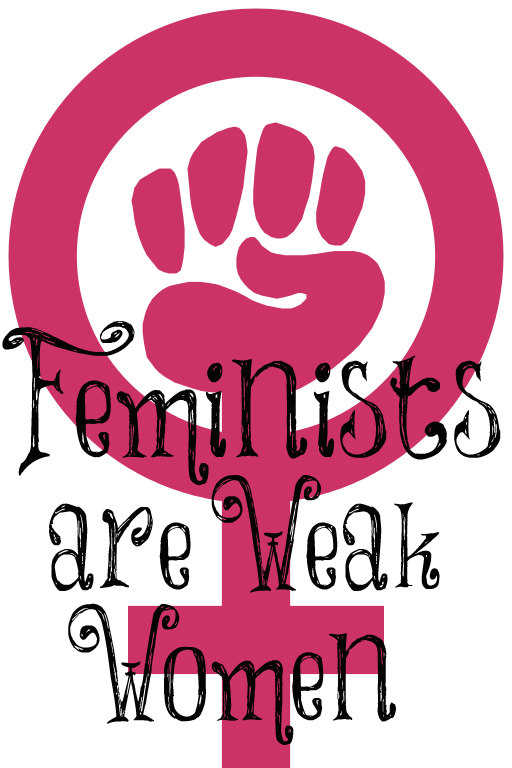 Feminists are not strong women as they suppose. They are weak. Strong women don't get offended at every little thing that disagrees with what they believe. "Modern feminists are afraid of life. They are afraid of differences of opinion, and especially afraid of men."* Feminists women don't have the strength to be submissive to their husband. It takes strength to obey our husbands and give up our desires for our husbands and allow them to be the leader of our home. Feminine, godly women have this strength from the Lord and they build up their home instead of tear it down as many are doing today.
Dennis Prager wrote a brilliant piece in the National Review called Feminism Make Women Weak. My favorite part of the entire article was the last paragraph. "You want to know what women are strong? Here's an example: Any young woman who announced in a college class that as much as she may want a career, she is more interested in finding a good man to marry. In other words, any young woman who announced that she isn't a feminist." I wanted to stand up and shout, "YES!" God clearly states what godly young women will most likely want in life besides bringing glory to Him: to marry, bear children, and guide the home.
I wasn't the least bit ashamed to tell people that I wanted to marry and have children when I was young. I had no interest in a career. "Well, what if you never meet a man who wants to marry you?" I was asked. I will pray and pray that the Lord will give me my heart's desire. If He does not, I will glorify Him some other way, however, the majority of women do get married and this is a good thing since God created men to need a help meet. "Neither was the man created for the woman; but the woman for the man" (1 Corinthians 11:9) Women have forgotten what their purpose in marriage is supposed to be. They forget they are their husband's help meet and instead, expect their husbands to make them happy.
"Most feminists have conflated equality and sameness. And that's a huge mistake; the sexes are equal, but they are different."*  I don't want to be the same as men. I want to be a woman, just the way the Lord has made me.
Feminine women should understand the differences between the sexes. Men struggle with their sexual nature and this doesn't make women better and men perverts. No, this is just the way they are. "The male desire to touch the bodies of just about every woman they are attracted to is — trigger warning here — normal. It has nothing to do with hatred of women or viewing women as unequal."* Strong women can handle this knowledge and instead of being offended by it, we sympathize with men in their struggle knowing that our struggle is with our desire to control our husbands and with our emotional nature. Yes, we are different and we have different struggles. It shouldn't offend us when we find out that men love women's bodies. Good, mature men control their sexual nature just as good, mature women control their need to control their husbands and their emotional nature.
As feminine women, our strength isn't in who we are or the fact that we are feminine, it comes from knowing who we are in Christ and loving the way He created us to be and the role He has given us to do. True strength isn't fighting this but welcoming it and becoming women with gentle and quiet spirits who dress modestly, love and obey our husband, love our children, are good, chaste, discreet, sober, and keepers at home. Now, this right here is a definition of a strong woman. Her strength comes from the Lord because she could never do all of this on her own.
Who can find a virtuous woman? for her price is far above rubies.
The heart of her husband doth safely trust in her, so that he shall have no need of spoil.
Proverbs 31:10, 11

*Dennis Prager quotes from article