Fighting for Her Marriage and Learning to Please Him
Fighting for Her Marriage and Learning to Please Him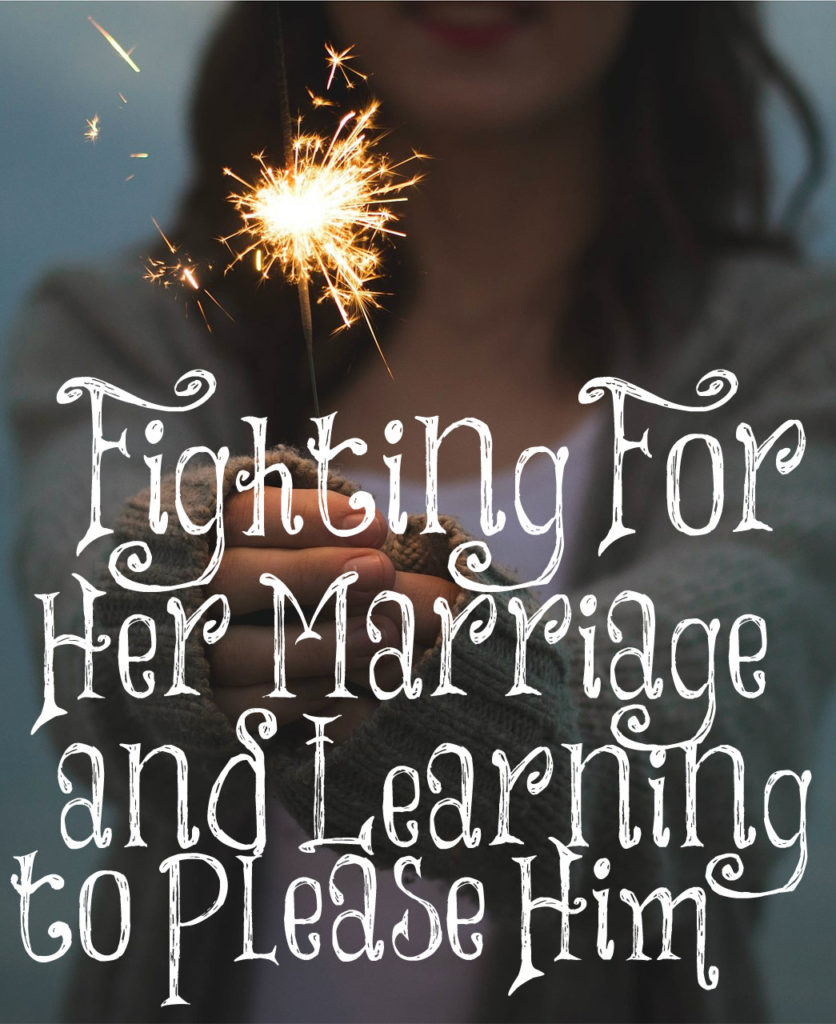 There are women who acknowledge their wrong past behavior in their marriage. Their husbands have left them for other women. These wives can see how they pushed their husbands away with their indifference, withholding sexual intimacy from them, and their lack of affection. They won't give up on their marriage because they are not only fighting for their husband's eternal soul but for their family to stay as one, especially for their children's sake.
There is one such woman who has allowed me to share some of the letter she has written to her husband in trying to win him back. There is definitely a softening on her husband's part as he can clearly see the change in her and that she is fighting for him as Hosea fought for his adulterous wife. Here is what she said concerning the topic of arguing which most marriage books and conferences teach are part of all marriages. She has humbled herself in front of him, admitted her mistakes, and by God's strength working in her promises to do better.
"I do not want to argue with you anymore. Seriously. I'd always heard that you will fight in marriage but that you have to learn to fight fair. Is this really true? I think that was just about one of the worst pieces of advice one can give. I actually don't think God wants married couples to fight with each other at all! The husband is the head and the wife is to submit to his leadership. So there should be no arguing on my part period! Gently discussing differences of opinion or differing suggestions, yes, but there is absolutely no value in arguing to get my point or thoughts across.
To your point, yes, we should act like we are on the same team! Arguing, even done 'fairly,' just serves to drive a wedge between two people and leaves them on the opposite sides of chasm. I don't want to argue with you ever again and do not intend to! I give you full permission to address any tone, words, or interactions that come across disrespectful and argumentative. I plan to guard my tongue on this but you are still welcome to call me out. I think in the past if you had been able to gently and in a loving way point out how damaging my arguing was instead of stuffing your feelings inside it could have helped, too. But ultimately it was me who was responsible for my stubborn and argumentative spirit."
Another area her husband is unhappy with her is in the area of her messy homemaking.
"Sigh. I will say I am NOTHING like your mom. My mess is not everywhere but contained to a few usual areas which I am actively working on getting cleared up. There are many houses I've been to that are much, much messier than ours. You might not believe me but I truly do prefer to have things organized and in their place, just like you. Where I fall short is getting from point A to B of how you get messes organized. I get completely overwhelmed and it's like I freeze up, wanting it to be done perfectly and not knowing how. This is another area where I believe your strengths are a great complement and asset to my weaknesses.
What if instead of losing your patience or insulting me about areas of the house that stress you out, if you gently offered suggestions for how things could be better put in place? Still it's on me to do a better job but this is just a thought. I should have listened to you early on in our marriage about how important this was to you to try and circumvent the issue building up. Nonetheless, I am trying to go back and clean things up the way I should have a long time ago.
And when you say to throw something out (instead of keep it), I should have. Another thought to throw out there is that, I believe, if you had felt more satisfied in some of the core areas of our relationship (emotionally, sexually, generally feeling good about the relationship) you would have been less inclined to have a critical attitude toward my flaws. Not that I am saying I should be off the hook, because, like I said, things like organization, fitness, etc. are areas of personal frustration for me too and I want to change and be a good model for our girls. But I'm saying if overall the relationship was stronger, the little things probably wouldn't have grated on each of us as much."
As godly wives, we are to learn what pleases our husbands and then do them. Today's "enlightened" women don't want anyone to tell them what to do (except their bosses, of course). There is little respect for authority and zero respect for a husband's authority. This woman has seen her lack of respect for her husband's authority, confessed it, and wants to change for him. She wants to learn to please him. Let's learn to please our husband in everything. Yes, this takes a humble and teachable spirit but this is what we are all called to have in order to become more like Christ.
She that is married careth for the things of the world, how she may please her husband.
1 Corinthians 7:34