Women "Occasionally" Teaching Men
Women "Occasionally" Teaching Men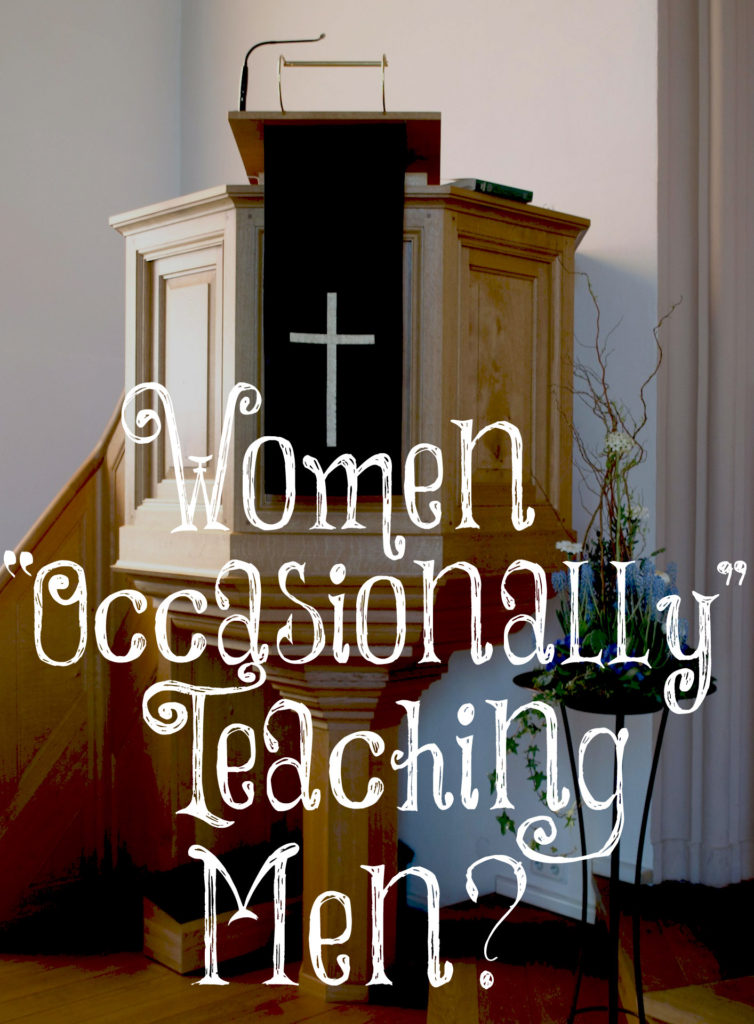 After my post about Nancy Wolgemuth watering down the topic of keepers at home, someone alerted me to the fact that she teaches men. I looked on Nancy's site and this is what I found:
"At the same time, Nancy does not believe that occasional teaching by women in mixed audiences is inappropriate, as long as two things are clear. First, that it is taking place under the headship of male spiritual authority. (The word translated have authority means 'to exercise authority on one's own account; to domineer over—one who acts on his own authority; to have dominion.') And, second, as long as the woman involved is not put in a position of ongoing responsibility for the spiritual direction of men. (The word translated to teach in 1 Timothy 2:12 is in a tense that indicates ongoing instruction.)"
The problem I have with this statement is that the Bible doesn't give these two exceptions for women teaching men. This is what God's Word has to say about it:
"Let the woman learn in silence with all subjection. But I suffer not a woman to teach, nor to usurp authority over the man, but to be in silence. For Adam was first formed, then Eve. And Adam was not deceived, but the woman being deceived was in the transgression" (1 Timothy 2 :11-14). And "Let your women keep silence in the churches: for it is not permitted unto them to speak; but they are commanded to be under obedience, as also saith the law" (1 Corinthians 14:33, 34). 
I don't see anywhere that women can teach men IF they are placed under the headship of male authority OR that teaching means ongoing instruction. With the admonition for women to be silent, ask their husbands at home, and women aren't to teach nor be in authority over men because the man was created first and women are more easily deceived, the Apostle Paul was VERY clear what God's intentions for women are concerning teaching men. As many of you know, I have even come to be convicted about not teaching women the Word (doctrine) because if one of the stipulations for women not teaching men is that they can be easily deceived, why should we be teaching women solid doctrine and may even be leading women into deception?
God is very clear what He wants women teaching women in Titus 2:4, 5. Yes, there are many other parts of Scripture that relate back to these verses and a woman's role in the home and church but it doesn't seem like much of a guessing game to me. Jesus chose twelve male disciples. Men wrote all of the books of the Bible and were the priests. God has chosen men to teach the clear Word of God and so we should point women who want to deeply study the Word to godly male preachers/teachers because there are some great ones out there! (Here is one called Hindrances to Holiness.)
In seeing how Nancy has watered down keepers at home and women teaching men, I want to make sure you know that I still firmly believe she is a sister in Christ. She teaches many great things but you all must be Bereans, even with what I teach, and search the Scripture to see if everything we teach is according to His Word. It is the Bible that is our final authority, not a teacher/preacher.
These were more noble than those in Thessalonica, in that they received the word with all readiness of mind, and searched the scriptures daily, whether those things were so.
Acts 17:11