Fleshly Lusts War Against the Soul
Fleshly Lusts War Against the Soul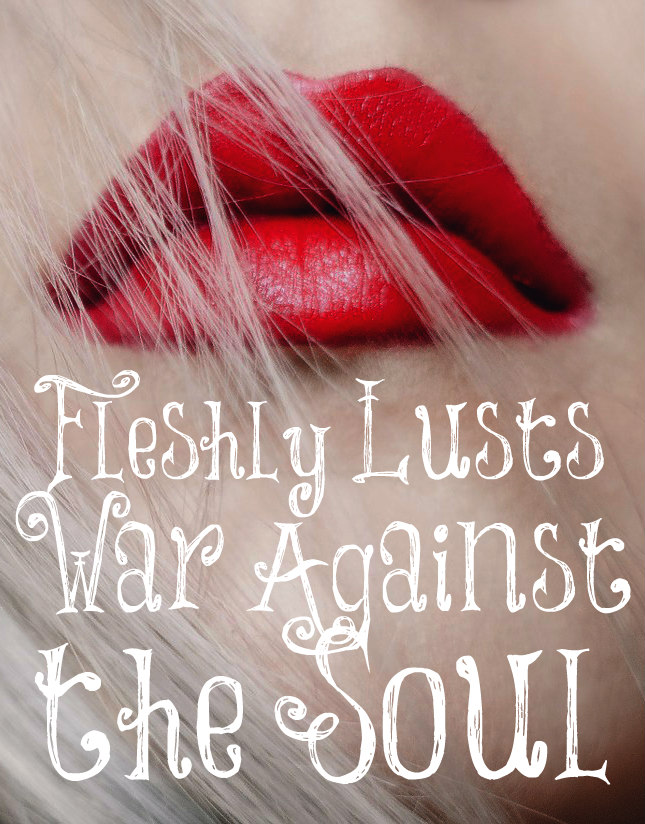 A friend sent me an article about Kim Kardashian wearing an extremely immodest dress to some event she and Kanye West were attending together. Kanye said to Kim, "I went through this transition where being a rapper, looking at all these girls and looking at my wife, like, 'Oh, my girl needs to be just like the other girls showing their body off. I didn't realize that that was affecting my soul and my spirit as someone who is married and the father of now about to be four kids. A corset is a form of underwear; it's hot, for who though? You are my wife, and it affects me when pictures are too sexy."
He's right. Seeing women immodestly dressed does effect the souls of men. Porn affects the soul. In fact, all fleshly lusts affect the soul. How do I know? God tells us so. "Dearly beloved, I beseech you as strangers and pilgrims, abstain from fleshly lusts, which war against your soul" (1 Peter 2:11). I don't know if Kanye West knows about this verse but he knows that seeing immodestly dressed women causes him to war against his soul.
This is why God commands that we dwell on the lovely, the just, the noble, and the things of good report (Philippians 4:8). This is another reason we, as God-fearing women, need to dress modestly. We never want to be the cause of having the men around us warring against their souls. I know many women don't like hearing this. They believe it's men's responsibility to not lust, but it's a natural reaction of men to want to look at immodestly dressed women. They are attracted to this, but it's not good for their souls so it's up to women to dress modestly. Why would God command this of women if He didn't know the importance of it?
We don't live for ourselves. We live for the Lord and His will for us. He calls us to be shamefaced (not drawing attention to ourselves) and to dress modestly. We never want to do anything to cause those around us to stumble. I don't know for sure that Kanye is a saved man but he understands what immodestly dressed women does to him. I am thankful that he is an honest man.
Michael Pearl doesn't go to beaches, pools, or malls. He doesn't want to go anywhere that would cause fleshly lusts to war against his soul. He flees sexual temptations (1 Corinthians 6:18) because he's serious about his walk with the Lord. I deeply respect him for this.
What about the shows and movies you watch? By watching those with immodestly dressed women, you are giving approval to them. This is why I despise The Bachelor and all shows like this. They are filled with immodestly dressed women which cause a war within the souls of men. How can we support this? We cannot.
Be modest, women. Give none occasion for your brother to stumble (Romans 14:13). Live lives of purity in your dress and in your behavior.
In like manner also, that women adorn themselves in modest apparel, with shamefacedness and sobriety; not with broided hair, or gold, or pearls, or costly array; But (which becometh women professing godliness) with good works.
1 Timothy 2:10