Giving Men a Voice on Being Starved for Sex
Giving Men a Voice on Being Starved for Sex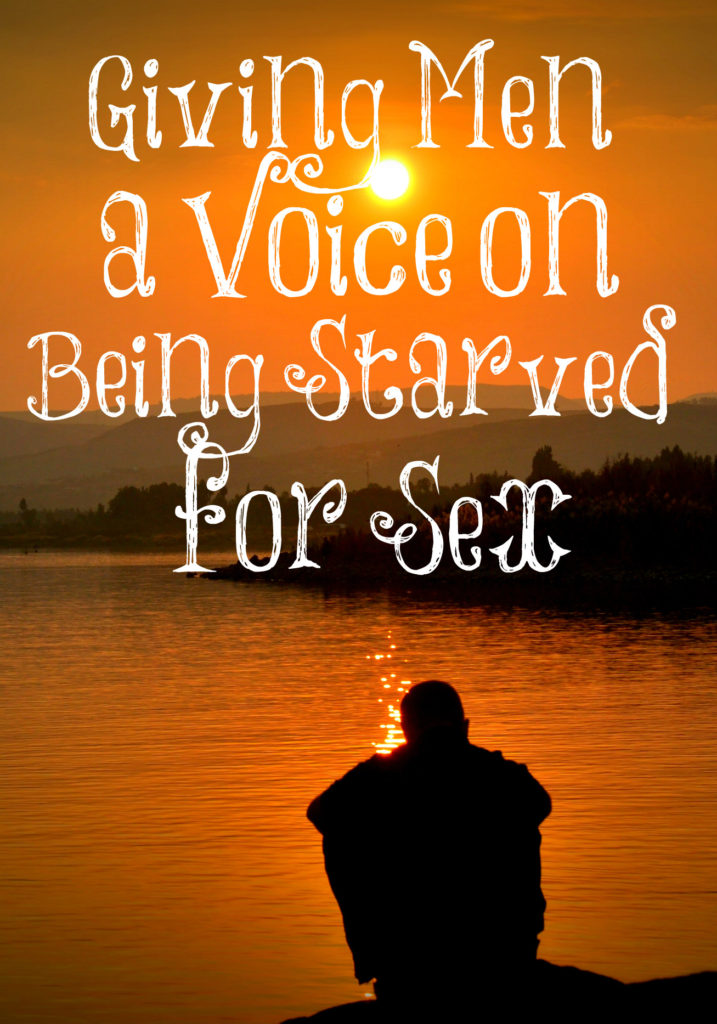 Yesterday, I received a comment on a post I wrote years ago called A Sex Starved Husband. I thought his comment would make a great post so I went to the post and began reading the comments from men regarding the lack of sex their wives are giving them. Ken is mentoring a man whose wife hasn't given him sex for over six months. I wept as I read these heart-felt comments from them. The main reason men marry is for sex and a lot of it. If they are godly men, they probably dreamed about getting married for years before getting married and being able to sleep every night with one woman they loved above all and having frequent sex, but unfortunately, this isn't the case for way too many men.
This is the only comment by a woman but it concerns her husband: "Lori , your timing on this post was, well, God's. It popped up in my reader last night while my husband and I were sitting on the couch together playing Words with Friends with each other. I said, quite casually, (knowing the answer) 'Are you a sex-starved husband?' This opened up a conversation. My husband read the post while I was getting the kids ready for bed. When I came back into the living room, he was crying. As we talked he began to sob!
Do you know that he revealed to me that he plays so much golf in the warm months as a SUBSTITUTE for the intimacy we don't have in our marriage? And I thought he just really liked golf. We had a long discussion. We have had this discussion many, many times. But, here of late, before last night, I had REALLY been feeling a stirring from God about my lack of intimacy in my relationships, not just my marriage. I have known that it was something that I needed to let God change in me. Always before, though, it has been out of fear or guilt But, as of late, it has been a stirring in my heart of something that I want to change FOR GOD and myself, as much as for my husband.
I am hoping, no earnestly praying, that God can change this in me. I do enjoy sex with my husband. I am just not an intimate person. I believe 'cold-hearted bitch' has been thrown around a few times. I don't really know where to start, but I know that I am starting with God. I want to be the woman and wife God wants me to be. I know that discontinuing this sin in my life with benefit my husband and our marriage. Thank you for your wisdom and timely post."
"Is it ever okay to leave someone over this? I've been playing the 'good' husband for over 20 years.  The worse it is the more I pretend – fake it until you make it stuff – the more it feels like a lie. The worst point was when I fell in love with a friend and had to cut off the friendship for the marriage.  It isn't like we haven't done years of therapy and it isn't because she is mean. She just doesn't feel like it for a million reasons, maybe the biggest feeling guilty about not being interested. In the meantime I can't sleep. I'm so tired but at what point does personal integrity and self respect enter the picture?"
"I see mostly women commenting here. I am a man; my circumstances are because my wife has a personality disorder, which she will not acknowledge. But a few years ago, a stranger gave me a book for my wife to read. She won't read the full book. But I made all three of my daughters read it because I believe it really captures the heart of a man and it was written by a pastor's wife. I actually was in tears reading some of it, because I could identify with it so much. I believe every woman who intends to get married or is married should read this book. There is much godly wisdom backed by a ton of scripture for women and how their man feels and functions. The book is Created to be His Help Meet."
"I am trapped in a sex-starved marriage. The irony of this is that my wife loves me, but doesn't have a clue about the damage she has caused in me and our marriage for over twenty years. She thinks that she is doing well. She loves me. She cooks meals and washes my clothes. We have children, and for the most part, all is well. But the marriage and relationship could be so much better. Most of the time, I tolerate the relationship and exist in it. But I wish I could reach a state of numbness and feel nothing because the emotional hurt is real and painful.
I should be grateful for my wife, and I am for the things she does. But she keeps me starved and craving for physical intimacy. She says I am asking too much of her. She says she doesn't like the feeling of being used. So, our physical intimacy is enjoyed three or four times every six months. Currently, we are going on two months of abstinence. We have gone abstinent for as long as a year. All I can do is ask. The answer is up to her. I am stuck having to cope with the rejection." (He has a very long comment. You can read the rest on the post.)
"Hey, Anon. You speak for me. That is almost a carbon copy of my 22 year marriage pain. My wife is a 'no' wife. Best part of my life is wasted. Thanks for what you wrote. I am going to print it out."
"It's useless. She doesn't have a clue about the pain. She won't talk about it. I'm not even sure if she knows how wonderful it could be. Should have run a long long time ago. Now I've just given up. Whatever."
Stop depriving your husband of the sex and intimacy he deserves and is required by God from you.
The wife does not have authority over her own body, but the husband does; and likewise also the husband does not have authority over his own body, but the wife does. Stop depriving one another, except by agreement for a time, so that you may devote yourselves to prayer, and come together again so that Satan will not tempt you because of your lack of self-control.
1 Corinthians 7:4, 5