"God Spoke to Me…"
"God Spoke to Me…"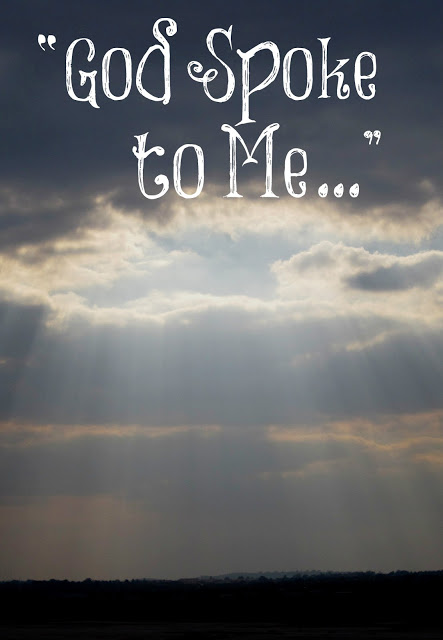 Many today believe that God speaks to them personally. I have had women tell me that God told them to get a job and put their children into preschool. Others have told me that God told them to divorce their husbands. God never would speak to anyone something that is contrary to His Word. Many popular speakers and teachers tell about what God said personally to them. Does God speak to us individually?
"Long ago, at many times and in many ways, God spoke to our fathers by the prophets, but in these last days he has spoken to us by his Son, whom he appointed the heir of all things, through whom also he created the world" (Hebrews 1:1,2). In this verse, we are told that up until Jesus, God did speak to people (specific prophets for His purpose) but once Jesus came, He spoke through His Son and now we have the Word of God and we are told that this is all we need for life and godliness. I will never listen to a teacher or preacher who says, "God spoke to me…" Are they saying this is the inerrant and infallible Word of God? They can't and if they can, then they would be considered false teachers who we are taught to be aware of as this article so clearly teaches.
"Those who believe in personal words from God that are taken to be binding and authoritative, whether given to the church or one's own self, are false. All words that claim to be God's inerrant and authoritative word when they are not are false prophecies. Those who speak false words in God's name to their own selves and thus bind themselves to those words have become false prophets to their own selves. They should quit listening to themselves! One great section of Scripture that every Christian should learn and apply is Romans 8:26-39. It describes the doctrine of providence and various implications of it.
"The most important implication is that all of the Lord's people shall stay safe in Him and shall be brought to glory and conformity to the image of Christ. There is nothing in the section that requires specific revelations beyond Scripture. Our security in Christ is not dependent on our gaining revelation or personal guidance. In fact, that section begins by telling us that we do not know what we need: 'And in the same way the Spirit also helps our weakness; for we do not know how to pray as we should, but the Spirit Himself intercedes for us with groanings too deep for words; and He who searches the hearts knows what the mind of the Spirit is, because He intercedes for the saints according to the will of God' (Romans 8:26, 27). Beyond Scripture, we do not know God's future, providential will for us. But the Holy Spirit prays for us 'according to the will of God.' There is no indication that if we gained personal words from God, we then would know how to pray as we should. The Holy Spirit Himself prays for us according to God's will."
We had this discussion in the chat room and Emily wrote: "I say all of that as a former believer that God 'spoke to me.' I'm not trying to be rude. I am saying it because I was in that exact place just over a year ago. I was a weak woman.. 'always learning but never able to arrive at the knowledge of the truth.'
"I 'heard' God speak to me almost daily. Since I've been listening to good teaching (thanks to your blog which got me started on this road to biblical literacy), I have completely stopped hearing from God with those vague impressions that I thought were God. What does that tell you? Can my simply not believing that God does something stop the God of the universe? No! It tells me that I was leaning WAY too hard on my own mind/impressions and attributing everything to God.
"I ignored clear biblical principals (the borrower is slave to the lender = debt is not good) and took out massive loans to go to school because God 'told' me to. If I had read my Bible, I would have stayed home with my children and not taken out debt that my husband now has to work hard every day to pay back.
"Our Bibles give us all the knowledge we need to get through life as a Christian and if we doubt that then we are doubting 2 Timothy 3:16-17, 'All Scripture is breathed out by God and profitable for teaching, for reproof, for correction, and for training in righteousness, that the man of God may be complete, equipped for every good work.'
"Depending only on the Word for my direction has been an incredible blessing for me. I'm so thankful for the faithfulness of teachers who keep speaking truth. I was enslaved to poor teachings for far too long and I could never thank God enough for bringing me out of that."
Beloved, believe not every spirit, but try the spirits whether they are of God: because many false prophets are gone out into the world.
1 John 4:1