God's Instructions to Captives
God's Instructions to Captives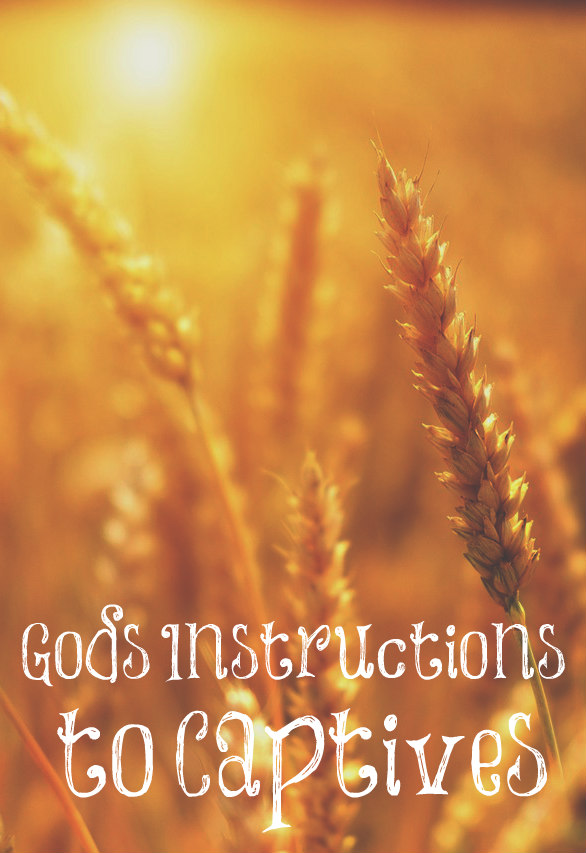 These were God's instruction to His people after they had been carried away from Jerusalem into Babylon and were captives:
"Build ye houses, and dwell in them; and plant gardens, and eat the fruit of them; Take ye wives, and beget sons and daughters; and take wives for your sons, and give your daughters to husbands, that they may bear sons and daughters; that ye may be increased there, and not diminished" (Jeremiah 29:5,6).
We are captives in a strange land. We are strangers and pilgrims (1 Peter 2:11). Satan is the prince of the power of the air. This is not our home. God still wants us to build houses and dwell in them. Plant gardens and eat the fruit from them. Marry and bear children. Be fruitful and multiply. None of these commands have changed. This is His will for His children.
He doesn't want us to be living in fear and trepidation. He is sovereign over all! We can live our lives in obedience to Him and trust Him. If you are constantly anxious about what is happening in our culture right now, turn away from the news. Focus upon caring for your husband, children, and home. Don't stop having children because you fear their future. As long as God is blessing women's wombs, He wants them to have children and raise them up for Him. This culture needs more godly offspring, not less.
We can't give into the ways of this wicked culture. We can't fear what they fear. If we do, we look no better than them. If we focus upon the things happening around us, we will lose our joy and our trust in Almighty God. Be in the Word daily. His Word is what transforms us and causes us not to fear but to trust and obey; for there's no other way to be happy in Jesus but to trust and obey! Christ came to set the captives free (Luke 4:18). We are free indeed!
When the Apostle Paul wrote Titus 2:3-5, the culture was wicked yet he told young women to be lovers of their husband and children and be keepers at home. He doesn't want young women to be so fearful of what's happening around them that they fail to marry, bear children, and guide the home. He wants them to do this with a thankful and joyful attitude while trusting God with their families and with their lives.
Do not fear, young women! God is in control. No matter what happens, He will work out all things together for good to those who love Him and are called according to His purposes.
And we know that all things work together for good to them that love God, to them who are the called according to his purpose.
Romans 8:28