He Wants the Children Vaccinated. She Doesn't.
He Wants the Children Vaccinated. She Doesn't.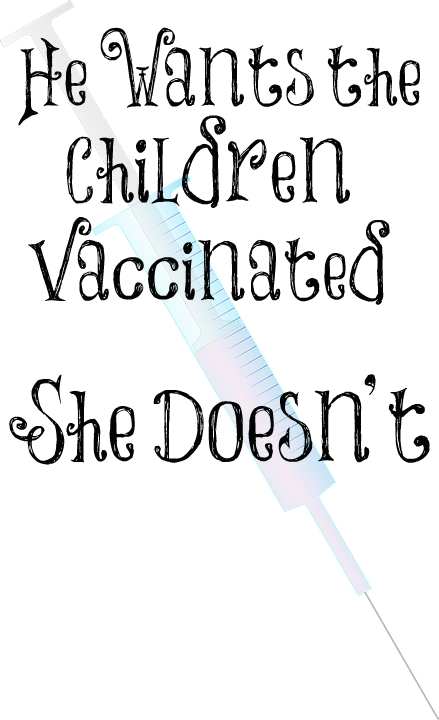 What do women do who are completely against vaccinating their children but their husbands want their children to be vaccinated? They believe that vaccines contain aborted babies and can cause harm to their children. They are even afraid that their children could die from them since some have. Can they disobey their husbands' will in this circumstance? Are the husbands asking their wives to sin? (Yes, some believe that vaccinating children is sinful.)
I asked the women in the chat room and some said that yes, they should vaccinate their children since God commands they submit to their husbands. Others said that no, they should not vaccinate since it's so dangerous. After reading all of the comments, this was my conclusion: "Those who say they wouldn't submit to their husbands desire to vaccinate their children, how is this possible? Most husbands are much stronger than their wives and can physically take their children to the doctor for vaccinations. I don't see how this could lead to a good outcome by not submitting. Praying, making a gentle appeal, submitting, and leaving it in God's hands seems a much better and biblical route to me."
God commands that wives submit to their husbands in everything. No, they don't submit to physical abuse or if their husbands ask them to do something evil but in everything else, yes, they submit. Some wives believe that injecting their children with vaccinations is evil but in this case, I believe they must submit. The Bible doesn't say that vaccinating children is evil. Yes, abortion is evil and if, in fact, it is found out that most vaccinations are indeed filled with aborted fetuses, then they may have a case but as I stated, there is no way that they can prevent their husbands from vaccinating their children without causing much harm to their marriage. Children NEED a father and a mother. Children need their mothers loving their fathers. They don't need conflict and chaos in their homes. They need a home filled with peace and love. This is much more likely to happen when the wife is obeying the Lord and her husband.
When a wife is living in loving submission to her husband on a continual basis, her husband will be much more willing to listen to her appeals. If she has researched vaccinations and feels strongly against them, she can share these with him after praying. Then she must give it to the Lord and live by faith instead of by fear. If he insists the children be vaccinated, she can study ways to lessen the chances of side effects. Jacqueline at Deep Roots at Home has a great article about this called Proven Vaccine Detox if You See Your Child or Baby Regress. I have read articles written by women who have been able to heal their children from vaccine damage through diet and other measures.
There are risks to almost everything in life. Every single day you get in your car, there is a risk of getting in a fatal car accident. Our times are in His hands. The best way to live is to obey the Lord in everything. This brings Him glory. Then trust Him with the outcome no matter what happens. He will give you the grace and the strength to endure whatever happens in this short life. Your husband is responsible for how he leads your family. Pray daily for him and for the decisions he makes then trust the Lord to guide him.
Wives, submit yourselves unto your own husbands, as unto the Lord.
Ephesians 5:22