No, Wives Do Not Have to Submit to Evil
No, Wives Do Not Have to Submit to Evil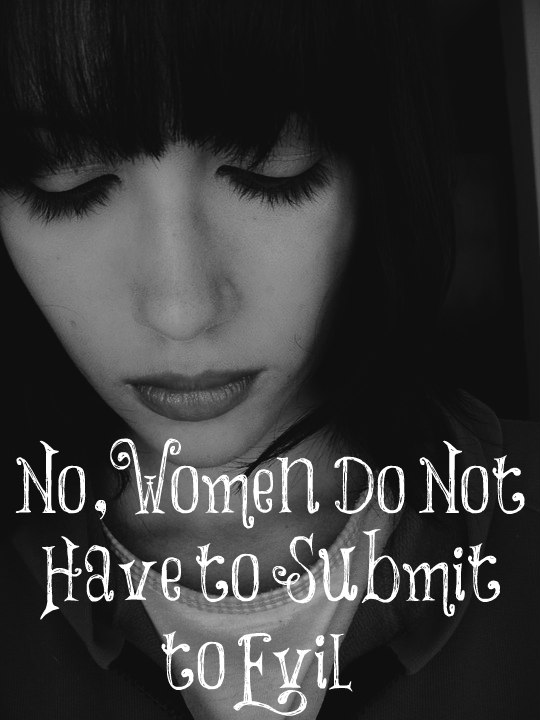 We have had a few men through the years who want me to teach that wives should submit to their husbands in everything, yes, even if husbands ask their wives to do evil. They feel that I need to repent since I don't teach women this. I don't believe women should submit to physical abuse nor to anything evil the husband asks her to do. Yesterday, two men took me to task on this very topic since I listed a few things on yesterday's blog post that women should not submit to if their husbands ask them to do so. Here is Ken's (my husband's) reply to them:
You should take a step back and think and pray about this. It seems you are more bent on closing the box with no loopholes for a wife's submission than honoring the whole of God's Word that instructs us to live righteous lives. We all must walk a path every day faced with our biblically-mandated responsibilities to our employers and the state, and yet we draw the line when it comes to clear evil or when we are asked to participate in sin. Why would this be any different for a submissive wife?
We, too, understand how the natural mind works and that some wives, once given an "out" to decide what is evil or not evil, may defend their unsubmissive hearts by claiming that their husband is being evil, or doing evil, when he is not. She sets herself up as judge and justifies her unsubmissiveness. Do you think that by closing the box with an all encompassing "EVERYTHING" you will somehow win her heart? If so, you have missed the point of submission. And what is your real end point here? To stop all these unsubmissive wives from being disobedient by emphasizing one verse telling them to submit in "everything"? It won't happen.
Submission is a willful act of the heart, mind, and soul that is totally devoted to doing things God's ways. It is not some hammer that can be used to seal up the marriage box making sure that the husband is lord of a marriage, just as Christ does not seal up our complete obedience with His Lordship. No, Christ asks us to follow Him in EVERYTHING and when we do not, He does not pound us, but lovingly takes us where we are, and with further instruction, discipline, and usually just showing us more love, he gently moves us forward as we grow up into Him, our Head.
Please do a word study on the Greek Word "panti" which means "all," "everyone," or "everything." It may surprise you to discover that it is used in some contexts where it cannot possibly mean "EVERYTHING" but does mean "everything" or "all" as would be sensibly understood by the reader. If I said to you, "Everything I try to do lately is not working out," would you read that literally as everything I touched turned out badly? That even the omelet I made that morning was a bad omelet? Of course not. You would understand that everything as it relates to what I believe are the most important parts of my life are not going well, and you would use common sense in understanding language that even the words "all" and "everything" have certain limits. Such limits need to be few in this context of submission or the word "everything" becomes nonsense. But this does not mean that we throw out the broader context of the Word of God as a whole which the inspired writer had in mind when he wrote it.
I believe that Peter and Paul would be ashamed to have Christian men teaching that a wife's submission extends to evil, but more so the idea that submission can be forced upon a wife. Either you have a wife who has a submissive heart or you do not. And if she has a submissive heart she wants to please her husband in everything. That is her goal and desire and he should not be testing her with evil where she has to choose between God's Word, and His righteousness, and her husband's demands. If your wife is trying to pick and choose what to submit in, she needs to work on her heart, and you regularly throwing "submit in everything" will not win her heart with love. That is not to say that you cannot gently in love remind her of what God is asking of her, but sometimes God may be testing our love for our wives by their disobedience as we both grow up together in Christ.
"Husbands love your wives as Christ loves the church" is a rich statement, especially in light of Christ's love and patience with a rebellious church. Yet He patiently waits for that day when every knee shall bow, and every tongue confess that Jesus is Lord. We can patiently wait too, given his example and ask our wives to go to God in asking the question, "What is God asking you to do to live in submission to your husband in everything?" After all, only obedience and submission freely given in love amounts to anything in this life and the next. All the rest is "wood, hay, or stubble" and will be burned up.
There is a fantastic Bible verse that says, "Therefore, as one trespass led to condemnation for all men, so one act of righteousness leads to justification and life for all (pantas) men" (Romans 5:18). Now tell me you believe that the use of the same word "panta" here in this context means that everyone who has ever lived has been justified and given life though Christ Jesus. Or is this "all" or "everyone" qualified by the rest of what we know about the scriptures that one has to reach out and receive life for it to be granted unto them?
God does not expect us to submit to evil from our government, yet tells us to "submit yourselves for the Lord's sake to every human institution, whether to a king as the one in authority," (1 Peter 2:13). When 666 comes along are you going to accept it? Or will you rightfully use your common sense and the judgment of the whole Word to refuse it as evil? The "every" is from the same root word as "pantas" proving once again that when we use the words "every, all, and everything" there are almost always qualifiers of common sense and the Word of God that must be applied.
If this troubles you because you can't throw "submission in everything" into a nice tidy box of a husband's complete headship, welcome to the world of Christianity where God is looking for hearts and minds sold out on him, not forcing us into His box. Let's have a sensible faith that is based on trusting God fully at His Word, but let's not push God's Word by making it woodenly literal without paying attention to the broader context of what God demands of us for righteousness. Everything means everything within the realm of righteousness, and wife should be submitting in everything, but not when it goes contrary to the rest of God's Word.
Here is what Ken wrote to the other man: Please prayerfully read my comments to the man above as they apply even more so to you. It seems your agenda has become more important than holding the truth in righteousness. Yet you cannot see it because you are so keen on making sure the box of submission is bolted down firmly with no outs. So you really believe a wife should submit to a threesome? Abort her child at a husband's command? What if he wants her to give up her Christianity? The list is endless of clear evils that no truly Christian man would ask of a wife, yet you believe that a wife should submit to these things and expect God's covering upon her? Although "submit in everything" is a very important mandate to Christian wives, so, too, are the verses to submit to our worldly and spiritual leaders in everything… yet you would not submit to their request for to do evil. Let's have a sensible faith based on the whole of God's Word.
Let love be without dissimulation. Abhor that which is evil; cleave to that which is good.
Romans 12:9