Her Husband Does Safely Trust in Her – Proverbs 31:11
Her Husband Does Safely Trust in Her – Proverbs 31:11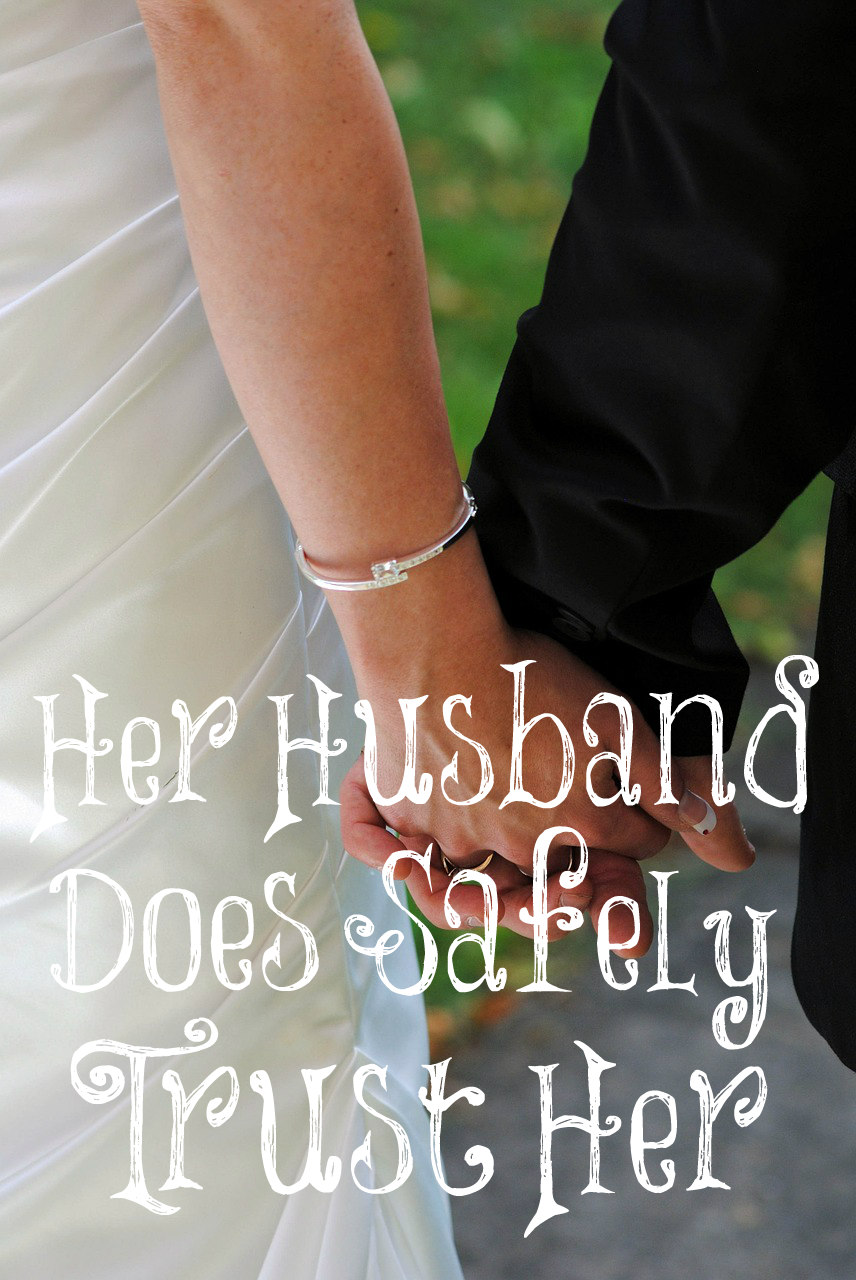 The heart of her husband does safely trust in her, so that he shall have no need of spoil.
Proverbs 31:11
"For the prudent and faithful management of all his domestic affairs, which are committed to her care; He shall not need to use indirect and unlawful courses to get wealth, as by cheating, or oppressing his subjects, or others, as princes have often done to maintain the luxury of their wives, and as Solomon himself afterward did: because all shall abundantly be supplied to him by her providence; She will improve and not waste his estate" (Benson Commentary).
A godly wife lives within her husband's income whether her husband is wealthy or poor. She never puts him into debt or buys things on credit with high interest. She is a good steward of his money and isn't wasteful, extravagant, or frivolous. She knows that everything belongs to the Lord and takes good care of their possessions. She understands that a penny saved is a penny earned, therefore, she doesn't look for ways to save money while spending but for ways to not spend at all, if possible. She is content with what she owns and is thankful for it.
"Christ her Maker is her husband, who has asked her in marriage, and has betrothed her to himself in righteousness; and of whose chaste love, and inviolable attachment to him, he is fully satisfied, as well as of her fidelity in keeping what he commits unto her; he trusts her with his Gospel and ordinances, which she faithfully retains and observes; and with his children born in her, who are nursed up at her side, to whom she gives the breasts of ordinances, bears them on her sides, and dandles them on her knees, as a tender and careful mother does" (Gill's Exposition).
She doesn't expect her husband to meet all of her needs. She doesn't place undue expectations upon him but is satisfied with her husband and her submission under him. She knows that Christ is the only one who satisfies and finds her fulfillment and joy in Him instead of looking for it in her husband. She faithfully teaches all of this to the children they are blessed with; for their hope and trust is in Christ alone.
"The very first item in the catalogue of good qualities is the rarest of all: 'the heart of her husband doth safely trust in her.' The husband in nine cases out of every ten does not feel very confident that 'she will do him good and not evil,' and he sets a jealous watch over her, and places every valuable article under lock and key. His heart trusts more in hired guards and iron locks than in his wife" (Cambridge Bible).
Let this not be said about you. Your husband should have full confidence in you that you will only do him good concerning his income and his name. There are too many women who only think about themselves and their welfare. They are not thankful for what they have and always want more. Their husbands can never make them happy because they haven't decided to be happy. Be a wife that your husband can trust completely with everything: his income, his name, his home, and his children.
"The husband of such a wife goes forth to his daily occupations, having full confidence in her whom he leaves at home, that she will act discreetly, and promote his interests while he is absent. The wife manages domestic concerns so well that her husband finds his honest gains increase, and sees his confidence profitably rewarded" (Pulpit Commentary).
This woman is discreet: "Prudent; wise in avoiding errors or evil, and in selecting the best means to accomplish a purpose circumspect; cautious." She keeps watch over her home and guides it with moral integrity and purity. She hates what is evil and clings to what is good. She considers carefully her options before making decisions and asks for her husband's input frequently because she trusts him and his wisdom and he knows it. The heart of her husband trusts in her.